Eleven years ago last month, wrestling fans were treated to one of the most bizarre cards in the history of the business. On June 20, 1994, the Mexican lucha company AAA decided to promote a show in the U.S. But not in, say, Texas or California. Nope, they were going to hold it in Portland, Oregon. The card they would put together would end up ranging from the ridiculous to the sublime.
Billed as "AAA de Mexico Vs. Championship Wrestling, USA" the show featured a mish-mash of luchadors and local Portland workers. And opening up the show was none other than Portland's favorite wrestler ever to be threatened with a lawsuit by the makers of the movie BILLY JACK, Billy Jack Haynes. Except he wasn't Billy Jack. He was that dreaded French executioner from the dark ages of WCW, Black Blood.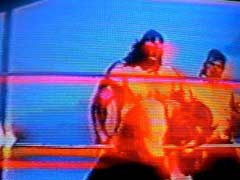 It didn't help Blood at all that, even though he played the heel and shouted fake French at the fans, people throughout the crowd were cheering him and yelling "Go, Billy Jack, Go!" If he'd gotten that kind of reaction in WCW, he could have been title material for sure.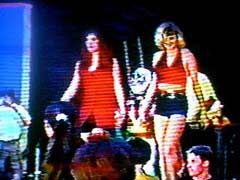 Then we get not one, but TWO consecutive mini matches. Which is a heap better than two consecutive WWE Diva Search skits, at least.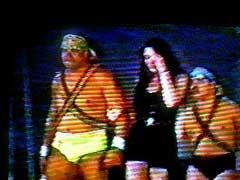 Things pick up when the next match is a tag match between Mando and pre-Classic Chavo Guerrero against Bart Sawyer and Bill "Anchor" Sawyer (no relation). This would be the typical match, except Bart was wearing the brightest pink tights in history, and "Anchor" wore a sailor's cap. Chuck & Billy have nothing on these guys.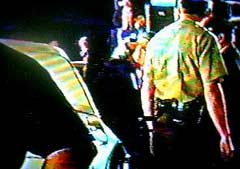 Of course, then the party really starts, because the star attraction of the show arrives in a limo. Oregon bad girl Tonya Harding showed up, ready to manage the tag team known as Los Gringos Locos, otherwise known as the now-late Art Barr and Eddie Guerrero. You already get a feel that Harding doesn't want to be there as she bolts from the limo straight into the building, without stopping to talk to the reporters who have gathered for this event. Harding, it should be noted for the Trivia Pursuit-impaired, was implicated in the attack on her Olympic ice-skating rival Nancy Kerrigan a couple of years before.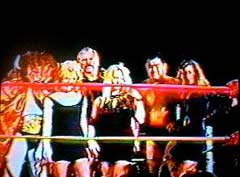 Back to the action: The next 6-man tag match may go down as one of the oddest ever. I mean EVER. The heels come out first. Led by former AWA troublemaker Colonel DeBeers, the team consists of the ultra-racist South African and his partners, the Japanese Ryuma Go and the Hispanic Psychosis. Remember that this was the same Col. DeBeers who used to refer to Jimmy Snuka in black-oriented derogatory terms during their feud and think about that for a minute. To make the whole scene crazier, the three entered to KISS's most awesome song ever, "I Love It Loud."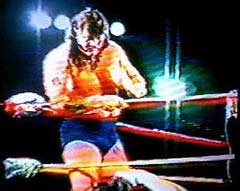 Their opponents? Why none other than local mainstay C.W. Bergstrom, Billy Jack Haynes (who apparently had a face turn in the lockerroom in the previous ten minutes), and a mini.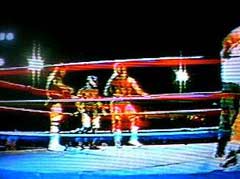 Wait, that's not a mini. Why, that's none other than Rey Mysterio, Jr. who looks all of about ten years of age here (as opposed to him looking like a juiced-up 12-year-old now).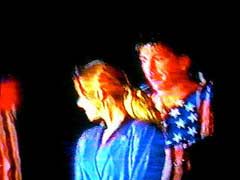 Finally, the main event. Out come the babyfaces, including a pre-bald Konnan and some other luchas. As the tension built for their opponents to enter, the most evil music ever hit the air. As the voices of Bill Medley and Jennifer Warnes belted out the DIRTY DANCING classic "I Had the Time of My Life," out came Los Gringos Locos, accompanied by Harding.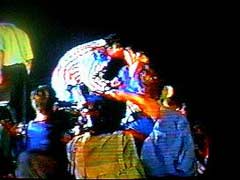 And things got strange. Apparently, because of Oregon's strict regulations, Harding couldn't stay at ringside, as she didn't have a manager's licence. You may laugh, but go ask all the wrestling promoters who've had to shut down in Oregon about the commission there, and see how funny they find it. Anyway, Harding ends up having to watch the match from about 20 feet away, sitting on a chair on the aisle ramp.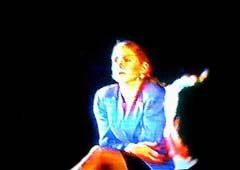 And proceeds to look extremely bored throughout.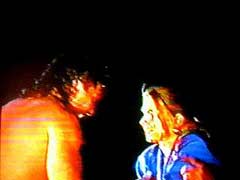 Every once in a while, Art Barr would seek sage advice from her, and would have to walk alllllll the way out there to talk to her, while she still looked disinterested at the whole thing.
So let's get the rundown here:
Billy Jack Haynes wrestling under two gimmicks on the same show? Check.
Midget wrestlers? Check.
Three Guerrero brothers? Check.
Gay sailor men? Check.
Col. DeBeers outing himself as a Gene Simmons fan? Check.
Tonya Harding attending a small lucha show in between working soup kitchens after her conviction? Double check.
This show had it all.