Before I jump into tonight's induction, I would simply like to thank all the readers and writers on this site for their unbelievable support during the recent tragedy of my Mom's passing. The outpouring of love and kindness was nothing short of amazing. I thank you all.
---
It feels like I've been covering Hulk Hogan's movie career for half my life; I kinda want to put a bag over my head considering what that says about my existence. The fact that I am somewhat double dipping into the cinematic bombshell known as No Holds Barred doesn't make me feel a lot better.
Oh who am I kidding?
This movie was actually tremendous. In fact, it was one of the biggest events in cinematic history. Isn't that right, Mean Gene?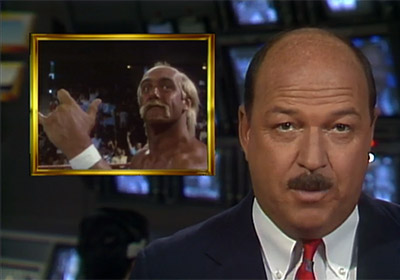 "It's the biggest world premiere in motion picture history!"
Sorry, not one of the biggest. THE biggest.
The man said that. Gene wouldn't lie.
And do you know what is really crazy? It's actually one of the smaller hyperbolic statements made during the hype job surrounding the film's release by your friends and mine in Stamford, Connecticut.
Before you scoff at my statement that I'm not going back to the well multiple times, allow me to plead my case today as I absolutely stand by that statement. I'm not going to look at any of the footage of the movie itself, but rather, focus entirely on the WWF television leading up to and immediately following the film's release. Today, we are going to celebrate not the saga of Zeus, Rip, and Mr. Brell ("JOCKASS!"), but instead once of the most completely, utterly, delightfully insane periods in all of WWF history.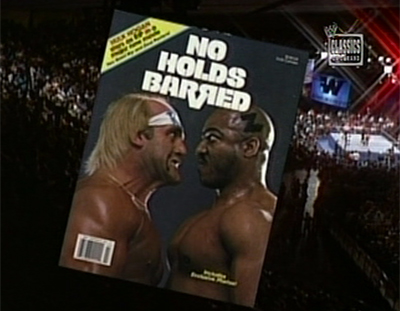 As you would expect, we got the standard merchandise. You wanted a poster? You got it. T-shirt? Natch. Heck, there was even a No Holds Barred magazine. I forewarn you, if I can secure I'll be milking the NHB teet at least one more time!
These items were all to be expected. Well, except maybe a full-blown magazine. I'm still trying to wrap my head around that one. And certainly, we were all expecting the never-ending hype job to get wrestling fans tuning into the WWF shows to rush to the box office. I mean, it's Hulk Hogan starring in a movie that Vince McMahon had a large role in producing, one that urban legends say was written on a cocaine-fueled weekend in a hotel room. You think we weren't getting this shoved down our throats?
But it wasn't just the usual suspects telling us how great the film was. I mean, yeah, Vince was a given. Gene, naturally. Gorilla Monsoon? He was the guy who told us the academy was talking Oscar for the Hulkster! But the real fun started when it wasn't the talking heads yammering away about this opus. It was when others got involved, turning themselves into walking talking campaign blurbs.
Take the Bushwackers for instance.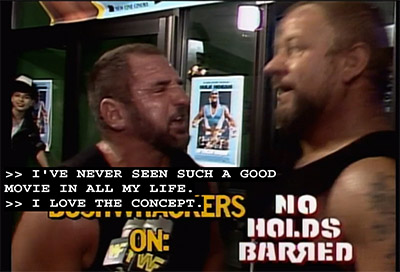 While Butch noted he'd "never seen such a good movie" in all his life, Luke went three steps over the edge further, noting how he loved the concept!
How did that not wind up on the VHS box art?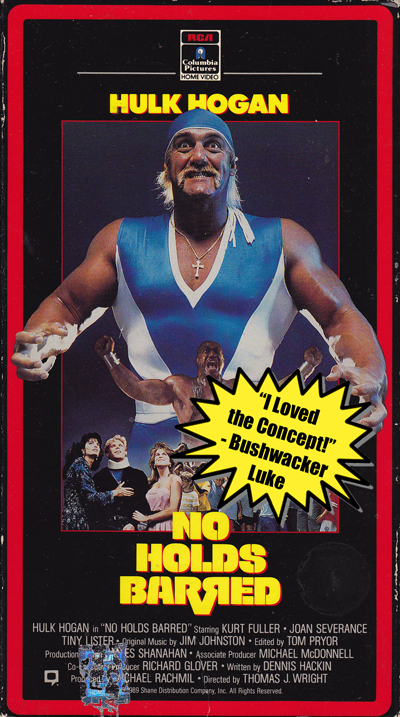 Talk about a missed opportunity!
But it wasn't just the goofballs from down under exclaiming the greatness of Rip & Company. It was goofballs from parts unknown as well!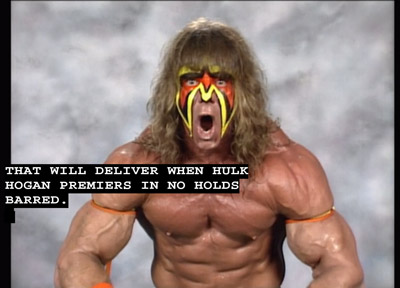 Yes, kids, no less than the ULTIMATE WARRIOR yelled at the top of his lungs about the film, proclaiming that No Holds Barred was going to SHAKE RATTLE AND ROLL! That's baffling even by Ultimate Warrior promo levels. I'd like to think that was actually meant for the Honky Tonk Man, but Wayne saw the film and was like, "Dude, even >>>I<<< can't lie that much!" and walked out the door. If a guy was confident enough to tell Vince he wasn't going to drop the IC belt to Randy Savage, I could totally seeing him doing that here.
But hey, if you thought only Hulk's on-screen allies were in love with the film, you are so very wrong!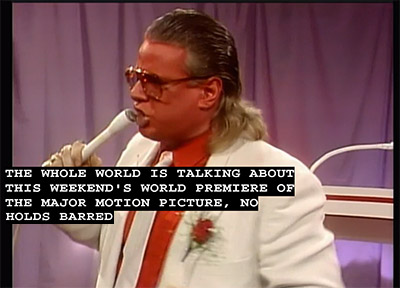 Brother Love spoke highly of it. He's a heel mind you. Sadly, he simply said it was a major motion picture and did not tell us he LOVED it.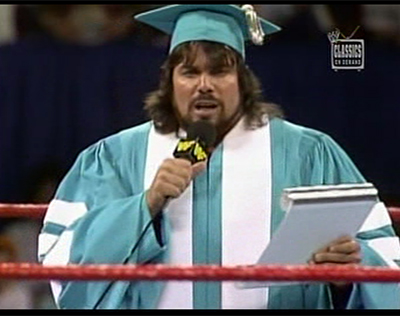 You know who did love it thought? The equally villainous Genius. So much so that he wrote a poem that he will share with us all.
I really hope I wasn't the only person to read that sentence in Howard Finkel's voice.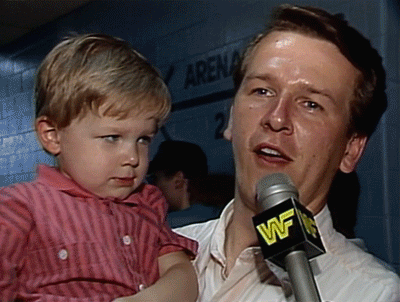 As much as the folks inside the company loved the film, the fans jam packing every single arena the WWF went to were so excited they too could hardly contain themselves. We got clips of all the geeks above explaining just how awesome this movie was going to be and they were all as incredible as you could possibly imagine just looking at that GIF. Heck, Molly Ringwald's horrific looking clone says it's going to be, and I quote, "the best movie ever shown on the earth!"
EVER SHOWN ON THE EARTH!!!!
You have no idea how much I would pay to interview that girl today.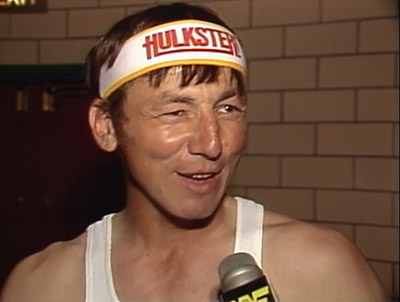 Also, this guy. He's my new hero. I'd like to think he's wandering the streets to this day in that exact same outfit and still telling people he can't wait for No Holds Barred to debut.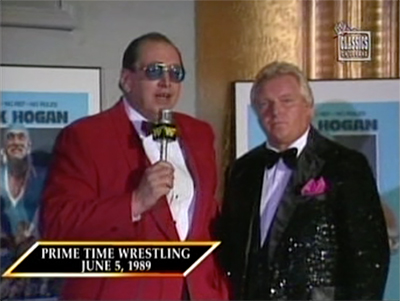 Eventually, the hype hit its zenith as the movie hit silver screens across the country. To honor such a once in a lifetime event, Prime Time Wrestling took Gorilla and Bobby "The Brain" Heenan to an actual, honest-to-goodness theater.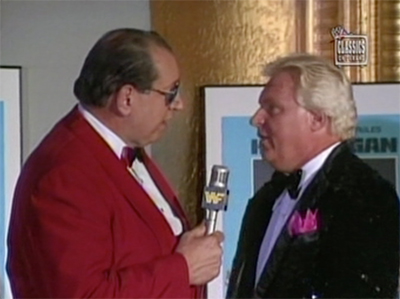 Heenan and Monsoon took the stage in front of the screen prior to the house lights being dimmed and chatted a bit with the crowd. I know what you are thinking. The man who would claim that folks were "literally hanging from the rafters in the Boston Garden!" when the building was actually half full likely told us a whopper or two about how great the film was.
I can confirm that he not only did that, but also told us that No Holds Barred was breaking box office records across the country. Even poor Bobby had to get in on the act, talking about how the line to see the film was literally around the block of the theater. Not sure how it was breaking records when it wasn't even the number one film of the weekend (that would be Indiana Jones and the Last Crusade), but far be it from me to call these fine men liars!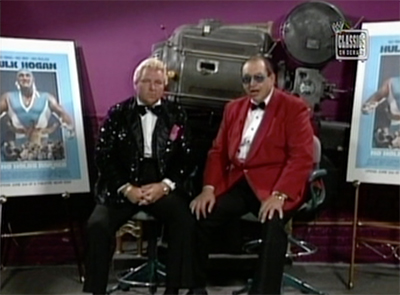 During the show, Bobby and Gorilla aren't actually watching the movie, but rather hanging out in the lobby. You may think this would be a complete waste of time.
As if anything with Monsoon and Heenan could ever be classified as such!
FURTHERMORE…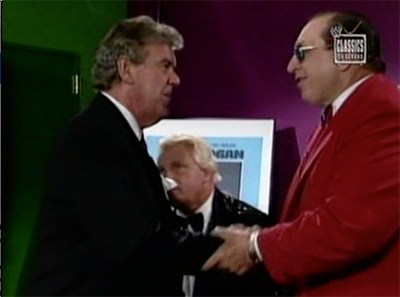 …UNEQUIVOCALLY it is not, as the esteemed president of the World Wrestling Federation Jack Tunney (!!!) makes an appearance. He stops by the two to tell us just how stupendously fantastic the movie is.
Also, he needs to know where the toilet is.
That's not a joke. Here's the audio evidence.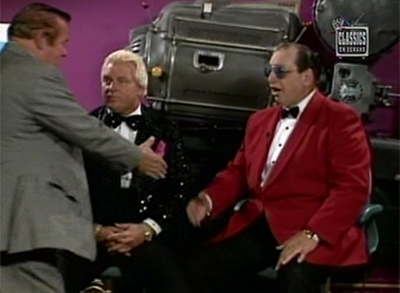 From there it's a never-ending parade of WWF z-list personalities walking through, everyone from the Golden Boy Arnold Skaaland to…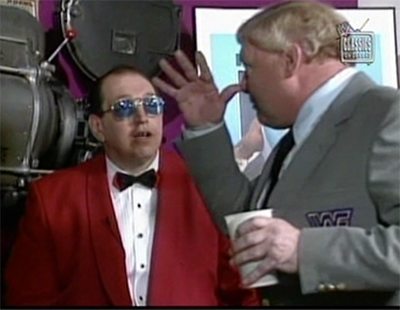 …his Lordship, Alfred Hayes, who gives the Brain a thumb to the nose salute.
But not before, you know, screaming at us about the film.
Did I say screaming?
I meant SCREAMING.
Pipe down, Alfred!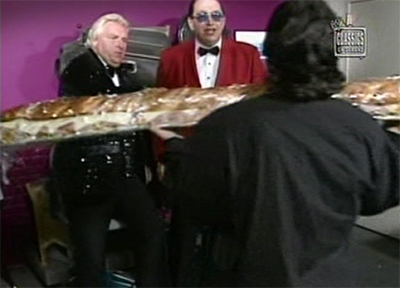 We then start scraping somehow beneath the bottom of that barrel, as the Rosattis make an appearance taking in a ginormous party sub to the theater.
See, because they are FAT.
And if Vince McMahon has taught me anything over the years, it's that fat people are funny! Look at that tubbo eating a giant sandwich!
HA HA HA!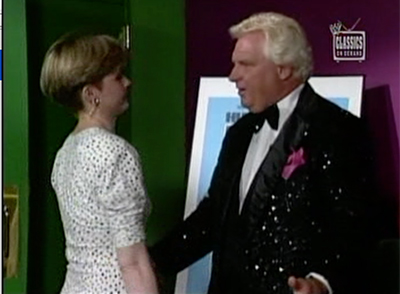 Eventually, we even run out of WWF personalities, being replaced by completely random people wandering through the lobby. Here a woman mistakes Bobby for an usher and asks him to show her to her seat. Heenan of course comes back with a great line before shoo'ing her off screen.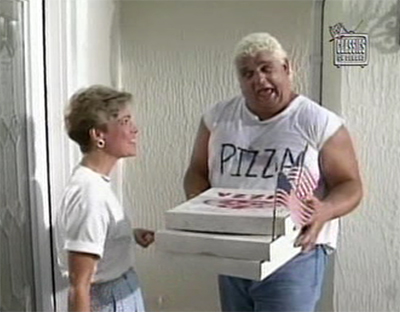 What's really strange is that same girl appears later in this episode when Americana Pizza Man Dusty Rhodes delivers a pigs feet pie!
Why if I didn't know any better, I would think that woman is a plant!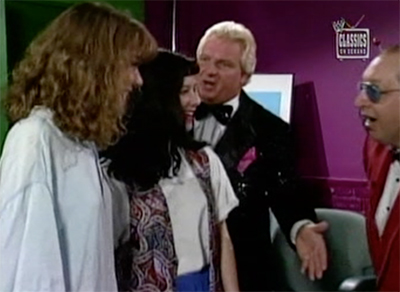 More stray girls show up next, and of course they know Gorilla but not Bobby. My favorite part is not these hip teen chicks coming to the theater to see No Holds Barred of all things, but rather that they stopped dead in their tracks to ask Gorilla "WHAT'S UP?!"
By golly, the 60 year old man in the red jacket and blue sunglasses does look pretty hip!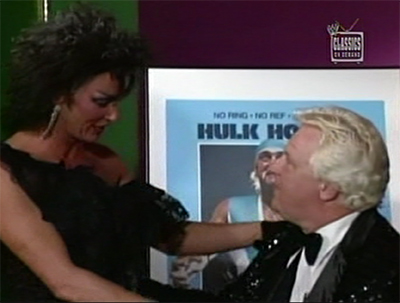 The show itself closes with Sensational Sherri saving the Brain from these nimrods (as well as a geek that spilled popcorn all over him), offering to take him into the back row of the theater for a hot and spicy make out session.
But of course not before telling us how great the film is.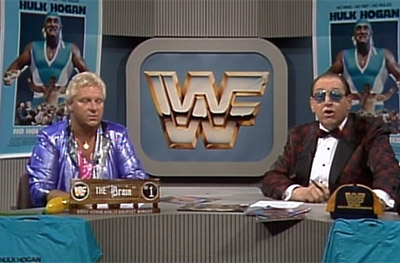 If you thought that was the end of it, no.
No no no.
We got weeks more of this stuff even as the film was being yanked from theaters at an alarming rate.
Various tactics were tried to get folks to buy tickets, not the least of which were more whoppers including claims that the reviews were GREAT. Apparently he wasn't watching Siskel & Ebert at the time, as they thought it was terrible and actually wound up listing it as one of the worst films of 1989.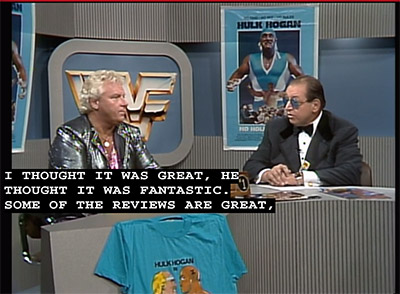 The last ditch effort to get folks out to see it may have been my favorite. You see, the reason some people had not yet seen No Holds Barred is because folks were, and I quote, "waiting for the crowds to subside"!
Finally, the film vanished entirely from theaters and became something for sites like WrestleCrap to mock nearly thirty years after its release. Ok, 13 years after its release, when I inducted it originally. And while it wasn't the box office smash the WWF was looking for it to be, it did cover its budget and…wait a minute…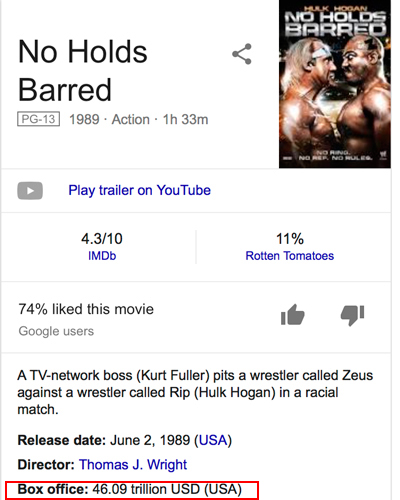 It made $46 TRILLION DOLLARS?
Looks like the ghost of Gorilla Monsoon is spending his days haunting the worldwide interwebs and hacking box office records!