The holidays are fast approaching as I write this, and you know what that means: food, and lots of it. I suppose it's due to the celebratory nature of the season that we gorge ourselves in what is at times a completely absurd manner, but you ain't hearing me complain about it. No joke, I diet like a madman leading up to the last couple weeks of December just so I can even better partake of the festivities. (And I'm down like twenty-five pounds as of this writing, thank you very much.)
But let's say you're tired of the same old, same old at those hootenannies. Sure, Aunt Linda's pecan pie is fantastic, but wouldn't it be nice to shuffle the deck a bit to see what else may tickle the tastebuds? But where, pray tell, would one be able to find amazing recipes that would thrill party goers?
It's not the WWE Cookbook, but who cares, that's what we're inducting tonight.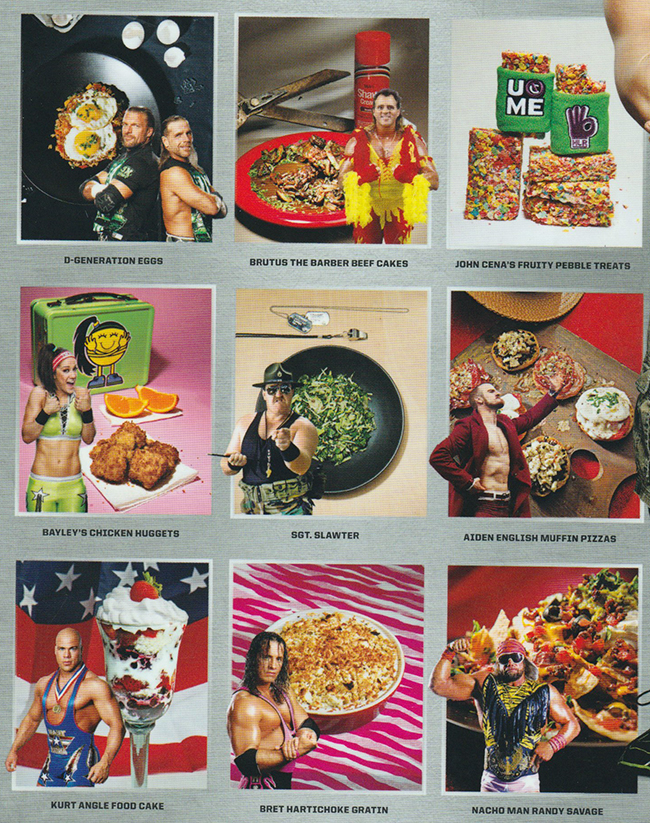 This looks like something Jordan would have cooked up (ha!) in Headlies (and to be fair, he did make mention of it a while back), but what you see here is not a Photoshop joke. No kids, these are actual items that YOU can whip up in your very own kitchen with this here book. Imagine the looks of utter confusion when you wheel out those Aiden English Muffin Pizzas, the disgusted murmurings when Bret Hartichoke Gratin sits untouched for hours on end, and folks running out of your house as quickly as humanly possible when they see you made the world's stupidest dessert, one which consists of nothing but Fruity Pebbles and marshmallows!
But before we head to the kitchen, a few words of warning!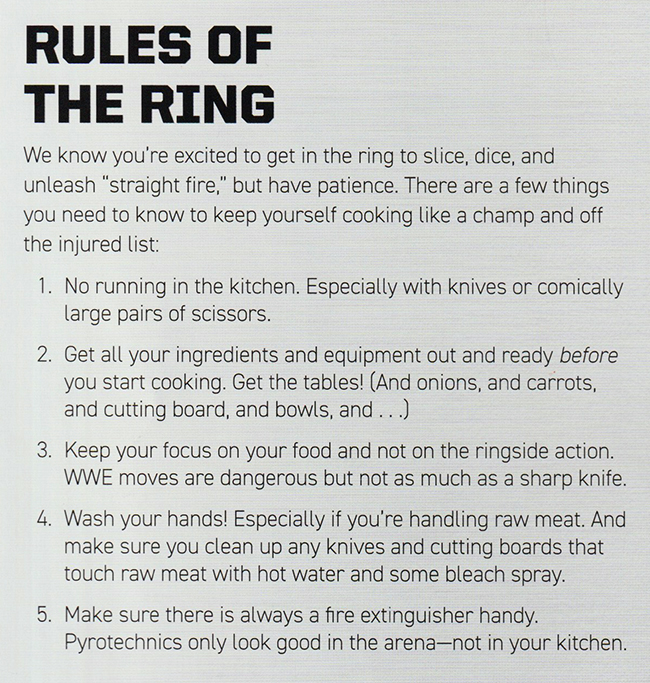 I love it that the very first item on the list is that you shouldn't be running all over the kitchen like a madman, especially with knives or "comically large" scissors. That's literally something you would tell a two year old.
That's probably the IQ for someone who would have purchased this thing, so fair play, Insight Editions!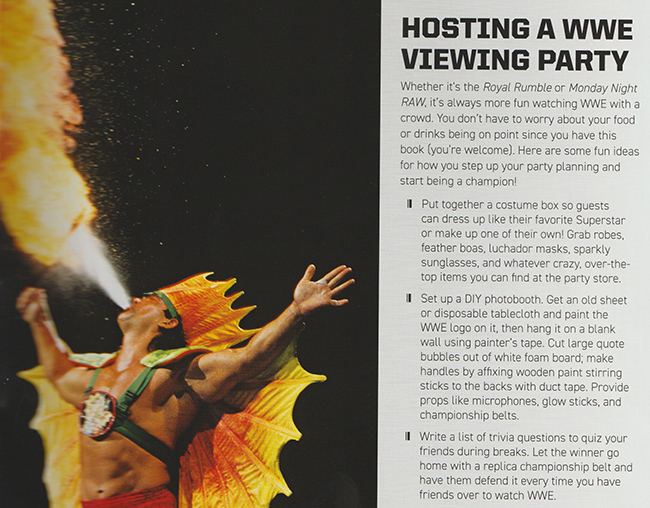 We're also given pointers on how to host a WWE Viewing Party! Gotta love that they threw Ricky Steamboat on there in the worst role he ever hard in the business, as an honest-to-goodness fire breathing (and perpetually jobbing) dragon. I remember when I was coming up with the initial list of inductees to WrestleCrap 22 years ago that ridiculousness was at the top of the list.
Kinda like the top of the list here, where when you have friends over you force them to play dress up. Shockingly, we are told to buy things from the "party store" and not the WWE website. Making a mistake like that, I am guessing whoever wrote this was likely cut from the roster in the latest round of Nick Khan purges.
It's not shown here, but the book notes if you do a good enough party, Mr. McMahon himself may show up at your door.
To which I say screw that, he'd probably force you to change the menu 37 times that afternoon.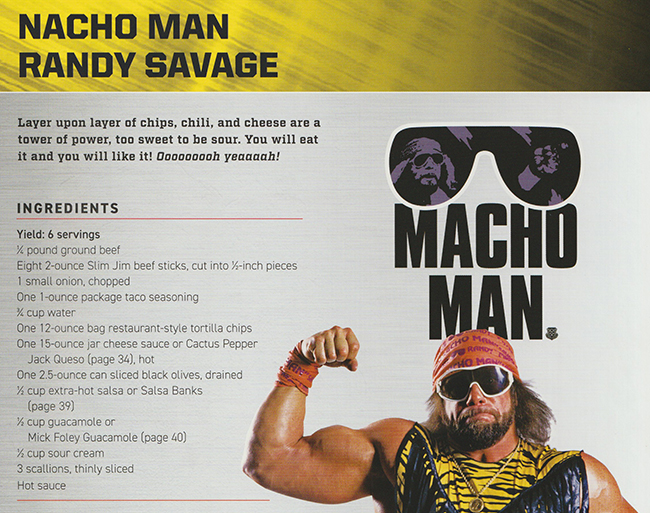 For all you completists out there, I will now list every single recipe contained in this tome. You may actually want to get those Nacho Man Randy Savages ready (and wasn't that how the mocked the poor guy back in those Billionaire Ted skits?), as it will take a while to get through them all:
BREAKFAST:
Big Show's World's Largest Pancake
Big Boss Hamsteak Donuts
Ba-Quiche-Ta
nWoatmeal
D-Generation Eggs
Flat Iron Sheik and Eggs
Mankind's Monster Mandible Bear Claw
Shield Cut Oats
Biscuits & Gravy Boy Smith
Superstar Billy Graham Granola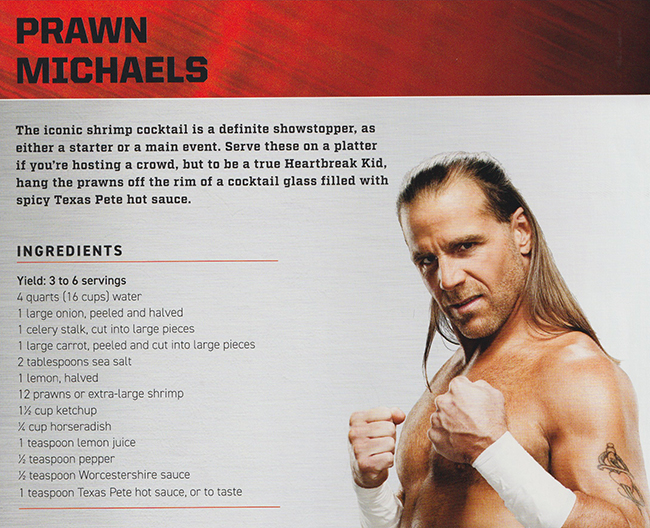 THEY THINK I'M CUTE, I KNOW THEY'RE HUNGRY
I GOT THE SHRIMP THAT DRIVES THE GIRLS WILD
SNACKS & APPETIZERS:
Nacho Man Randy Savage
Rowdy Roddy Piper Pepper Poppers
TJPB
Alastair Black Bean Dip
Baked Brie with Cranial Bryan Sauce
Cactus Pepper Jack Queso
Roman Onion Rings
Samosa Joe
Salsa Banks
Mick Foley Guacamole
Jake the Snake Bites
Aiden English Muffin Pizzas
Booty-O's Snack Mix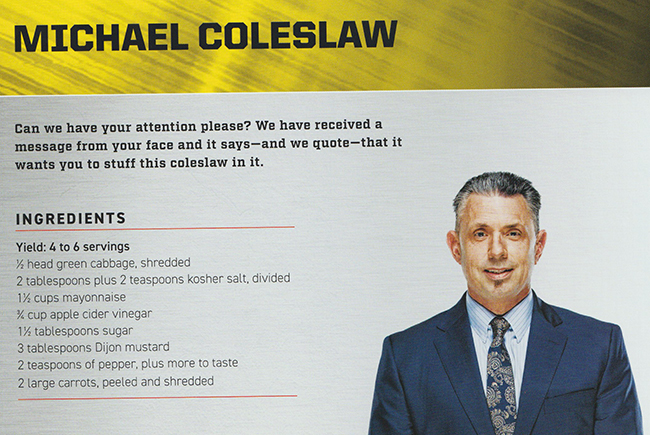 JUST IN CASE YOU SOMEHOW BLOCKED THE ANONYMOUS GM FROM YOUR MEMORY
SOUPS, SALADS, & SIDES
Ayatolla of Capicolla Melt
Souplex City
Natalyan Wedding Soup
Sheamus & Cesaro Salad
Goldberg Lettuce Wedge Salad
Green Goddess of WWE Salad
Prawn Michaels
O Hell Yams
Bret "Hitman" Hartichoke Gratin
DDPeas
Kevin Cauliflower Nash
Randy Cornton
Michael Coleslaw
Sergeant Slawter
Cous-couzev
Jabroni Macaroni Salad, Made With Peoples Elbows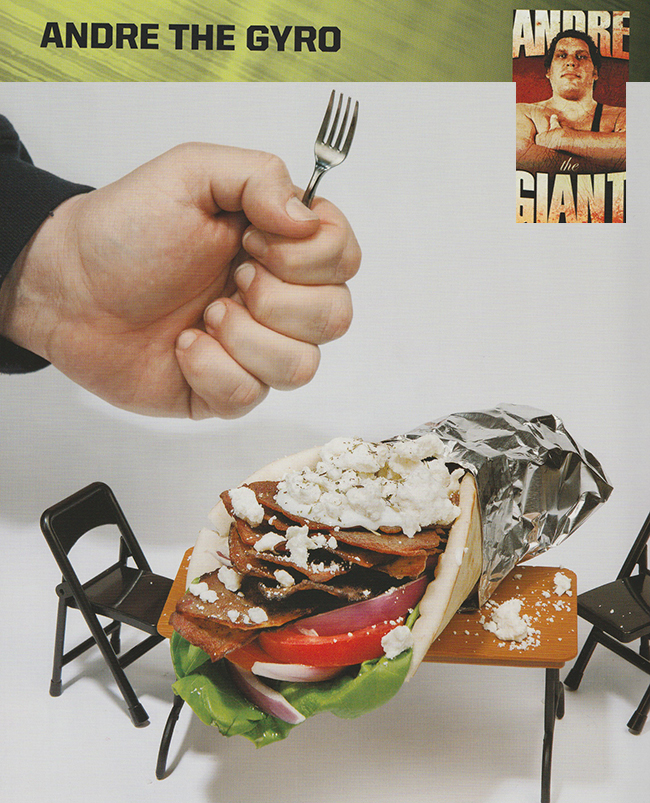 AFTER YOU EAT THIS, YOU TOO WILL NEED A 5X SHIRT. YOU CAN WEAR IT BELTED LIKE A MINI.
MAIN DISHES
Andre the Gyro
Bob Backlund Chicken Wings
Braun Stroganoff
Alundra Blayze-n Baby Back Ribs
Jerry "The King Crab" Lawler
Kane's Fiery Red Chili of Doom
Ricky The Dragonfire Shrimp
Bushwacker Mac
The Club Sandwich with Au Jus Styles
Bayley's Chicken Hug-Gits
Rikishi Pork Buns
Chicken Rock Pie
The Portabella Twins
Brutus The Barber Beefcakes
Filet Mingon with Crab Asuka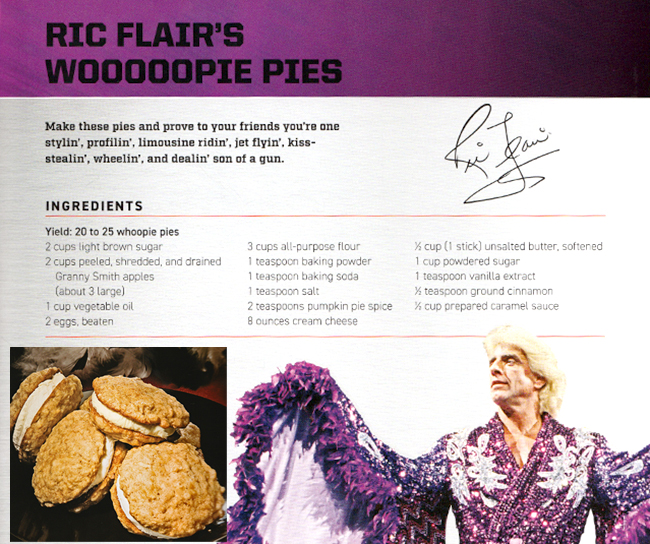 NAITCH ASKS WE CALL THEM "COPTER COOKIES" INSTEAD
DESSERTS:
Carmella Mousse
John Cena's Fruity Pebbles Treats
Undertaker's Chocolate Grave Cake
Flan Balor
Too Sweet Potato Pie
Kurt Angle Food Cake Parfait
Hacksaw Jim Donuts
R-Truth's What's Upside Down Cake
Truffle H
Ric Flair's Wooooooooopie Pies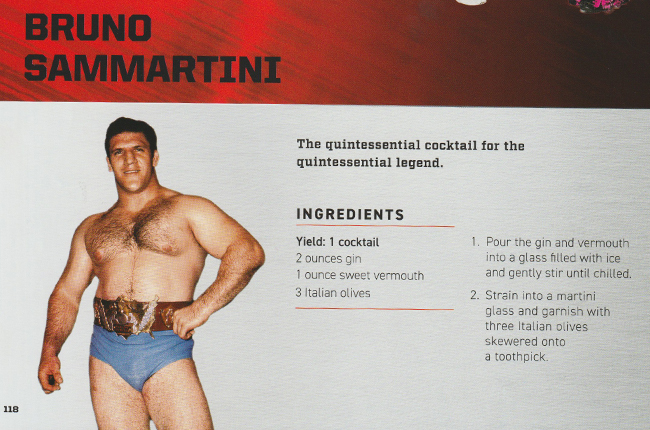 DOG GONE IT, I'M GLAD I CAME BACK TO VINCE.
HE NAMED A COCKTAIL AFTER ME!
BEVERAGES & COCKTAILS:
Becky Lynch-Burg
Whiskey Blarneystone
Sea Breezezango
Bruno Samartini
Eddie Guerrero's Latino Heat
Sensational Sherri
Sheamus Shamrock Shake
Tatsumi Fujinami Apple Cider
Coffee Kingston
Ginger Mahal
Iced Booker T
---
WHEW! All that typing has worked up an appetite, so what the heck, let's head to the kitchen ourselves and whup up some grub, shall we?
And since I love shrimp, it's time to bust out some…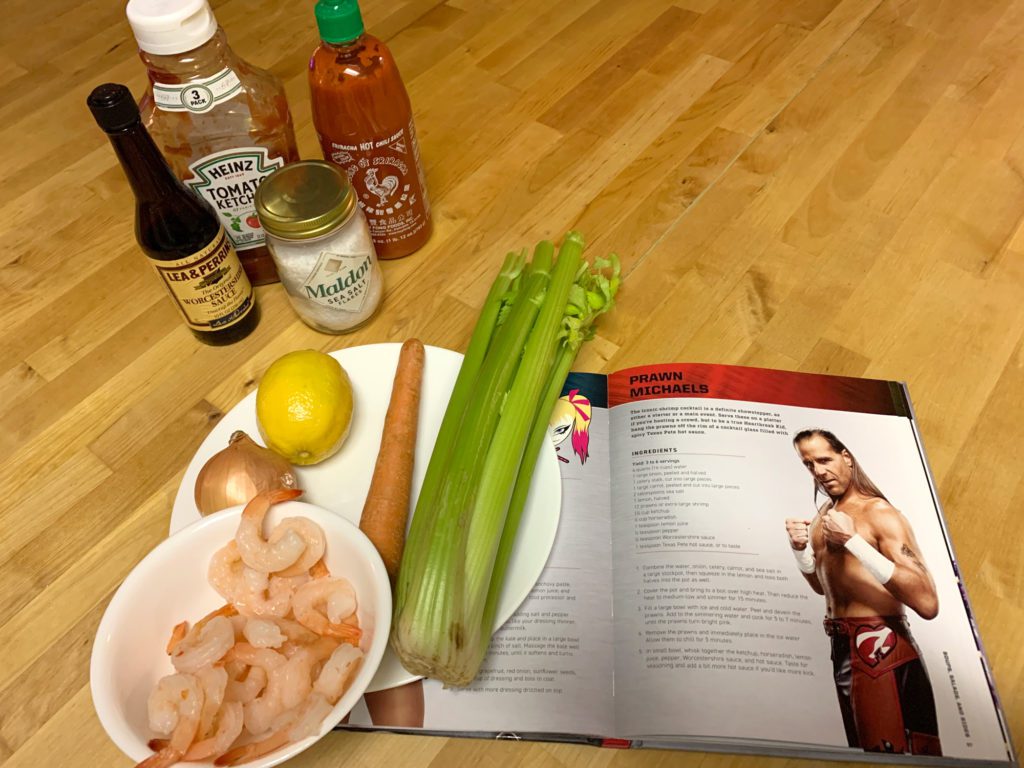 PRAWN MICHAELS!!!!
Ok, I THINK I have everything there. If I'm missing something, I'll just add extra salt. I remember Marge telling me that was the secret ingredient.
The bottles of junk are to make the cocktail sauce. There's ketchup and sea salt and worchester and horseradish. Crap, how did I not include the horseradish in the photo? Ah well, trust me, it's there.
The stuff on the plate? That's all getting chopped or halved or peeled or whatever and thrown in a pot to boil for 15 minutes with 16 cups of water.
Wait, SIXTEEN CUPS OF WATER??!! I've swam in pools with less water than that!!
And before you blast me, yes I know these shrimp are decidedly smaller than the aforementioned prawns.
Don't blame me, blame Kroger. Prawns aren't always available, and they can be very tough to come by this time of year in a place that's 1,000 miles from the nearest ocean.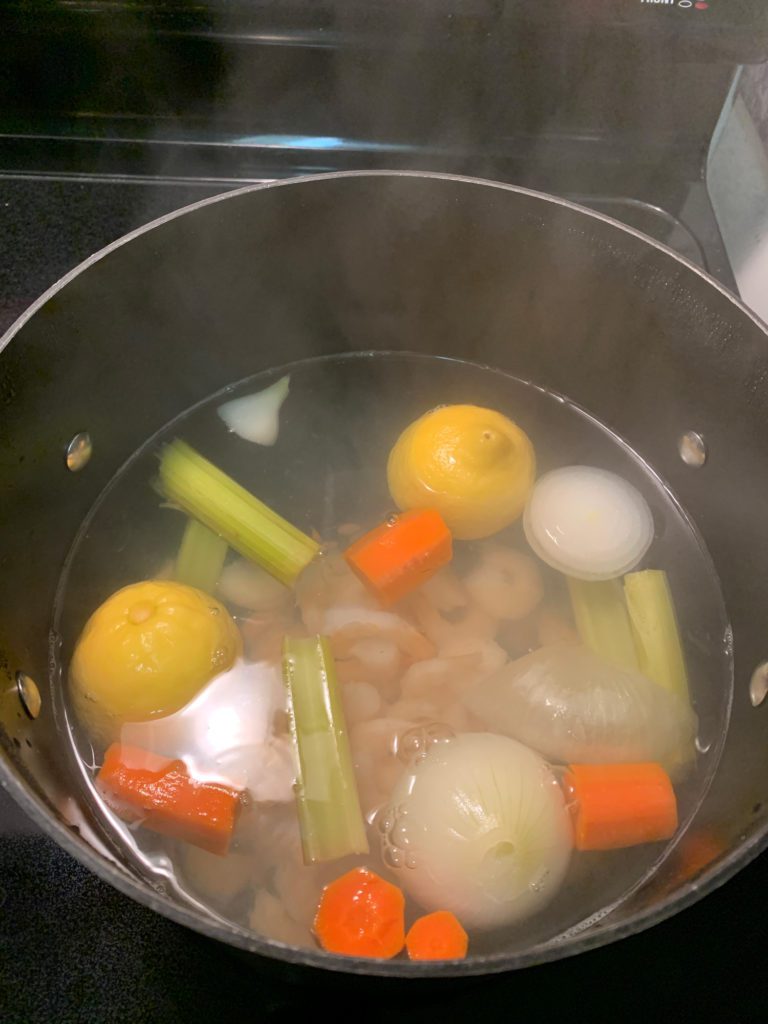 So the way this works is you chill the shrimp, then throw them in this concoction to cook for a few minutes, then you chill them AGAIN. As it was boiling, all I could think was this smells like…well…absolutely nothing. You'd think that hodgepodge of ingredients would make for a potent aroma, but no.
It's almost like the lemon canceled out the smell of the onion, while the carrots and celery just sat on the sidelines saying, "Yeah, you guys got this."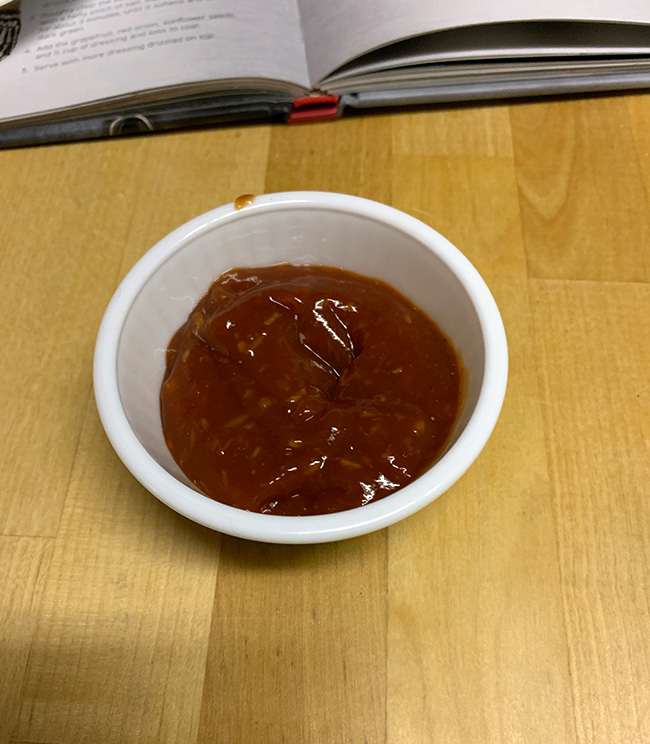 Meanwhile, I worked on the cocktail sauce, which, per the directions, is 98% ketchup and 2% a few other things.
I do like ketchup though, so we'll see how it all merges together and turns out.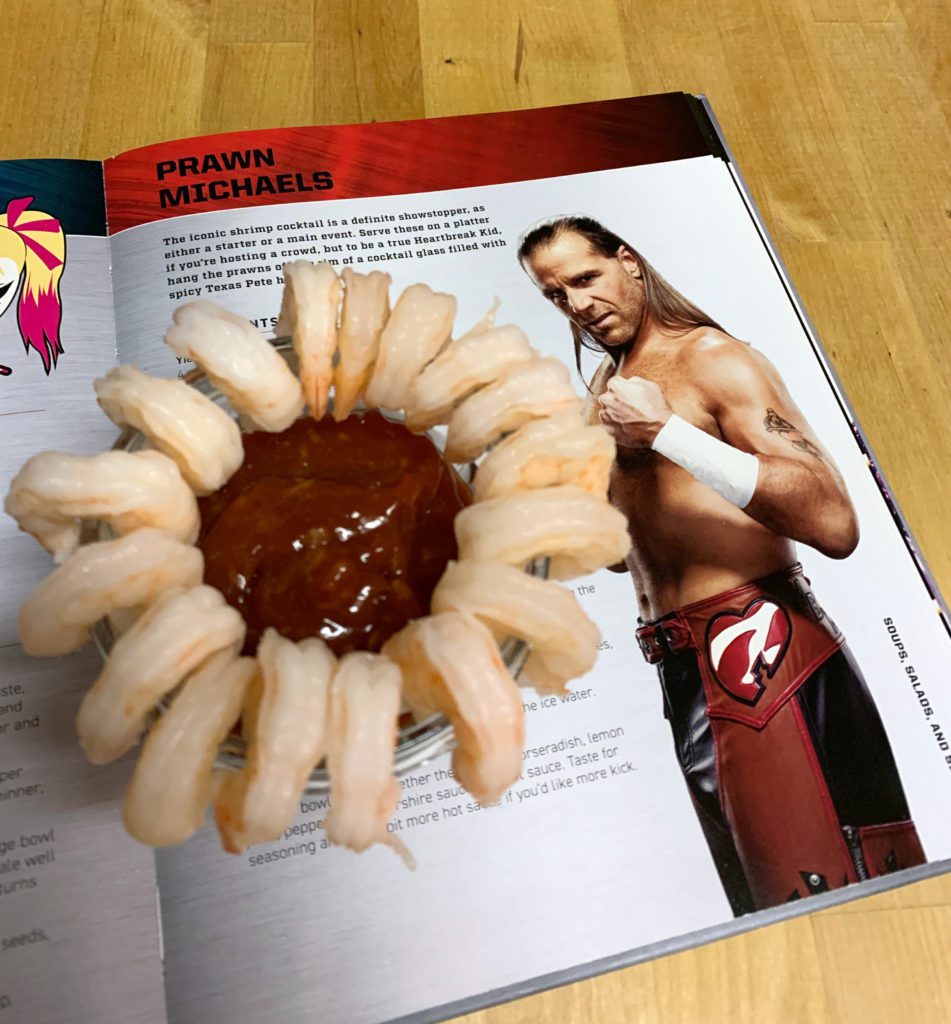 And VOILA!
Here it is, PRAWN MICHAELS!
And…well, you know, it's not bad? I'm not much of a cook, but I have to say this turned out fairly tasty.
The shrimp themselves are almost secretly seasoned. Like you can tell they have some sort of flavor to them outside of their normal taste, but it's nearly – but not entirely – undetectable. Pretty sure if I decided to forgo that next time and just thaw some shrimp out and save 20 minutes and a lot of chopping, it would be none the worse.

Interestingly enough, I used to not care for cocktail sauce at all. Over the years I've grown to really enjoy it, no doubt spurred on by the legendary cocktail sauce they have at St. Elmo's in downtown Indy. My homemade sauce is no match for that of course, but it's good. Well, it's good if you like ketchup. Probably should have dumped in some more horseradish to kick it up. I'm sure there's a Sweet Chin Music joke to be made there, but reading through this book tonight with all its stupid recipe names has made my brain kinda numb.
And on that note, I shall take my leave so I can begin work on…oh yes…the annual non-wrestling horrible Christmas movie induction! As a bit of a teaser, it's one that Vince Russo tricked me into reviewing…and it's written by his old partner in crime, Ed Ferrara!
Happy holidays?
Probably not!