Today's induction certainly is a timely one. Just two weeks ago, the subject of this story was featured on Raw, only to be put down, berated, and completely undermined as a viable character by Stephanie McMahon. No, I'm not talking about Charlotte or Kevin Owens or Seth Rollins or Lana or AJ Lee or Kaitlyn or Big Show.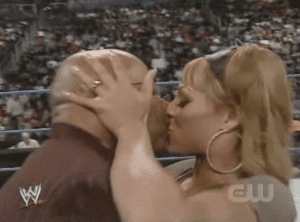 I'm talking about Teddy Long, and more specifically, his wedding to Kristal Marshall.
Kristal, if you'll remember, debuted as a face, then turned heel soon after. Neither run was very memorable, and just about the only proof that this heel turn ever happened was the fact that Kristal once ripped off Jillian Hall's top before stripping for the fans…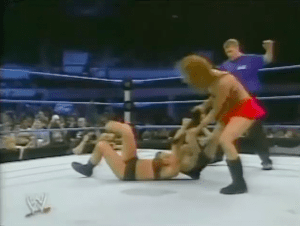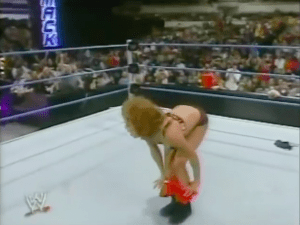 …only for the roles to reverse six months later, with Jillian ripping off Kristal's top before stripping for the fans.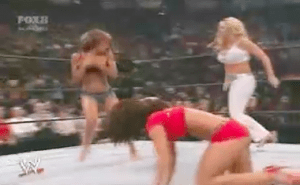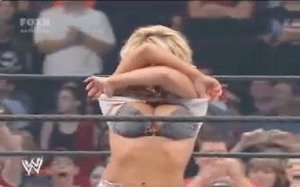 In the spring of 2007, Teddy had begun his romance with Kristal (now a babyface again, as evidenced by the stripping).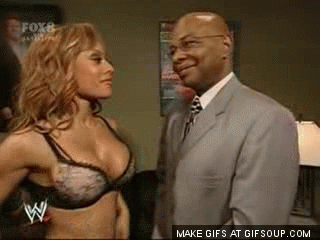 By late June, Teddy had proposed.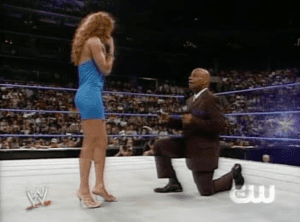 (I would give you an exact date, but when I googled "Teddy Long proposes," all the results were about tag team matches)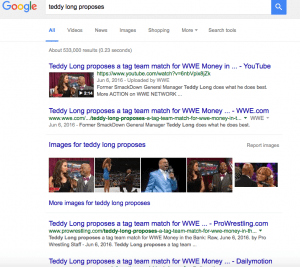 In preparation for their big day, Kristal read Modern Bride magazine, not seeing one wrinkled face or toothless grin, while Teddy asked Ron Simmons to be his best man.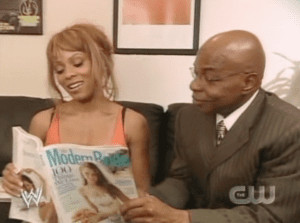 At last, it was September 21st, the first day of autumn and the "season premiere" of Smackdown. But more importantly, it was time for Kristal to marry "Teddylicious," as she called him.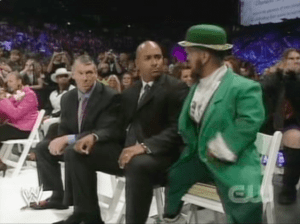 And they had invited everyone from Vince and Hornswoggle McMahon to the Superstars and Divas of all three brands.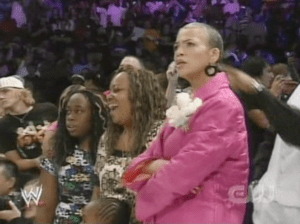 Kristal's mom and sisters were there, too, as were Teddy's sons, but other than them, the guest list was wrestlers-only. I wonder how Kristal's aunts and uncles felt about being snubbed while both Highlanders got choice seats at the ceremony.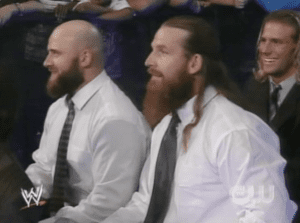 Balls Mahoney dressed for the occasion, even wearing a tie.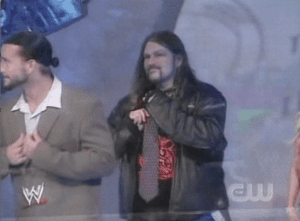 He could tell this was a high-class, formal occasion when the invitation addressed him as "Testicles Mahoney."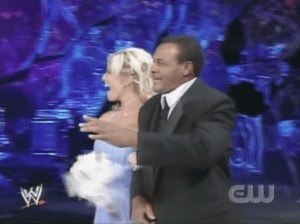 The wedding party included Butch Reed…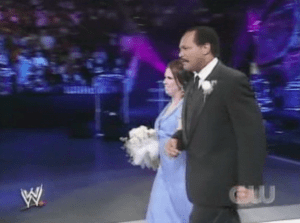 …and Kristal's "best friend" and matron of honor, Vickie Guerrero.
Kristal then demonstrated why the bride never walks to the altar on her own…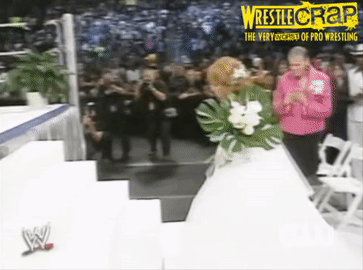 …tripping over her own dress on her way up the steps.
Jagged Edge, Teddy Long's favorite band, was even on hand. "Where the hell's everybody?" they sang.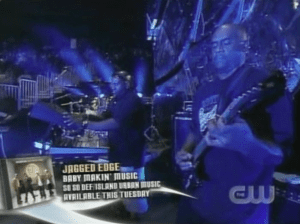 At least that was my interpretation. Or maybe it was, "Wave your hands, everybody."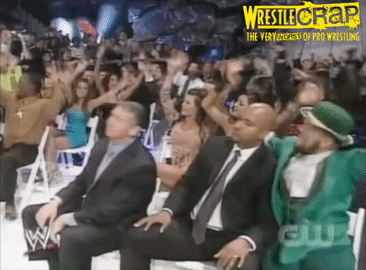 And everybody did.
Teddy even sang along.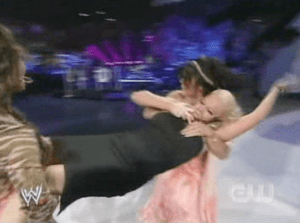 Unsatisfied with the music, our old friend Jillian Hall crashed the wedding, but this time around, she wasn't there to rip off anyone's top. She was there to sing.
Then came the objections portion of the wedding, and, just like at Billy and Chuck's wedding, The Godfather interrupted. And if that weren't fun enough, he brought The Whores!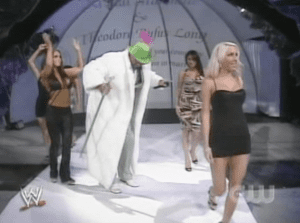 Excuse me, The Ho's! There, that's more fun.
As far as taking a ride on the train, Teddy wouldn't hear of it, but a good portion of the men on the guest list would, walking off with Atlanta's finest escorts. Hey, they don't call it Sin City for nothing!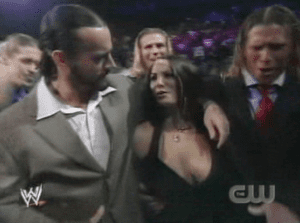 I hope penicillin is straightedge.
Shenanigans continued, as Hornswoggle and Coach seemed to confuse Kristal for one of the Godfather's ladies and got chased off by Vince.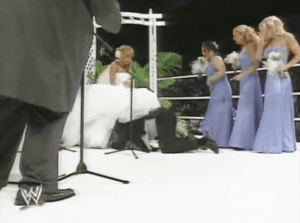 This left about four people still in attendance.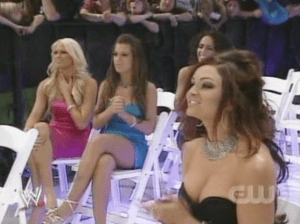 Where the hell's everybody?
Fortunately, there would be no more distractions at this ceremony, as the bride and groom exchanged vows. The only thing that would prevent the happy couple from tying the not would be if the groom dropped dead right then and there.
And would you guess what happened?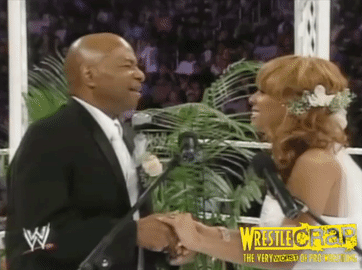 Teddy suffered an unbelievable stroke of bad luck, no pun intended (no pun intended because it was a heart attack, not a stroke).
I have to say, there's an endearing, Gary Coleman-like quality to Teddy Long's overacting, whether he's keeling over from a sudden heart attack or getting driven on a limo ride to hell by The Undertaker.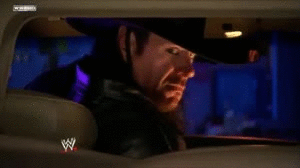 Smackdown closed with a shot of Teddy in an oxygen mask being loaded onto a stretcher, much like when Shawn Michaels "collapsed" on Raw in 1995.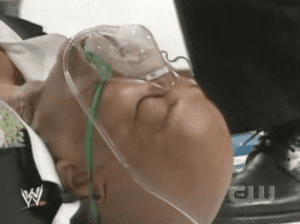 And just like that worked shoot, fans didn't know whether Teddy's heart attack was real or fake.

One fan, at least.
Teddy, we were told, was in a coma, leaving his assistant Vickie Guerrero in charge of Smackdown.
Kristal would get a few mentions on TV from time to time before leaving the company, never to be seen again in WWE. Apparently, she feared being turned into an on-screen super-skank as Lita had been.
Maybe Kristal would have been Edge's evil sex toy…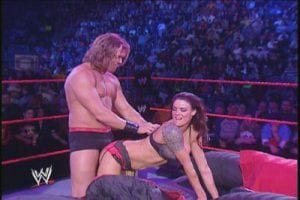 …or perhaps Teddy would have changed his and Kristal's one-on-one match into a tag team affair.
While we don't know exactly what tawdry plans WWE Creative had in mind for Kristal, consider that Lita, the future Hall of Famer and multi-time women's champion, not only had been booked to have sex in the middle of the ring…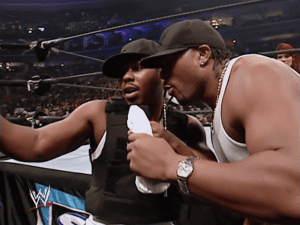 …but saw her retirement from the sport overshadowed by Cryme Tyme auctioning off her vibrator for to an audience member.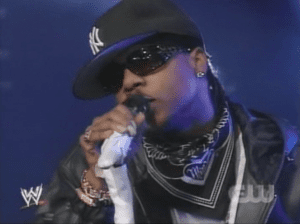 (Frankly, if Kristal had a problem with what Cryme Tyme did, she shouldn't have let JTG sing at her wedding.)
With Teddy's fiancee out of the picture, Vickie eventually turned heel as the corrupt authority figure to begin a torrid affair with Lita's former lover, Edge.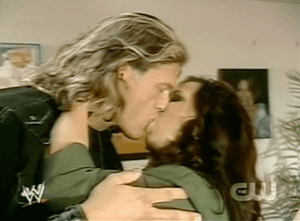 The rest was history.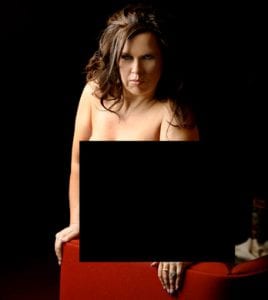 And aren't you glad?