Going into Fall Brawl 92, Sting and Davey Boy Smith were in need of a partner to take on Sid Vicious and Harlem Heat. So who did they turn to? Ric Flair? Dusty Rhodes? Maybe even Cactus Jack, who returned at the Clash prior to Fall Brawl?

Nope, they turned to The Shockmaster.
Thank you, Dusty Rhodes.
Shockmaster was actually a friend of Rhodes named Fred Ottman, who also portrayed such unmemorable characters as Tugboat and Typhoon. While those gimmicks certainly stunk, neither ranks as high on the Suck-O-Meter as The Shockmaster, who was set to be introduced to a live nationwide audience in spectacular fashion. There was to be an explosion, and then Shocky was to come out and stir fear into his adversaries.
The problem is, he tripped on the way out.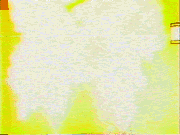 Yes, he fell right on his face, and his mask (which was just a Star Wars Stormtrooper masked covered in silver glitter) fell to the floor. As fat Freddy stumbled to his feet, you could almost hear the angle screech to a halt.
But then , Fred cut a killer interview and saved the show. Well, not really. Actually, a prerecorded tape rolled with dialog that was supposedly coming from the Shockmaster. Take a listen.
Hey, wasn't that the Black Scorpion? You've got sharp ears – Ole Anderson did use the exact same voice effects for the Shockmaster as they did for the Scorpion. Maybe Shock should have started throwing out random dates and locations to Sid. "Sid, Memphis – 1991. You stunk up the Mid South Coliseum."
Even commentator Jesse Ventura couldn't resist taking a shot following the entrance fiasco.
After such a horrific start, it shouldn't come as much of a surprise that Ottman was shown the door.
Rumors that he tripped on his way out are unsubstantiated.