Ignore the years listed at the top of this article. For my brother and me, this story starts in 1996.
Having grown tired of re-watching the same episodes of Raw we had taped in the summer of '95 (when we briefly had cable), and with WWF Superstars having just moved to the inaccessible USA Network, it seemed as good a time as any to take a look at some of the regional promotions we had only read about in Pro Wrestling Illustrated and the like.
What we hadn't read about in those Apter mags was the exciting world of tape-trading; it seems that the upstanding people at London Publishing wouldn't allow such legally dubious products to be advertised in their pages.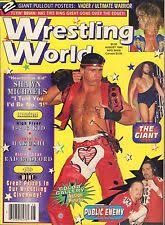 But Wrestling World magazine, a copy of which we bought at a Food Lion supermarket in 1996, would allow ads for bootleg wrestling tapes, not to mention tear gas pistols, catfight videos, spy equipment, phone sex hotlines, black box cable TV, aphrodisiacs, and caller ID.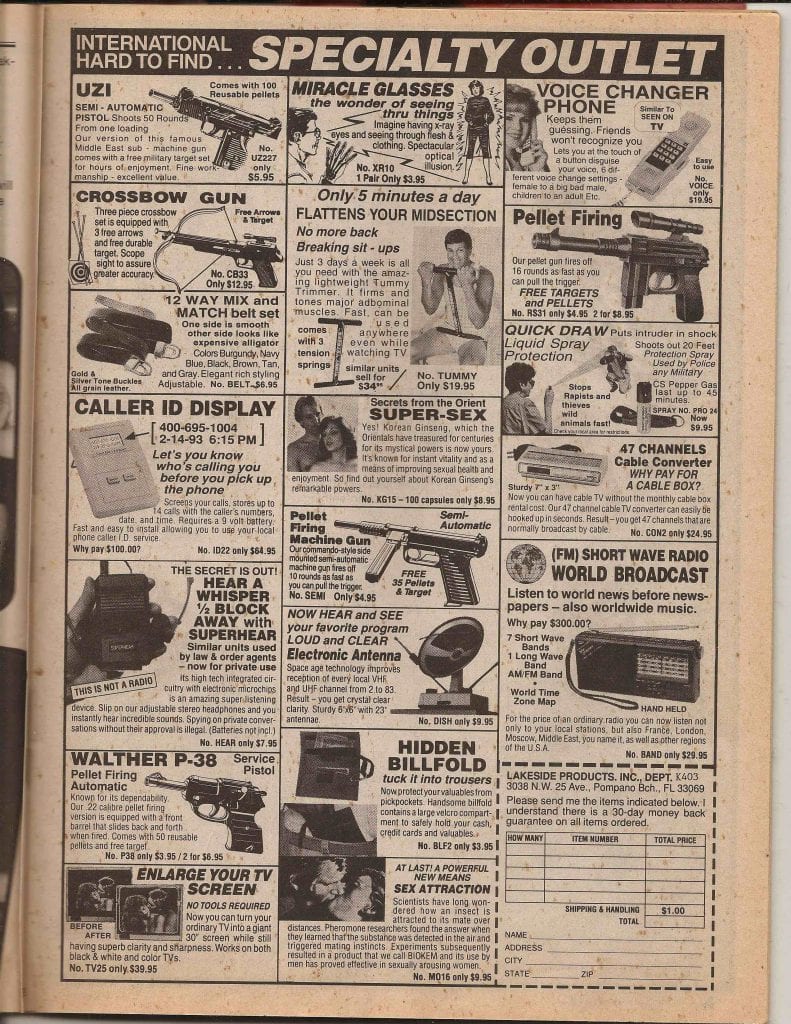 That Christmas, we asked our parents for two tapes in particular: one of the USWA, the other of Jim Cornette's defunct Smoky Mountain Wrestling.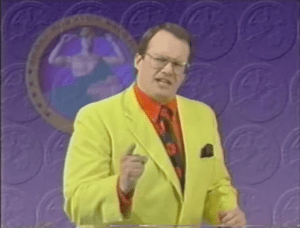 (Fun fact: we first learned the word, "defunct" from an Apter magazine describing Smoky Mountain Wrestling)
Being naive children, we kind of took for granted that these tapes were licensed products put out by the promotions themselves. After all, they were in a wrestling magazine! Even if that same magazine also gave ad space to knock-off products for making harassing phone calls.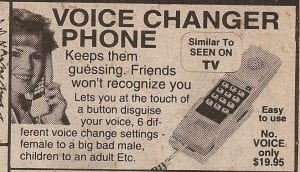 Looking back, I can't remember whether I actually asked for a tape myself, or whether I let my older brother ask for both so as not to eat into my own gift count. I can definitively say, however, that neither of us asked for Foxy Oil Wrestling on VHS.
And I can also definitively say that Chrono Trigger for SNES saved that Christmas from being a rather crappy holiday.
The $15 tapes ended up being comically poor in quality; commercial breaks were left intact, the closing minutes of Saved by the Bell preceded most of the weekly shows, and half a Family Matters episode somehow made it onto cassette, the taper not having bothered to record over it.
It turned out that my brother and I, both in elementary school, had carried out a slicker, more professional recording job on our 1995 Raws than this adult who had taped local wrestling programs for a substantial profit.
On the bright side, we got to see a handful of insane angles and ideas, like Glen Jacobs being billed as "Unabom" while the real-life Unabomber was still blowing people up around the country.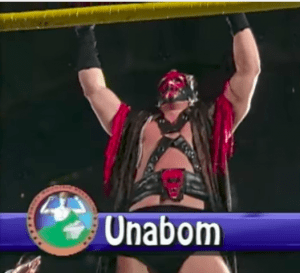 Or, the future Bodydonnas killing a cat.
It may be the second-most-unwatchable recording of Tammy Sytch in existence, but our old SMW at least gave me the idea for an internet article two decades later.
(Note: the screencaps for this article come from a different, better copy of the SMW episodes)
---
At the end of 1994, Chris was teaming with simpleton Boo Bradley, who lived in his backyard in New Jersey.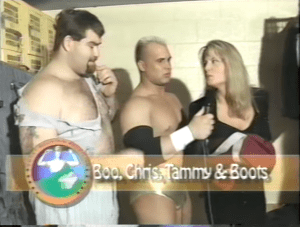 (Possibly Nutley, New Jersey, as Bradley would later find his niche in ECW as the chair-swingin' freak Balls Mahoney)
When Candido couldn't defeat Cactus Jack, he and Tammy Sytch (then known as Tammy Fytch) tried to get Boo Bradley to do it for them, threatening his beloved cat Boots if he couldn't get the job done.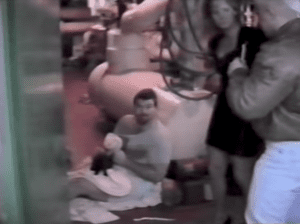 Now, fans rarely ever actually saw Boots…
…who spent the last few weeks of his life hidden away in a gym bag that Tammy shook to simulate the convulsions of a tortured cat, but there was always the threat of Bradley's kitty drowning in a river.
Lo and behold, Boo lost to Jack, and Candido decided to forgo the trip to the river and kill the cat right in the arena…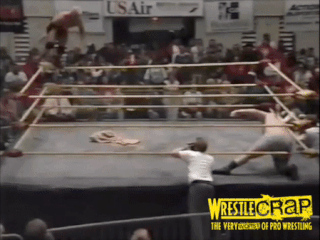 …hitting a flying leg drop on Boots, who lay helpless in a burlap sack.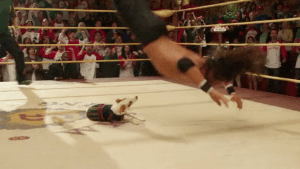 And you thought it was bad when John Morrison attempted Starship Pain on a dog.
Did I mention that he killed the cat on Christmas night?
It was Christmas night.
Did I also mention that Candido was the reigning NWA World Heavyweight Champion at the time?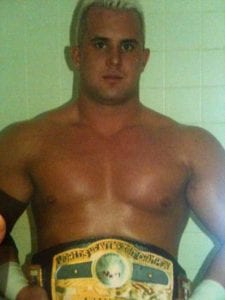 It was 1994.
Bradley was inconsolable, lashing out against the likes of Mark Curtis and The Power Ranger.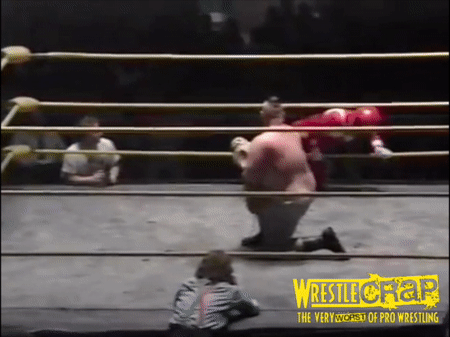 Yeah, you read that right.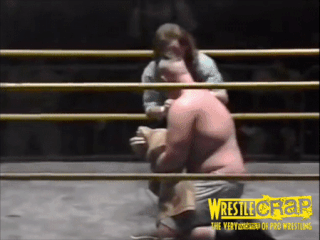 Mark Curtis!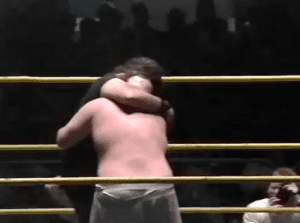 Finally, Cactus Jack himself lent a helping hand.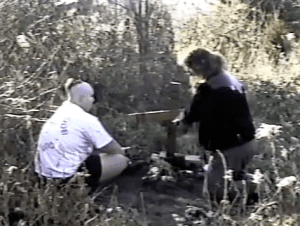 After taking young Boo under his wing and holding a funeral for Boots the cat, Jack taught Bradley to be his own man. This led to a touching montage of the storyline up to that point, set to "He Ain't Heavy, He's My Brother".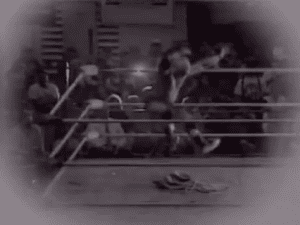 It opened with this slow-mo shot of Candido squashing the cat.
Bradley then went on the warpath against Candido, who had avoided suspension from SMW.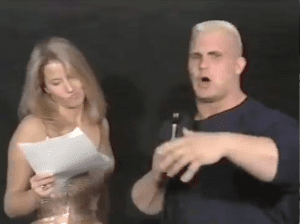 Tammy wasn't so lucky, getting barred from Smoky Mountain Wrestling for her part in the cat-killing (which was against SMW's rules).
In their big grudge match at Super Saturday Night Fever (which sounds like a very bad 16-bit movie license game), Boo had victory well in hand.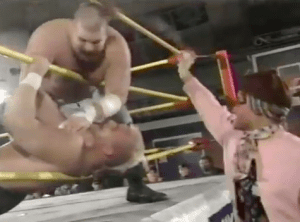 That is, until a bag lady appeared at ringside and sprayed Bradley in the face with hairspray. "That's no lady, that's Tammy!", said Jim Ross. Harsh.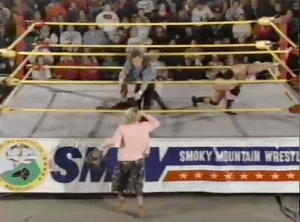 Referee Mark Curtis soon discovered the ruse and reversed his decision.
Candido had previously vowed to treat Boo Bradley like a dog in this match.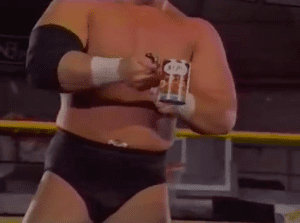 To that end, he shoved Alpo into his mouth after the bout.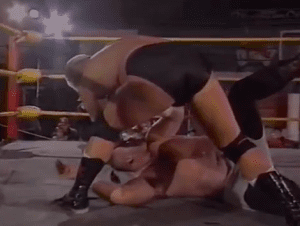 Perhaps Candido wanted Boo Bradley to eat can after can of dog food until his tears smelled enough like dog food to make his dog come back.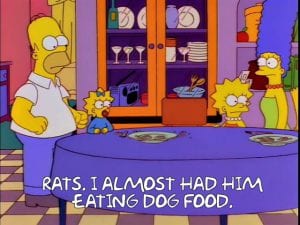 And by dog, I mean cat.
Therefore, a series of loser-eats-dog-food matches was set between Candido and Bradley.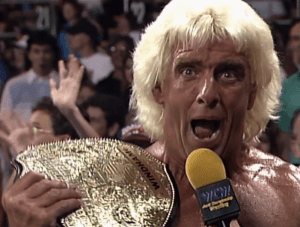 Candido's NWA World Heavyweight title reign, by the way, was just two reigns removed from Ric Flair's.
Continuing this feud's "dog" theme, Boo Bradley attacked Candido with a dog chain during a promo, resulting in a dog-collar match.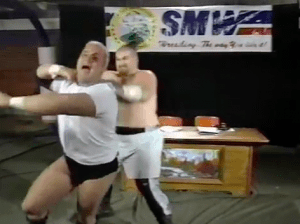 Around this point, Jim Cornette probably wished he had just given Boo Bradley a dog to begin with.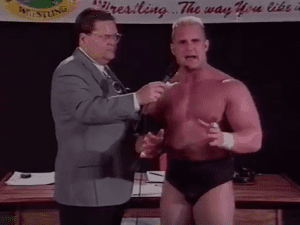 Between the cat-killing, the Gangstas, and Candido calling Bradley a "big fat r****d", it's no wonder WWE hasn't uploaded these episodes to the Network.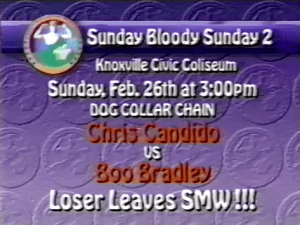 NWA World Heavyweight Champion Candido lost all of the dog food matches before dropping his title to Dan Severn and losing once more to Bradley in a loser-leaves-town match.
Chris & Tammy would waste no time moving on to the WWF, where they debuted under their real names as the babyface cheerleading squad, "Team Spirit" at a house show.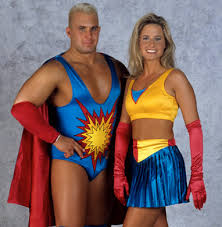 Unfortunately, that house show was in South Carolina, where fans in attendance had just seen them kill a cat on SMW television.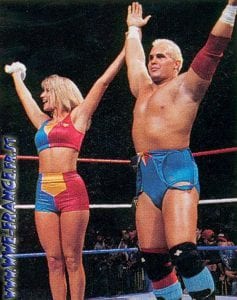 They re-surfaced months later as the heel Bodydonnas.
The future Balls Mahoney, Boo Bradley, also survived this angle and went on to fame as, of course…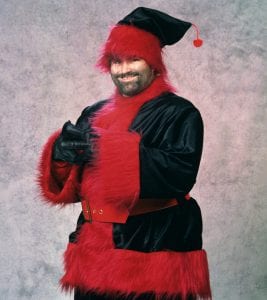 …Xanta Claus, Santa's evil twin who stole presents from children on Christmas Eve (but not, unfortunately, our mail-order tapes).
Hey, if someone had killed your cat on Christmas, you'd be pretty jaded about the holidays, too.