Bang your head!
If you're a child of the 80's, this phrase will probably make you think of the rock band Quiet Riot. However, if you were a pro wrestling fan of the 80's, another image will pop into your head when you hear that: The Missing Link. People often ask me who my favorite wrestler is, and I'll tell you here and now that the Link will ALWAYS be in the top ten on that list. Looking like something that came from a Roger Corman film, not the world of pro wrestling, the Link was one of the coolest damned looking wrestlers ever.

It was a shock to people who knew the man known as Dewey Robertson. Long known in Canada and the Central States territory as one of the clean-cut looking types in the business, Dewey would emerge as one of the most bizarre wrestlers ever to step into a ring. Suddenly, the short hair and singlet were gone, replaced by odd tuffs of hair, a green painted face and a persona that would rival the Tasmanian Devil cartoon character.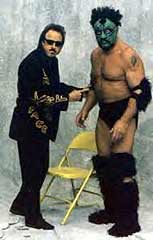 Starting out under his new gimmick in promotions like Mid-South (where he was billed as Max The Missing Link) and World Class, the maniacal Link would bounce around between the two for a few years, making one short pit stop in the WWF where he was briefly managed by Jimmy Hart and then Bobby "The Brain" Heenan. He may not have been there long, but long enough to be immortalized in the Land of 1,000 Dances video. Sometimes (such as in the WWF) billed as some sort of modern day caveman, the Link was a popular wrestler, stomping on the ground at all times and hitting HIMSELF in the head with chairs! Outside of McMahon's circus, he would enter the ring to the tune of the Quiet Riot song, and crowds would erupt at the first sound.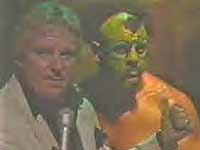 Sadly, Robertson, like so many wrestlers, had demons he was battling, and drugs soon took their toll, though, thankfully, he eventually beat them. Today, the former Link lives in Canada, and has been instrumental in the training of many wrestlers, including Val Venis (let's not even get any "Bang Your…" joke going here, gutterminds!)