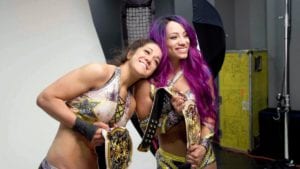 …and not only are eight other women slated to compete in the first-ever Women's Tag Team Title match at Wrestlemania…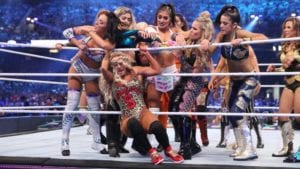 …but twenty additional women are slated to appear in a show-opening battle royal, commemorating WWE's possession of 20 women on its roster with no storylines.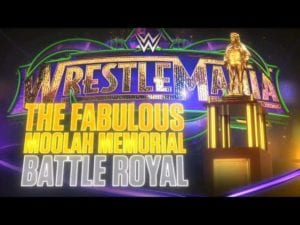 That battle royal is, of course, a new annual tradition started last year when WWE announced the first-ever Fabulous Memorial Moolah Battle Royal. Like the men's Andre the Giant Memorial Battle Royal, the women's counterpart was named in honor of a legendary superstar of the ring.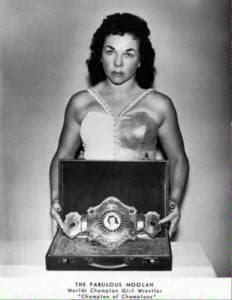 By all (WWE) accounts, Moolah was a pioneer of women's wrestling, holding the women's title an incredible 29 years! This feat sounds less empowering when you realize that she was the one booking herself to win every match for all those years…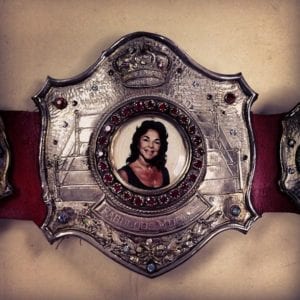 …and that she actually owned the title.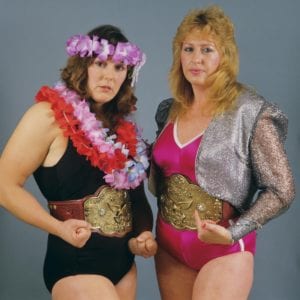 In fact, not only did Moolah not advance women's wrestling, she actively held it back. Remember how I said that this year's Wrestlemania would feature its first-ever Women's Tag Team Title match? That's because the Fabulous Moolah, in an effort to screw over her former proteges, set off a chain of events that got a tag title match at Wrestlemania 5 cancelled, and got the tag titles themselves scrapped altogether.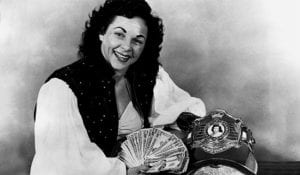 It turned out that Moolah had kept an iron grip on women's wrestling throughout the country, ripping off her underlings while dabbling in borderline human trafficking, as one does.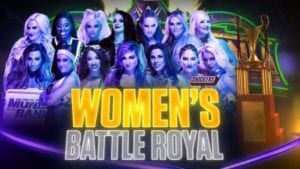 With these facts brought to the forefront, and with pressure mounting from their sponsor Snickers, WWE changed the upcoming "first-ever Fabulous Moolah Memorial Battle Royal" to simply, "the first-ever Women's Battle Royal at Wrestlemania".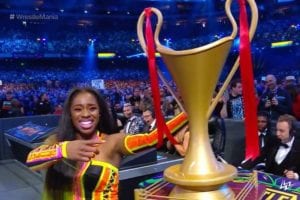 (And swiped a trophy from an Ob-Gyn's office)
Problem was, this billing was blatantly false; there had been a women's battle royal not ten years earlier at Wrestlemania, and on the main card, even.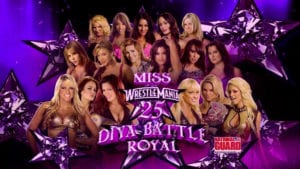 That was the Miss Wrestlemania Battle Royal, held at the 25th [sic] Anniversary of Wrestlemania, to determine the greatest woman (or "Diva") in Wrestlemania history.
Why would WWE try to erase such a grand achievement in women's wrestling from the WWE Universe's collective memory?
Let me answer that wrestling-related question with a wrestling-related musician.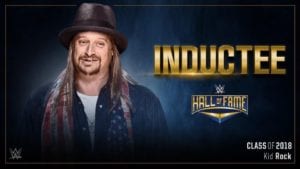 Namely, Kid Rock, who was advertised to perform at Wrestlemania 25 – for how long, WWE wouldn't say.
Rock opened his set with his famous cover of The Marcels' "Blue Moon", followed by "Rock n Roll Jesus" and "Cowboy".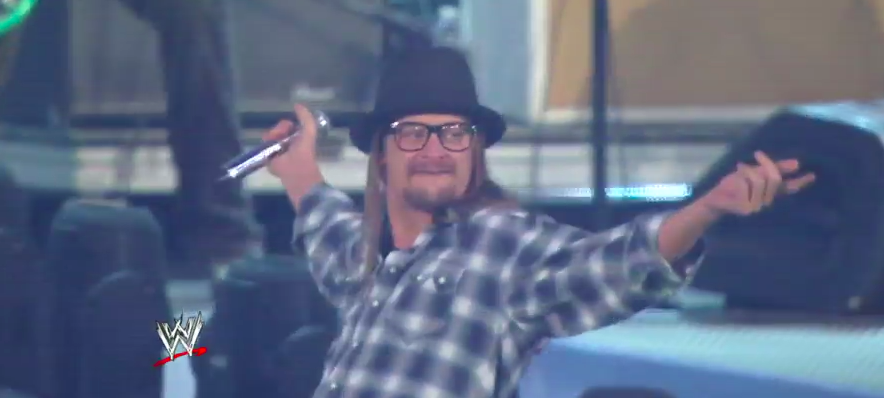 As if the hipster-looking cowboy from Detroit City weren't having enough of an identity crisis, his next song was "All Summer Long", a nostalgic tune about the good times he had while listening to "Sweet Home Alabama" – in Michigan, in 1989. That might seem like a lyrical stretch to you, but it allows the song to be classified as an "homage" and not plagiarism. He never explained what the "Werewolves of London" sample was doing there, though. Maybe he used to have them on the same mix tape.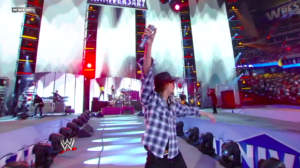 By now, Kid Rock's set had been going on for nearly ten minutes – ten Wrestlemania minutes! This was before the WWE Network, too, so they had to keep the show to four hours or less. Who knows what they could have fit onto this show if Kid Rock weren't on it?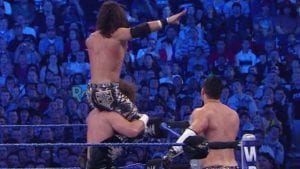 Maybe a match to unify the company's two tag team championships, which ended up as a dark match on the pre-show?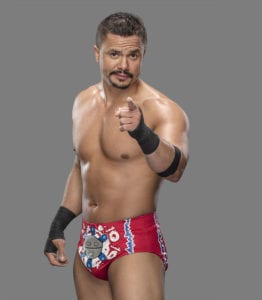 Ten years and nine pre-show matches later, and Primo still hasn't made it to the main Wrestlemania card.
And this wasn't even an intermission; Kid Rock played his set one stinkin' match into the card. Kid Rock finally closed his set with, "So Hott", which features the following lyrics: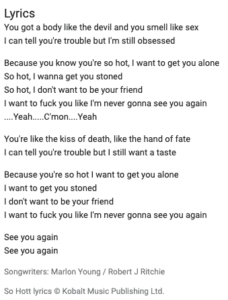 Naturally, this was the Divas' cue to make their entrance.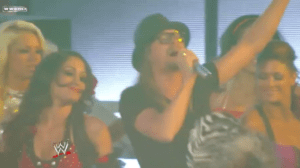 I say, "entrance", singular, because they all came out at the same time. Rule #1 of a nostalgia battle royal is that the wrestlers must have separate entrances, because most of the fun is seeing all the blasts from the past – the action is usually awful.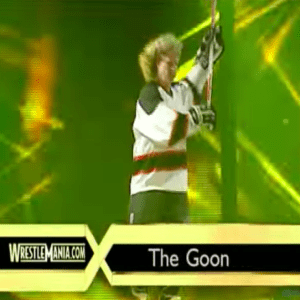 How could WWE get it so right at Wrestlemania 17, yet get it so wrong eight years later?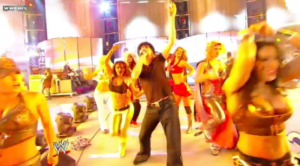 Instead of acknowledging the Divas of the past for even a moment, the name of the game was to overwhelm the viewer with as many gyrating bodies as possible so they wouldn't notice that one of the participants was Santino in drag.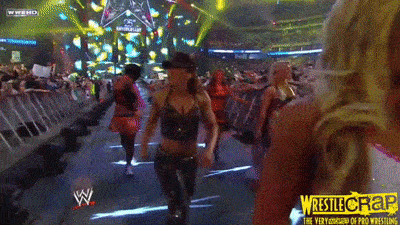 Even so, Marella got more screen time in his entrance than Torrie Wilson and Sunny combined.
The biggest kicker was that Santino didn't even have to make an entrance at all; he could have just emerged from under the ring at some point in the match.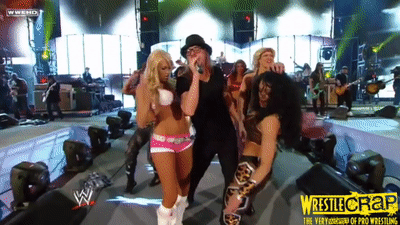 In keeping with the song's theme of Kid Rock wanting to get a woman high on drugs and then fornicate, the 25 women from WWE's present and illustrious past all shed their individual personalities on this night. See, this was the Miss Wrestlemania battle royal, a match to honor WWE's women wrestlers of the past 25 years. That meant transforming into party girls there to have a good time and grind on the one skeevy dude like it was spring break. Woooo! Yeah!
"There are more important things in the world than divas," admitted Jerry Lawler. "But what are they!?"
Apparently Kid Rock was one of those things…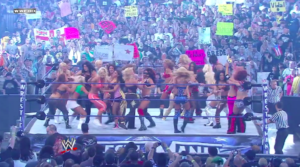 …as his mini-concert left the Divas so crunched for time that they started the match before the ring announcer had even read the rules… which he still did anyway as if nothing was happening in the ring.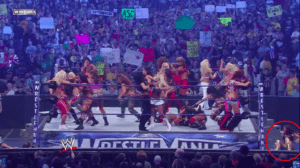 One Diva got eliminated before the intro was even finished. I wish I could tell you who, exactly, but all I know is she was wearing a black top and gold tights. If only there had been some way to introduce all the participants individually so we could better identify them during the match.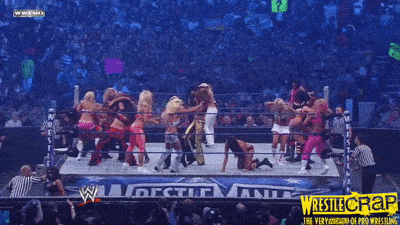 Early on, Rosa Mendes took a brutal-looking bump that few people even noticed….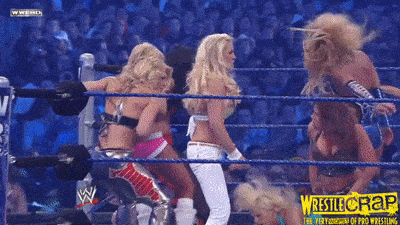 …but at least she got credit for it after the fact. On the other hand, after one Diva hit a kamikaze huracanrana on Jillian Hall, Cole referred to her simply as, "one of the Bella Twins". It was Gail Kim.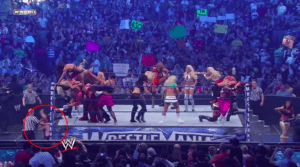 One Diva in pink got eliminated without any acknowledgment at all —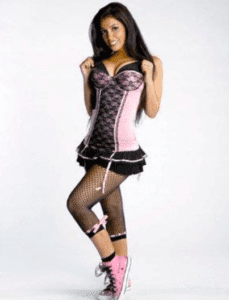 — if you went to WWE.com, you could figure out that it was a returning Joy Giovanni.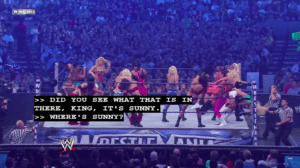 You knew WWE had messed up when Michael Cole had to point out to Jerry Lawler of all people that Sunny was in the match, and the King still couldn't find her.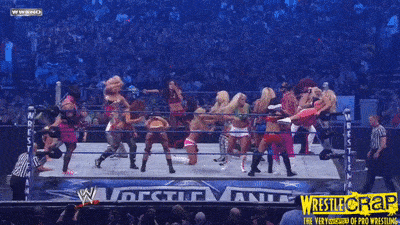 She finally got some solid camera time right after she was eliminated. The camera cut away right as she was about to show her face.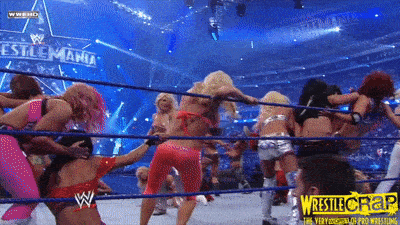 Another returning Diva got the same treatment when she was eliminated. Moments later, viewers learned that Torrie Wilson was in the battle royal… and she had just been eliminated.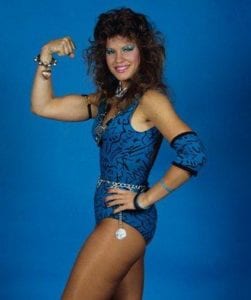 Now is as good a time as any to mention that Wendi Richter had been invited to the Miss Wrestlemania battle royal, but turned it down. Had she accepted, it's safe to say she would have ended up staying away from the company for another 24 years.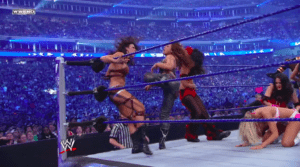 Cole mentioned some more participants, including, "I believe, Jackie Gayda". But he couldn't be sure. I can't blame him – she really, really looked like Victoria here.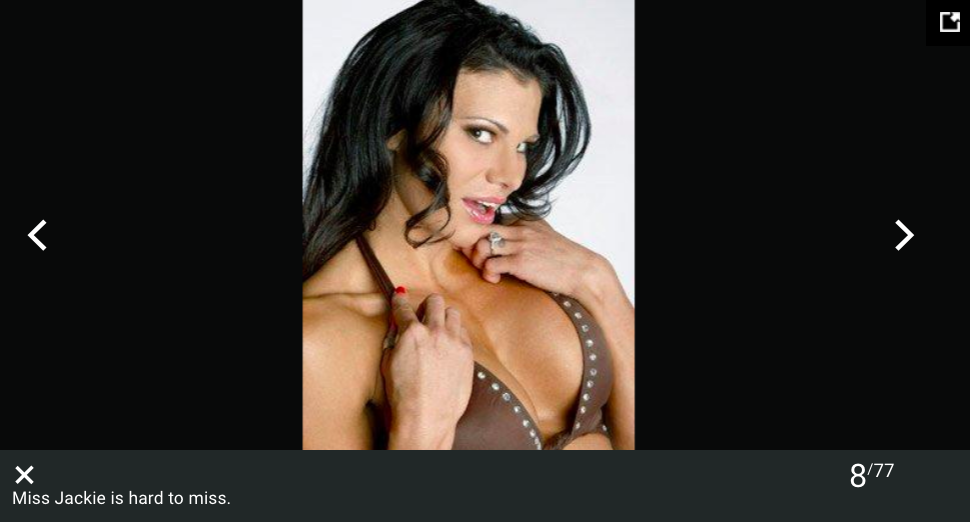 On WWE.com, Jackie was labeled, "hard to miss" by someone who had clearly not seen the Miss Wrestlemania battle royal.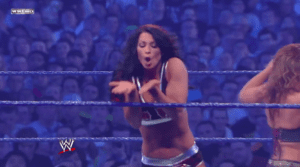 The real Victoria, it turned out, was in the ring as well, having come out of retirement to enter this prestigious battle royal and then wrestle in TNA for four years.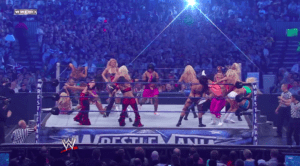 Diva after Diva was thrown over the top rope (or, usually, through the ropes, which still counted as an elimination) and was met with silence from the crowd, who finally woke up mid-way through the match to start a Santino chant.
You know, the one that goes, "San-ti-NO! San-ti-NO!" Imagine how big they would have popped if Ba-ti-STA had shown up.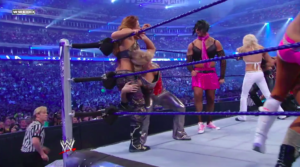 Of course, the announcers had to play dumb and act like they didn't notice the large, tattooed man in drag roaming the ring. Or maybe they weren't playing…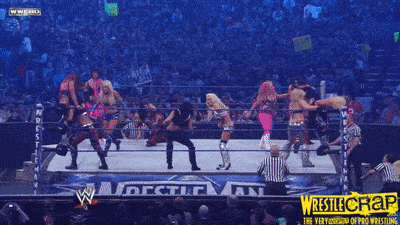 After all, they kept up their practice of not realizing a Diva had returned to WWE until just after she had been eliminated. In this case, it was Molly Holly who got dumped out, at which point, all three acted like they genuinely had no idea she had even been in the match.
Even then, she had to share the spotlight with Kelly Kelly, the only other woman in the match with a rhyming name.

(And if you don't recognize that "Kelly" rhymes with "Kelly", explain to me how Kid Rock managed to rhyme "different things" with "funny things" four times in this hit song)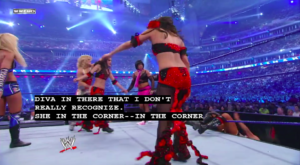 King finally caught on that something was amiss with one of the "Divas", but even another "Santino" chant couldn't smarten up the announce team to the mystery person's identity.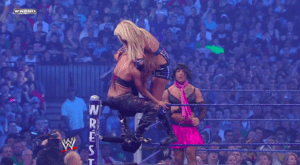 But then King seemed to lose his train of thought, failing to further inquire about the mystery woman in the now-mostly-empty ring, no matter how many clear shots of Santino's face popped up on his monitor.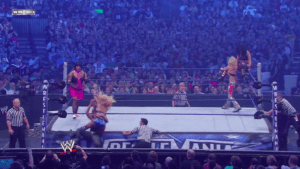 Michelle McCool and Mickie James tumbled over the top rope, leaving just Beth Phoenix, Melina, and the mystery woman, whom all the announcers went back to ignoring.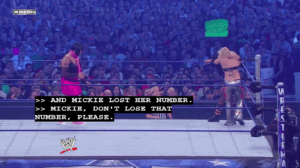 One Steely Dan reference and a double-elimination later…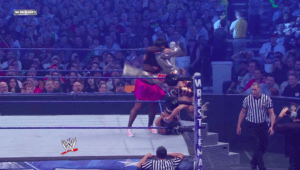 …and this major dude was Miss Wrestlemania.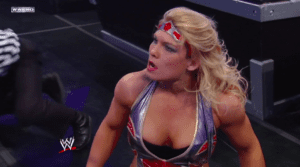 Beth Phoenix, who didn't recognize her own boyfriend in the ring with her the entire match, was shocked at these shenanigans.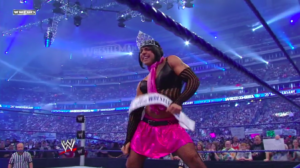 "Santina" then sexy-danced to further drive home the hilarious punchline.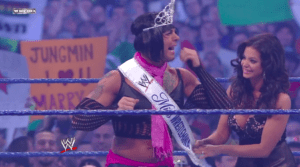 That punchline, if you hadn't caught on, was that the battle royal to determine the greatest woman in Wrestlemania history was won by a man.
So I hope that answers that question.