Well, here it is. The entry I promised RD when I first started. Lo and behold a year later, the time has come for the ultimate Memphis wrestling show. No Dragon Master or Great Mustapho can top the inanity of what came on that Memphis morning just before Halloween back in 1998. The concept of this Power Pro Wrestling show was a bit…different, but definitely unique. The deal was, everybody on the show had to wear a costume and we the hapless viewer would not know who was who. In a tournament, if you lost, you had to unmask.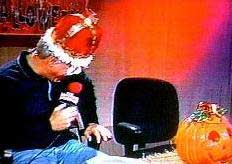 The show opened up with announcer Dave Brown, dressed in a crown and mask, trying to pass himself off as Jerry "The King" Lawler. Sitting next to him as always was Corey Macklin…wait, no, where is Corey? All of a sudden, we can hear his voice…he's the Invisible Man this Halloween! Talk about an easy paycheck.
So let's get to our contestants, shall we? We had:

Gene Simmons, Frosty The Snowman (yeah, that's a great Halloween theme there) and a demented cowboy…

Freddy Krueger, Leatherface (neither of which were the original Memphis guys. Hell, look at that cheapass Leatherface mask!), and a guy in a dog mask…

Bill Clinton (check out the tongue!) and The Gravedigger (no relation to any other Gravedigger who passed through Memphis)…

A Joker (the Midnight Toker was absent, as he spent the previous night booking this thing) and a Wolfman…

Frankenstein (dubbed Dr. Frank after an older gimmick I hope to induct one day) and Popeye the Sailor Man (who I initially mistook for HHH when I saw the arms)…

And finally, a chubby Batman, accompanied by Katwo..er, Catwoman. Yeah, hard time figuring out who this Dark Knight is.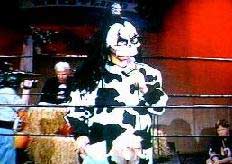 Even the ring announcer got into the act, dressing up as some sort of demonic cow beast (I always told my mother that milk was the devil's wine – just imagine drinking something yanked from those teets).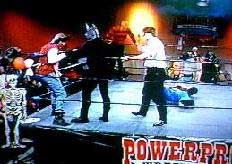 So anyway, the matches went down, guys were eliminated and no one cared. Here you can see Popeye and Batman taking on Leatherface and Freddy, while someone dressed as Darth Vader (okay, he had the Darth helmet, at least) attacked Catwoman Carter in the top right of the screen (also, notice Dave Brown has already ditched his idiotic "costume" as well). Darth was, in fact, then-PPW owner Randy Hales (imagine Eddie Deezen in the Vince McMahon role). Later on in the show, Hales, now de-masked, attacked the cowboy, believing him to be his archnemesis Brandon Baxter (yes, the same guy who used to appear on Global when he was about fourteen). Hales dumped the cowboy into a nearby dumpster, only to have Spider-Man arrive and beat the tar out of him. Webhead was, obviously, Baxter (and trust me on this, at this point in time, Baxter was probably the best thing Memphis had going for it, even if he did weigh about 74 pounds).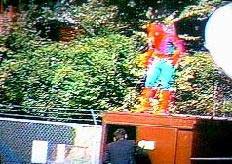 So the whole tourney comes down to Popeye and Batperv duking it out, with Popeye going the low route by knocking Catwoman out and slamming a pumpkin over Batty's head. I cannot describe how hilarious this was to watch, as Lawl..er, Bats held his arms over his head a good several seconds before Linus's Great Pumpkin came crashing into his teenage-girl-obsessed head.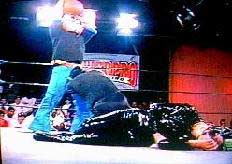 So as the show goes over, the winner of the tournament unmasks, to reaveal…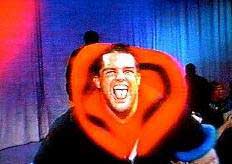 Yeah. I always knew it wasn't really spinach that Poopdeck Pappy's onlyest son took to get that adrenaline going.