Morning of the Royal Rumble, January 29th, 2022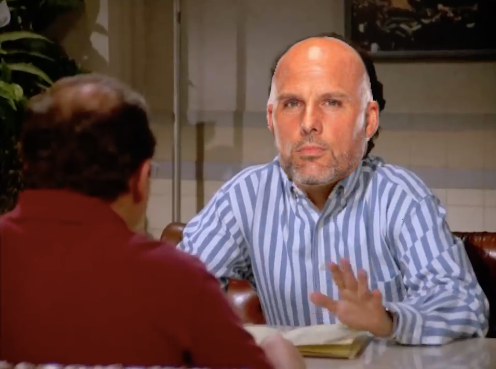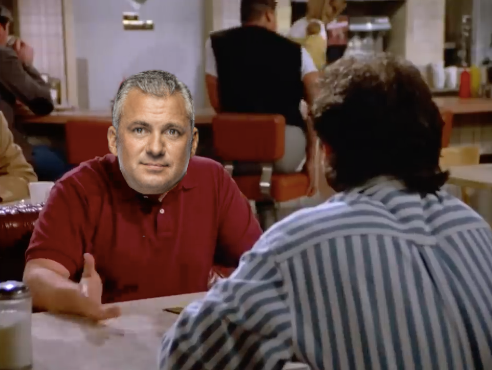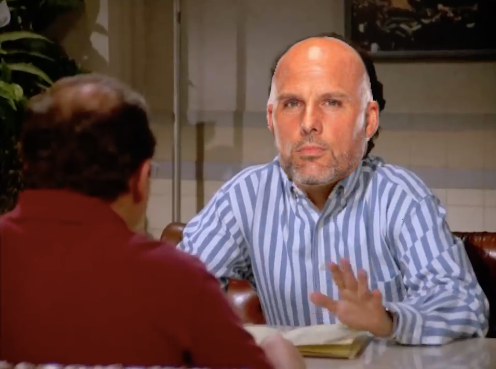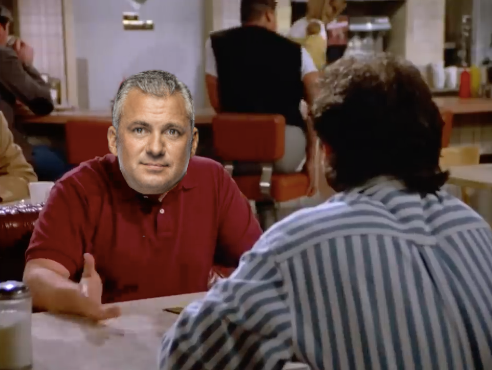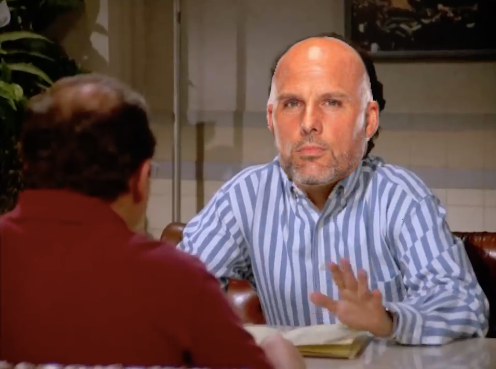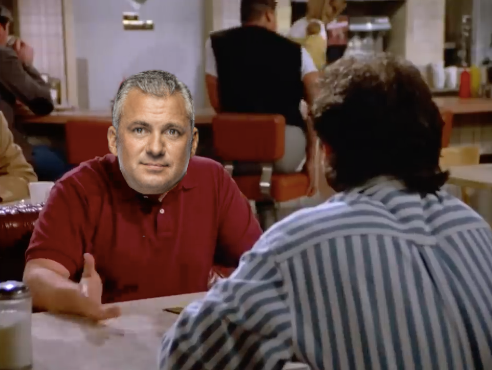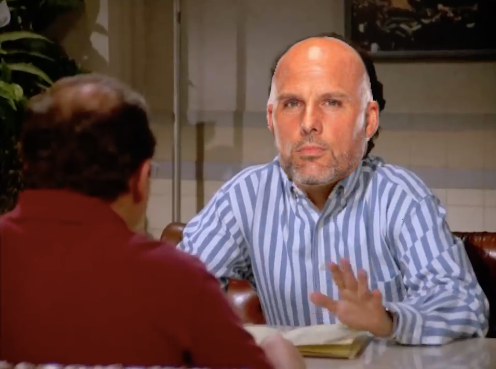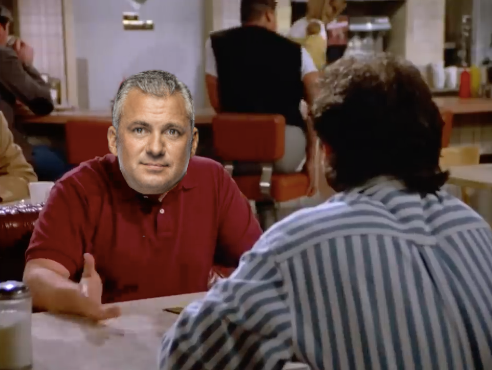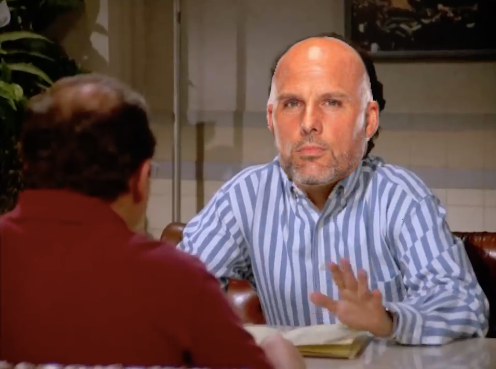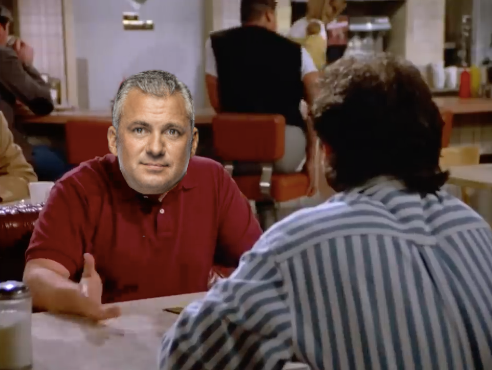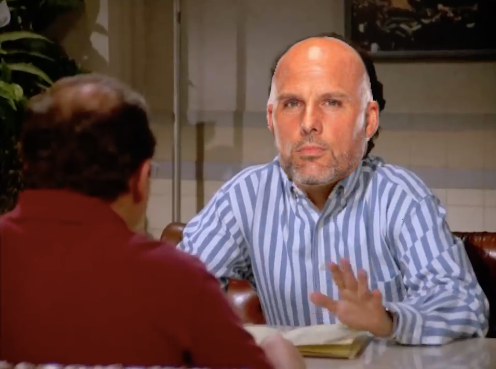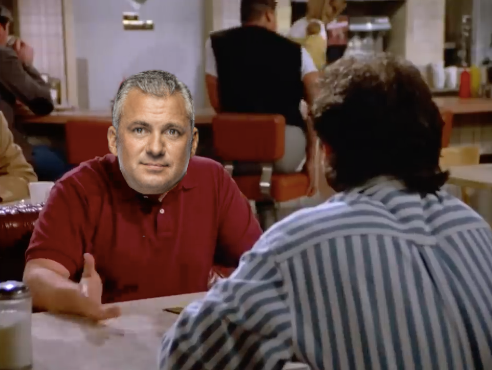 Later that day, in Vince's office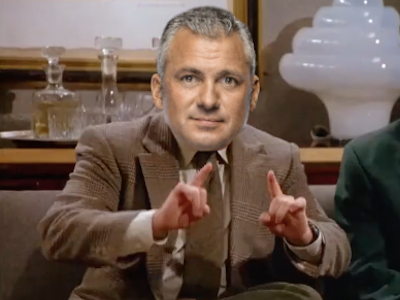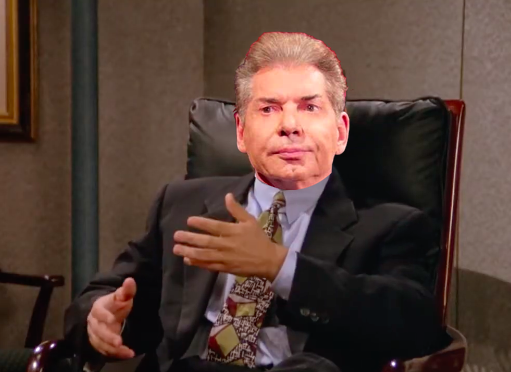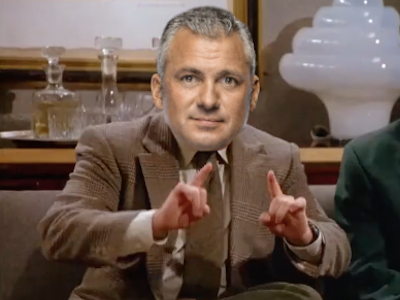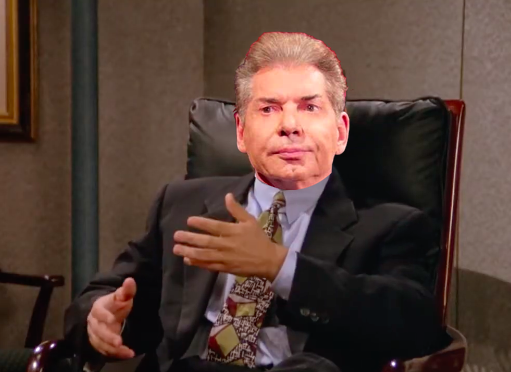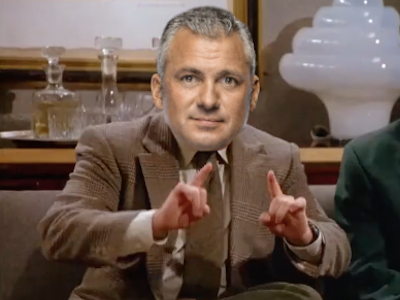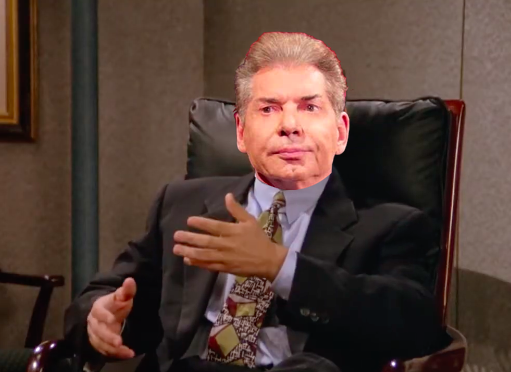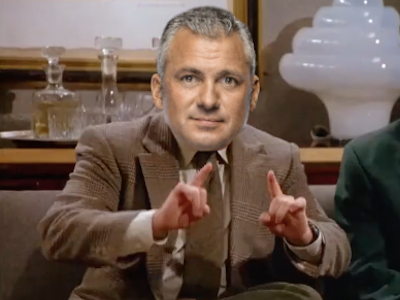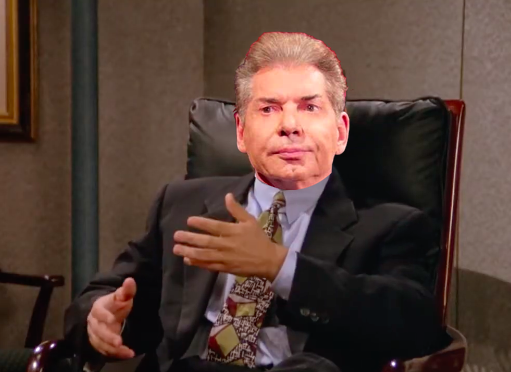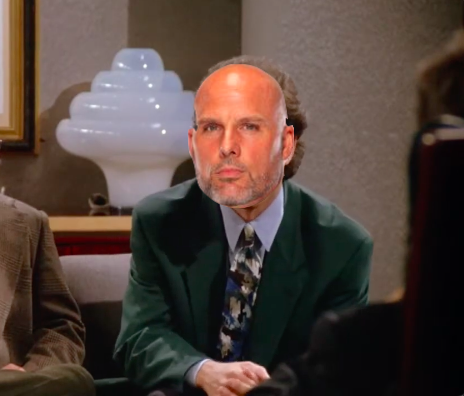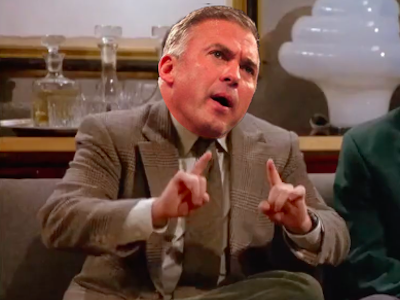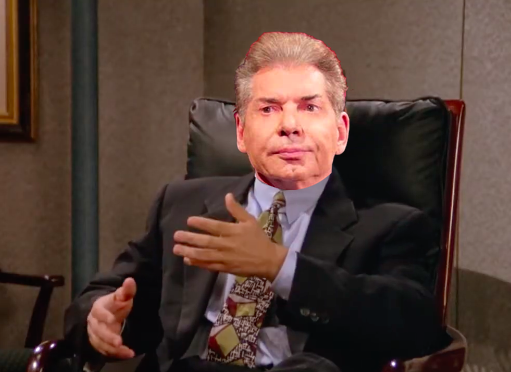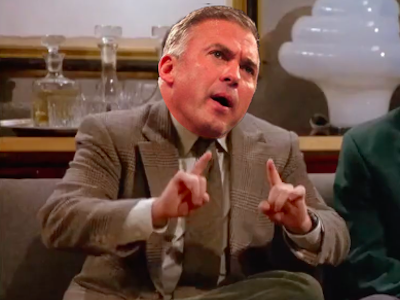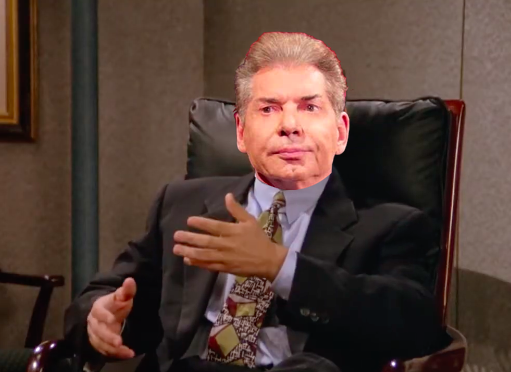 …
The Royal Rumble is the most dependably great match in WWE. With thirty men and an hour to work with, Vince McMahon and company get to weave together a dozen or more stories, spots, and moments into a chaotic, unpredictable spectacle.
And if the promise of a title shot at WrestleMania for the winner isn't enough to keep viewers' interest, bookers have used all sorts of tricks and tropes over the years to spice up the Rumble.
Maybe there's a first-time confrontation between two stars, like Hogan and Warrior in '90.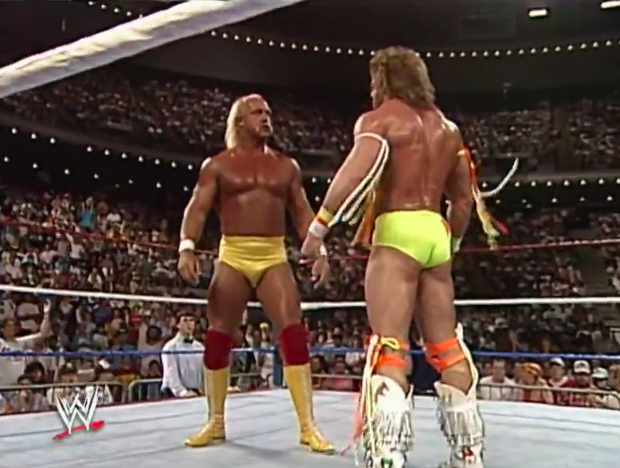 Maybe there's an iron man who lasts an ungodly amount of time in the match, like Flair in '92.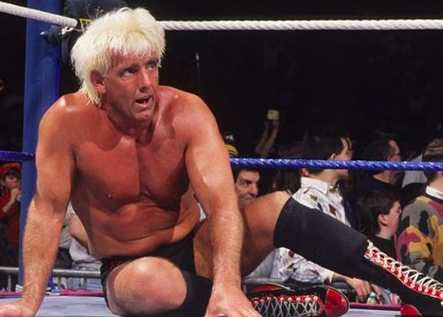 Maybe there's a breakout star who eliminates wrestler after wrestler, like Diesel in '94.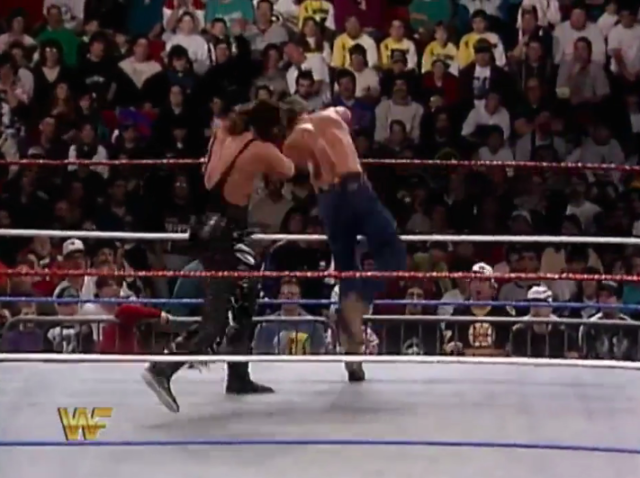 Maybe there's a surprise elimination, like Maven over The Undertaker in '02.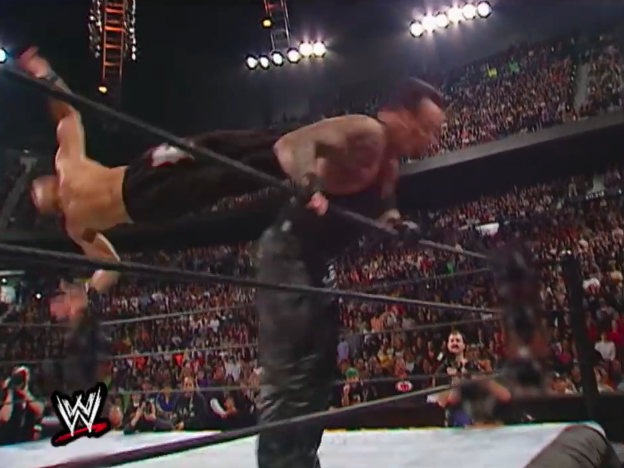 Maybe there's a comedic whipping boy, like Daniel Puder in '05 or Heath Slater in '18…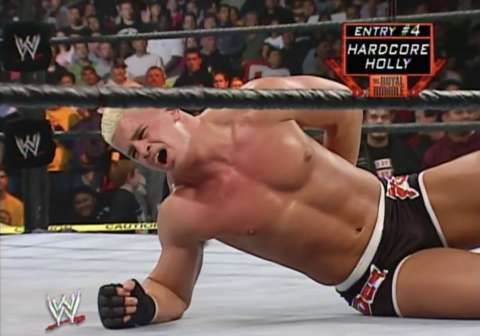 …or a comically quick elimination like Santino Marella, the Warlord, or Bushwhacker Luke.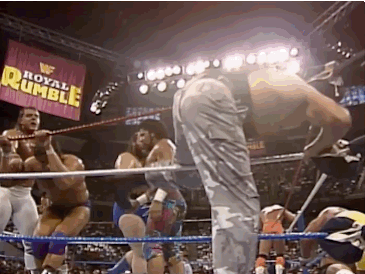 There are foes turned friends and friends turned foes…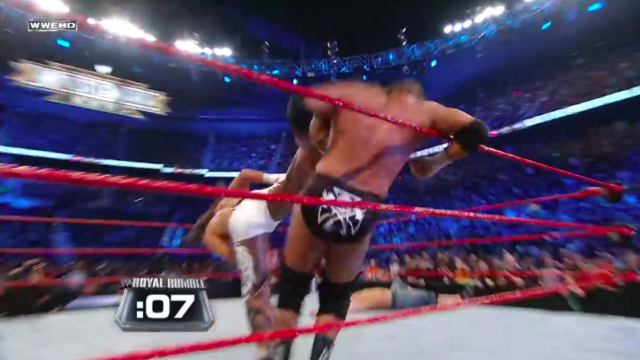 …surprise entrants and shocking returns…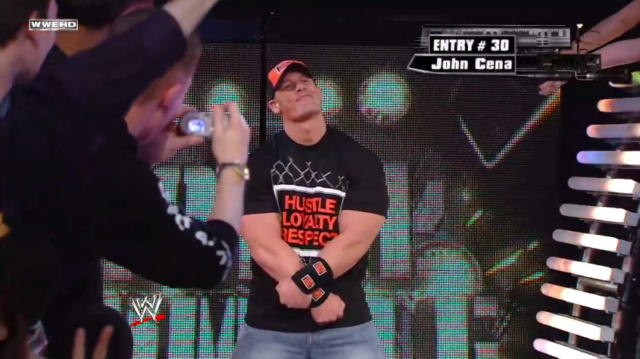 …new feuds begun, current feuds continued, and old feuds renewed.
Except for the 2022 Men's Royal Rumble — that one had pretty much none of those things. In fact, I've watched simulated WWE 2K Rumbles that were more engaging.
While the Women's Rumble (largely thanks to this Sasha Banks gif) was well-received by stans and weebs alike…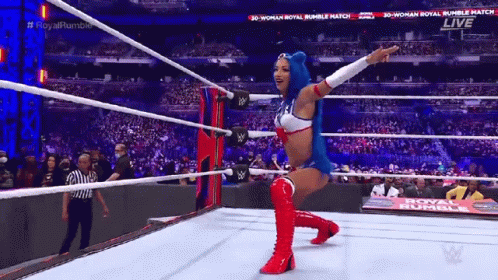 …its male counterpart absolutely languished.
One problem was that Roman vs. Brock was all but set in stone for WrestleMania, especially after Reigns and Heyman screwed Lesnar out of his title earlier in the night. That meant that either Lesnar was winning the Rumble and attempting to end Roman's 17-month reign…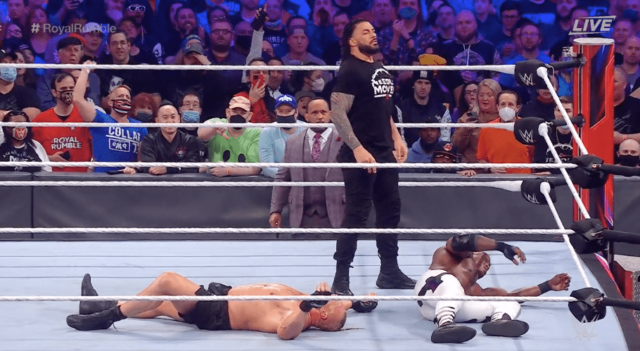 …or someone else was winning and taking the coward's way out against Lashley.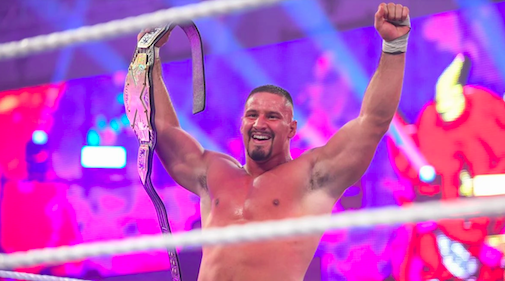 The other, larger problem was, of course, that NOTHING F***ING HAPPENED IN THE MATCH.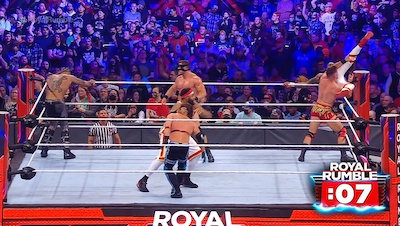 For nearly the entire 51-minute match, wrestlers came and wrestlers went without a ghost of a chance of winning. There was no ebb and flow, just a steady stream of guys going through the motions.
In fact, the sole highlight of the first ten entrants was the advertised arrival of Johnny Knoxville…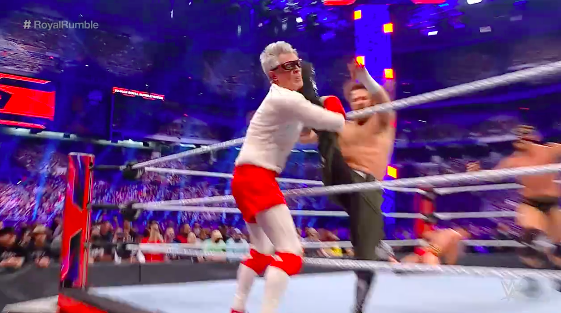 …who lasted a minute and a half before Sami Zayn kicked his head off.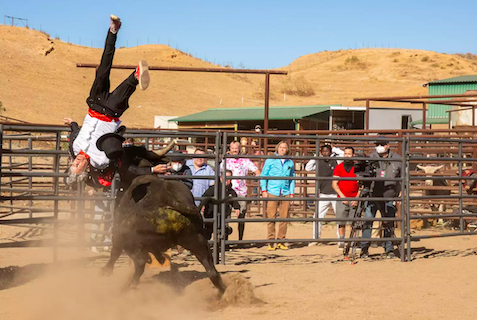 (Knoxville, who'd suffered a brain hemorrhage while filming his latest Jackass film, was fine)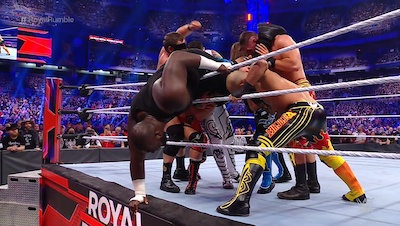 A few entrants later, the giant Omos arrived but was soon eliminated by six men. Aaaand…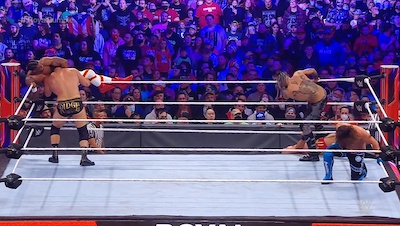 …that was pretty much it for the first 20 entrants, comprising 30+ minutes of monotonous, nondescript action where absolutely no one shined. In fact I struggle to illustrate just how aimless and dull this Royal Rumble was. How does one convey sheer boredom in a single screenshot?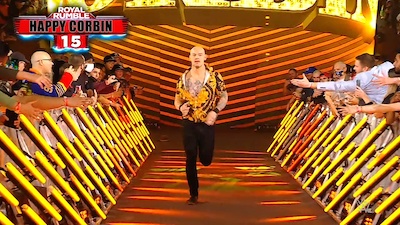 Drew McIntyre, making his scheduled return at #21 following a brief injury, was the first participant with a real shot of winning, or who even looked particularly interested in winning.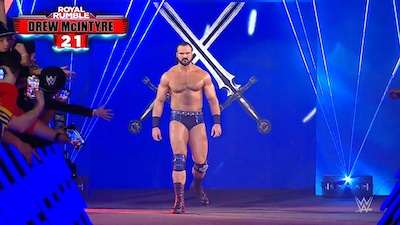 But still, there was little point in fans getting invested in the match until Brock arrived and cleaned house.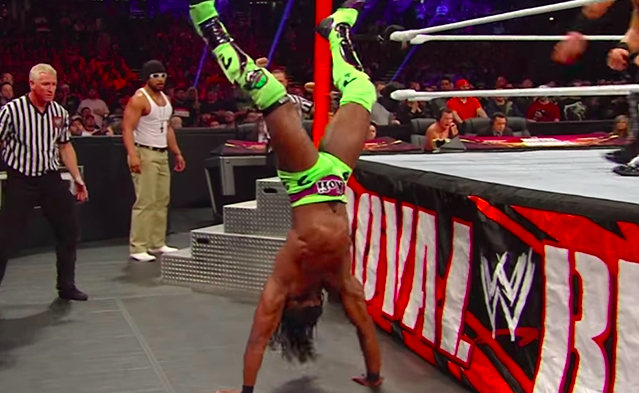 One consistent Rumble highlight over the past past decade has been the amazing, creative way Kofi Kingston avoids elimination every year.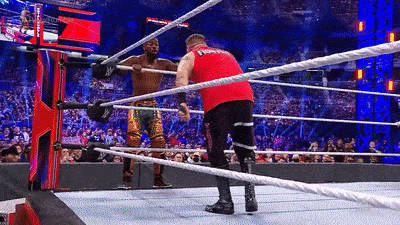 This time, Kofi cut right to the chase, launching onto the guardrail and catching himself like Spider-Man.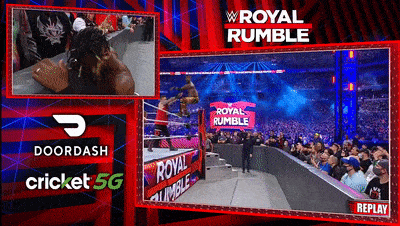 Except it didn't work. The one interesting spot of the match backfired, and Kofi was eliminated in 21 seconds.
Bad Bunny of all people entered at lucky #27, a spot usually reserved for serious contenders.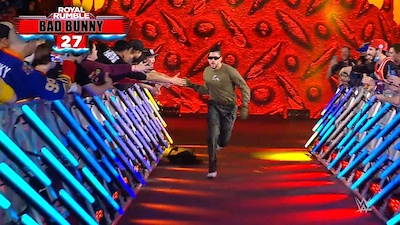 The late entrance wasn't WWE's only questionable decision regarding the rapper, either. Now, I like surprises as much as the next guy, but if one of the world's biggest musical artists were to appear on my show, I would probably advertise him ahead of time.
At #28, it was time for this Rumble to finally get serious with… Shane McMahon!?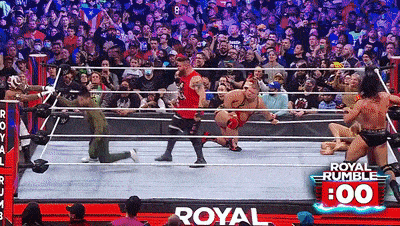 He couldn't believe it either, having expected to come out at #29 instead. Amid the confusion, Otis eliminated Rey Mysterio.
Vince McMahon may have actually ordered the production truck to hit Shane's music one spot early, just to show him who was boss. See, as lead producer for the match, Shane had spent the whole day planning one asinine, self-serving idea after another, which his dad ultimately vetoed. It turns out, this wasn't supposed to be a Rumble about nothing; it was supposed to be a Rumble about Shane.
Undaunted, the 52-year-old businessman stormed the ring and blasted Kevin Owens with his patented punches…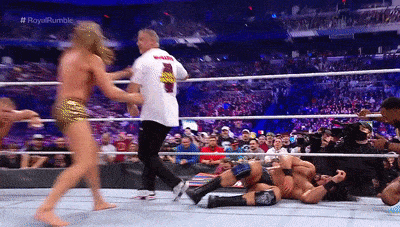 …then duked it out with Matt Riddle (MMA record: 8-3).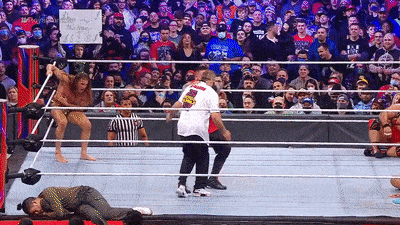 And why not throw KO out while he was at it? It's not like he'd be main-eventing WrestleMania.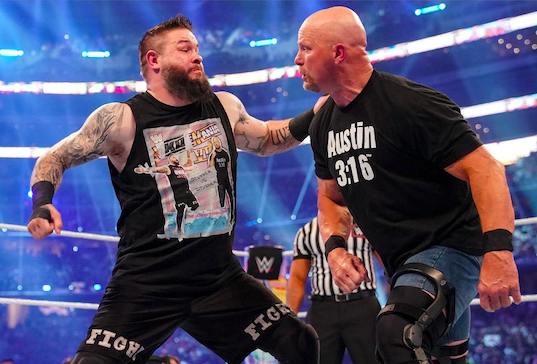 But if you thought that was bad, imagine what didn't make the cut! There were probably enough rejected Super Shane spots to fill up an entire Rumble (especially considering he'd pitched himself to enter #1).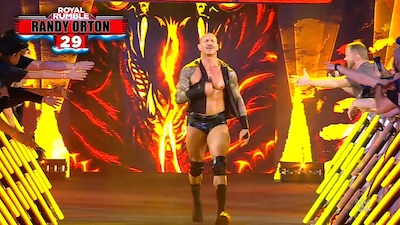 Randy Orton, having spent the past minute and a half laughing at Shane backstage, entered at #29.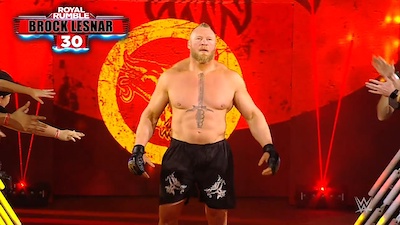 Number 30 was, of course, Brock Lesnar. True, he wasn't announced for the Rumble…
…and he had already wrestled that night…
…and he was the WWE Champion as recently as two hours ago…
…but sure, why not stick him in at the end of the match?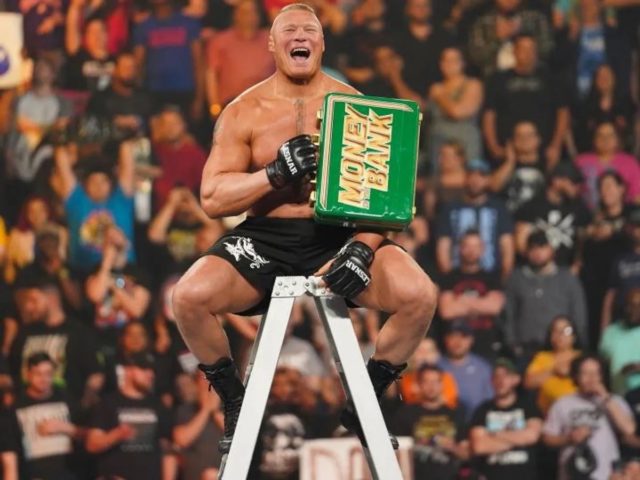 Unsurprisingly, it took Lesnar just three minutes to eliminate everyone and get another title shot.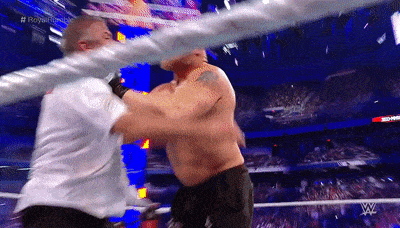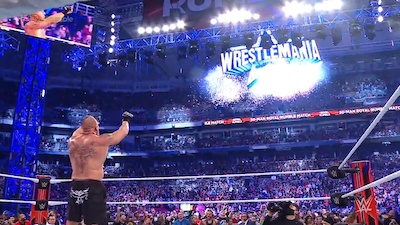 Lesnar celebrated his hard-fought victory by pointing at the WrestleMania sign, which then caught fire.

As for Shane, he had bungled the Royal Rumble so badly that his own dad fired him.
There's a lesson to be learned here. Shane O'Mac tried to use the match as his own star-making vehicle, but all he got was one lousy elimination and the worst Royal Rumble ever produced.