Anybody here remember the old movie Smokey & The Bandit with Burt Reynolds? If so, you might remember that Bandit actually ran cover for a trucker named "Snowman" who was played by a guy named Jerry Reed.
Now Jerry Reed was somewhat of a celebrity in his own right in the early to mid 70's. Reed was a song writer who penned such classic country tunes as "When You're Hot, You're Hot", "Eastbound and Down", and the tender love ballad "She Got the Gold Mine, I Got the Shaft." He also wrote a little song named "Amos Moses".
Now if you're wondering what all this has to do with professional wrestling, I am proposing right here that Vince McMahon came up with the idea for a character by listening to Reed's song. Don't believe me? Listen to this clip, and tell me if you think it bears any resemblance to a former WWF Superstar.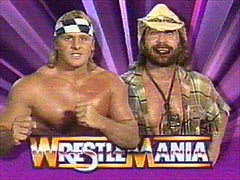 Not enough proof? Then let's analyze a profile on Skinner that was in WWF Magazine (courtesy of SpaceH0G34@aol.com) against the song Mr. Reed sang all those years ago: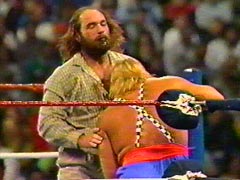 So what does all this teach us? Well, I'm not really sure, but I think we can all agree on one thing:
Jerry Reed ROCKS!