Ok, took me a few weeks to make a hard decision: I've decided that going back and reviewing all the Saturday Morning Slams that I missed back before we relaunched the site is a fool's errand. It ain't gonna happen. The reasons are myriad, but honestly, it's primarily due to the fact that every report I did was virtually the same.
Same workers.
Same segments.
Same jokes.
I know there are those who'd argue that is what I've done the past 13 years, but even I hit my limit sometimes, kids.
As I thought back over the episodes I would not be recapping on the site, there was at least one segment on one of them that I knew I absolutely could not pass up putting under the WrestleCrap microscope though. It took place two days after Thanksgiving in 2012…so I kinda always kept it in the back of my mind to post it around the holiday.
More than anything, though, I wanted to write about it because it just so happened to be one of my favorite Saturday Morning Slam segments ever.
I mean, really, it was a pie eating contest. On Saturday Morning Slam.
Was there ever a chance we would NOT cover this on the site?
But before we jump right into the festivities, let's hear what the WWE Superstars were thankful for back in 2012!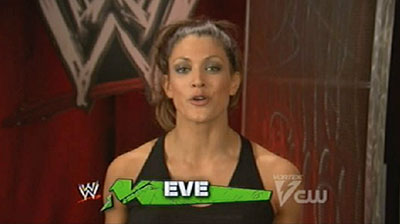 Eve is up first. I thought she would proclaim her gratefulness for whatever it was that made her skin Pantone 021 orange, but instead she notes she is most thankful for her friends and family.
She would be so thankful for said friends that she would shortly leave the company just to hang out with her fiancé, Rener Gracie.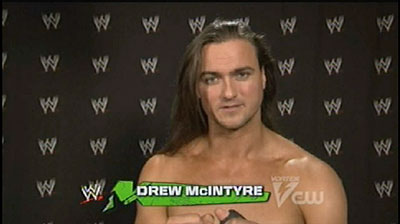 Drew McIntyre is thankful for Three Man Band. Here I thought he'd be thankful for his friends and family, which no longer included Taryn Terrell. Because, you know, she is apparently a complete wacko.
Oh who am I kidding? I love ECW Tiffany.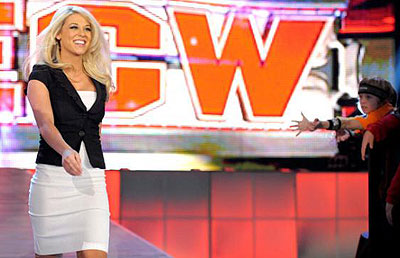 If you ever hear me saying I'm happier to be hanging out with Jinder Mahal than ECW Tiffany, feel free to call me a liar.
To that end, Drew, I think you are lying.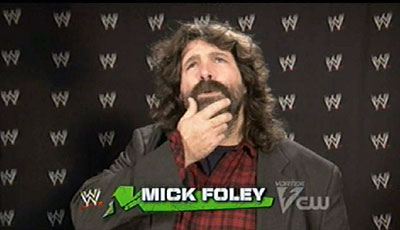 Mick Foley is up next, stroking his homeless man's beard and hair…which also happens to be what he is thankful for.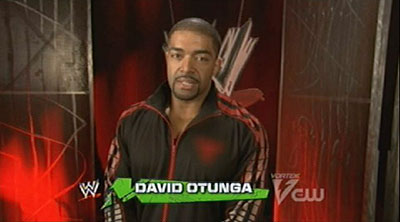 David Otunga is happy that the Chicago Bulls logo on his jacket is blurred.
(Actually, he's glad he gets to spend time with his family friends. Just thought I'd throw that in there and see if anyone was still reading.)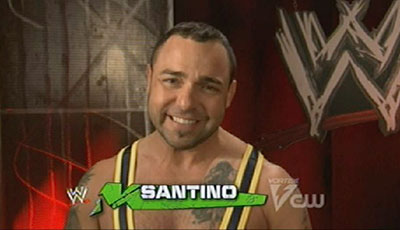 Santino sings the praises of, and I am quoting the man here, "the companionship that the Cobra brings me."
It's a sock on his hand.
I don't think I want to know any more about that relationship.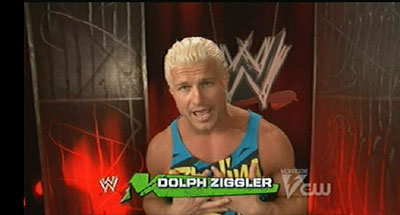 Dolph Ziggler is thankful that the WWE Universe is able to understand the gift to them that he is. Not to speak for the whole, well, UNIVERSE, but I think we get that you're great.
Maybe you should have thanked HUNTER instead, and you wouldn't be hocking t-shirts instead of headlining PPVs.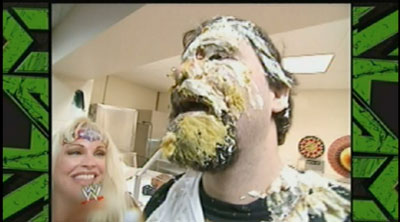 With that out of the way, we get a montage of the greatest pies in faces in WWE history. There were a few good ones, and I won't lie – I chose the one above due to Debra showing up in an Injun outfit. Always thought she was a looker.
And hopefully no one is too offended at my usage of the term 'injun'. Sorry, just my hillbilly Indiana upbringing.
Enough with the frivolities! Let's get to the main event of the evening! And your emcee of the MORNING (see, I didn't screw it up like 90% of the guest commentators did on this show) is Miz.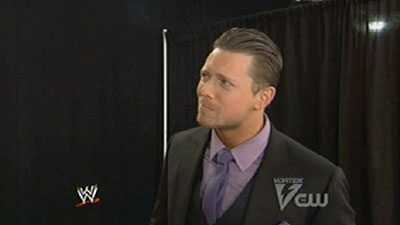 No idea if he is a face or heel here, but I do know I want to punch him in the face. To be fair, that's pretty much my feeling any time I see the guy. So much so that anytime you see him, feel free to imagine me cracking my knuckles whilst I delight in the imagery of Miz's face as my own personal speed bag.
No way I am the only person thinking that.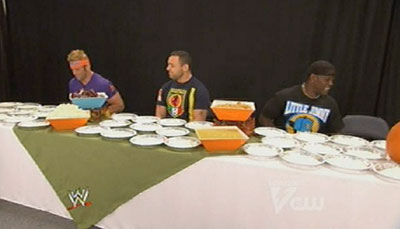 Our contestants are Zack Ryder, Santino Marella, and R-Truth. Oh, and if you noticed the chair to the right of Truth? That would be for Lil Jimmy. Yep.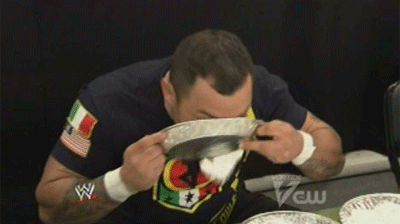 If you look at that image above, you probably have zero idea what kind of 'pie' that is. As a man who once competed in a ROSELYN BAKERY DEATH MATCH, I can tell you that's what I call a Poverty Pie. It consists of the cheapest graham cracker crust you can find covered in a smattering of the cheapest whipped cream you can buy. As a side note, you never want to have someone slam one of those in your face; the aluminum foil that makes up the 'pan' is so thin that it bends into what amounts to a dagger. If you don't think I know what I am talking about, just look and my chin sometime; there's a small scar to prove my point.
Yes, I was actually injured in a PIE MATCH. Sadly, no one was there to throw up the dreaded X to abort the thing.
Back to the eating contest here, apparently to be considered an eaten pie, you just have to shove your face in it and slop some white stuff out. There are a million jokes to be made right there, and you guys know them all, so yeah, make them up yourselves, perverts.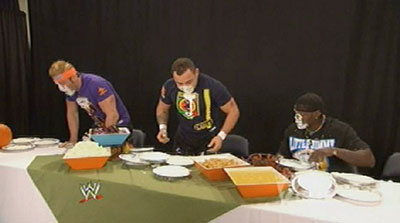 The guys "eat", the contest ends, and somehow Santino wins. I say 'somehow', because the photographic evidence above shows that Zack has three pies left, Santino has four left, and Truth has…well, I don't know how many, as it looks like he just flipped a bunch upside down or something.
Truth lives up to his name by bellowing "How the heck did SANTINO win??!!!"
Don't blame either guy for the inevitable action.
And of course it wouldn't be a WWE Thanksgiving bit without the obligatory food fight.
But hey, the fun isn't over yet, as Brodus Clay and the Funkadactyls show up! Brodus asks "what in the name of creamed corn is going on here?" which is going to be my exclamation of choice for the next twelve months. I urge you to do the same.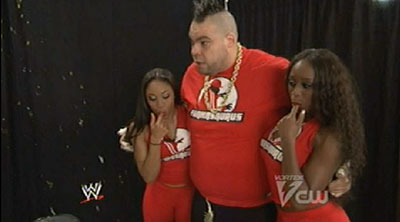 It also leads to the following script being read, which I command you to read aloud:
Cameron: "MMMMM!!!"
Naomi: "KEY LIME PIE!"
Cameron: "THAT'S MY FAVORITE!"
Remember when I told you to read it aloud? That's because you, yes you, my fellow Crapper, did it with more believability than these girls did. And just in case you doubt your thespian prowess, here's the audio proof.
Santino then starts having a seizure, yelling "SUGAR RUSH! SUGAR RUSH!"…
…before having the inevitable sugar CRASH.
And with that, I wish you, my fellow Crappers, a very happy turkey day.
Let us all eat pie until we fall on our faces!