Roxxi Laveaux is a character whose induction Wrestlecrappers have been clamoring for since her debut in 2007. I mean, come on, seriously – let's sum up this character, shall we? A white female Papa Shango. In TNA. Egads, that sounds like the very definition of Wrestlecrap.Let's make one thing perfectly clear, though – I don't hate Roxxi; in fact, she is my all-time favorite TNA knockout (even inspiring me to follow TNA — no small fea!t), and as a Wrestlecrap contributor, I have both the opportunity and the duty to make sure that Roxxi Laveaux is inducted with the proper balance of respect and ridicule…
The story of Roxxi Laveaux begins with BG and Kip James, the former Road Dogg and Billy Gunn.
Yes, that's right – the former Bad Ass was now a dude named KIP.
Too bad Jerry McDevitt was around. I can only imagine the heat "Bad Ass" KIP James could have generated.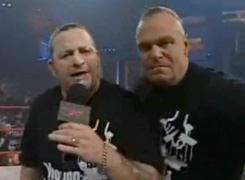 As part of their new gimmick as bitter ex-WWE workers angry at the man who made them stars and got them lucrative merchandising deals, the former New Age Outlaws took the name Voodoo Kin Mafia, which was not only as brutal on the ears as their individual monikers, but spelled "VKM" when abbreviated. That's VKM, as in the initials of Vincent Kennedy McMahon.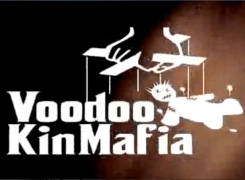 After letting the two live in the 90s for a year and feud with Christie Hemme over sexism and Chyna (or something) and then challenging Shawn Michaels and Triple H to a street fight (as if), the creative team apparently decided that the team (formerly known as the James Gang, as in the old Joe Walsh band) was running out of steam (probably after watching any of their matches or listening to their promos) and needed someone to liven up their stale personas.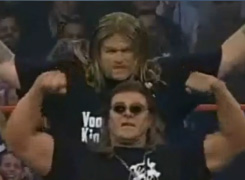 And much like the British Bulldogs, whose name was used as an excuse to add a real-live bulldog named Matilda to their entourage, the Voodoo Kin Mafia's nonsensical name warranted a valet who actually practiced voodoo.
Honestly not sure which idea is worse.
(Though come to think of it, if they had still gone by the "New Age Outlaws," I suppose they would have gotten Gary Spivey of the Psychic Companions Network).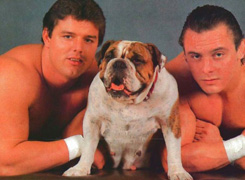 And thus, the team of forty-somethings with no prior affiliation with the black arts were joined by Roxxi Laveaux, the Voodoo Queen of New Orleans, perhaps hoping that the priestess could resurrect their already zombie-like careers.
Who could have thought this was a good idea?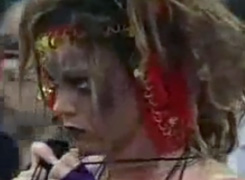 Come on, don't shrug at me like that!
I'll bet a giant bottle of Viagra on a pole that it was Vince Russo.
(Note from RD: Hee hee hee…viagra…pole! Wait, that's quite lame.)
Roxxi Laveaux was brought out for the first time at 2007's Victory Road (a pay-per-view which would in later years feature such classic bouts as Sharmell vs. Jenna Morasca and the epic 90-second Jeff Hardy vs. Sting). Her on-screen role would be that of a foil to Christie Hemme, whom the VKM could not personally strike due to a ban on man-on-woman violence.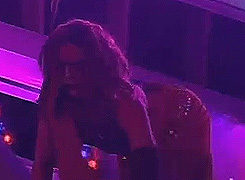 Roxxi wandered down to ringside looking like a complete tramp. Not a "tramp" like the skanktastic Hemme (as RD affectionately describes her), but "tramp" as in an actual homeless person. Supposedly, the Voodoo Kin Mafia found her wandering around Congo Square, a section of New Orleans once a cultural hub of African and Caribbean slaves but which has been largely deserted for nearly two centuries, now playing host to occasional concerts in the park.
See, bet you didn't think you'd learn THAT at a place called WrestleCrap, eh?
The young woman looked to be as confused as the fans in attendance at the Impact Zone, who chanted, "What is that?!" at the debuting Knockout.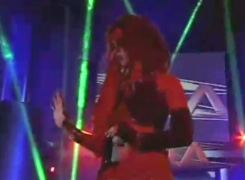 Dressed like a cross between a gypsy, a bag lady, and a pirate (drawing chants of "Let's go, pirate!"), Ms. Laveaux was a non-factor until after the match, when Christie Hemme, apparently forgetting the schizophrenic valet in VKM's corner, tried to land a cheap shot on Kip, who then fed her to Roxxi.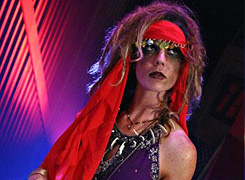 The Voodoo Queen broke into gyrations, wriggling and convulsing violently and hitting the former Diva Search winner with a dominator before reverting to her previous, confused state.
To sum up, the recipe for young Roxx consisted of the following:
– one-part Papa Shango
– one-part Boogeyman
– one-part Faarooq Assad
– one-part Festus
Come to think of it, that make for one hell of a team at the Wrestlecrap Survivor Series.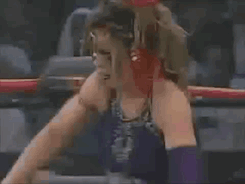 As if Roxxi and the audience weren't confused enough, her alleged voodoo pedigree (which, despite VKM's embarrassing "feud" with D-X in 2006, was never the name of a BG James finishing move) traced her lineage back to Marie Laveau, the notorious voodoo priestess of 19th-century New Orleans.
Compare the decidedly Caucasian Roxxi to her supposed great-great-great grandma and you'll see that a lot can happen in a century and a half (including generation after generation keeping granny Marie's maiden name and adding an "x" to it to seem more French).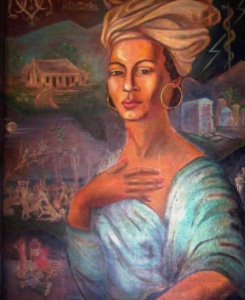 Laveaux herself was played by SHIMMER Women Athletes wrestler Nicole Raczysnki, a comely lass trained by Killer Kowalski who, prior to her voodoo makeover, was quite "easy on the eyes," as RD might say. For years, Raczynski had wrestled on the independent circuit as Nikki Roxx, hence the name "Roxxi," which sounds more befitting of a cheerleader than a voodoo priestess.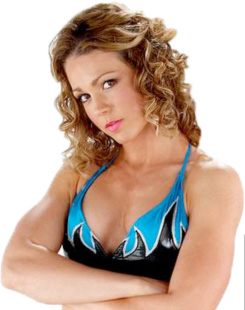 Then again, TNA would also bring in a female wrestler whose gimmick already wasa cheerleader and decided to put her in a burqa to manage Awesome Kong.
In the months that followed her debut, Laveaux would experiment with a number of different looks ranging from Shinja (hey, remember him?) to the Predator.
Seriously, look!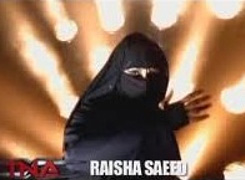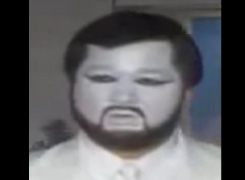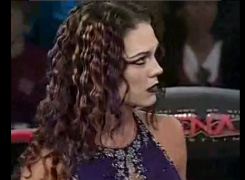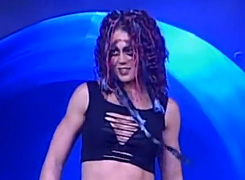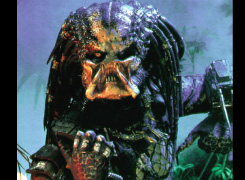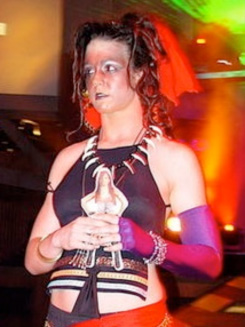 In keeping with her gimmick, she would carry voodoo dolls to the ring and warn her team of curses (which might have come in handy had she been around before, say, the Mr. Ass gimmick, or "The One" Billy Gunn, or the Show-Gunns, or Billy & Chuck, or pretty much any career move of Kip after 1998), but her main duty was to help the Voodoo Kin Mafia win their otherwise nondescript matches by spitting mist or throwing powder in their opponents' eyes.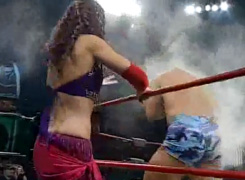 After Roxxi had a mishap involving the white powder (not unlike Ed Leslie) and cost Kip a match, however, the former Outlaw would fire the Voodoo Queen, launching into a tirade that could have served as her Wrestlecrap induction.
…and punishing her with a career that no longer revolved around Monty Sopp (who was also once managed by my all-time favorite Diva, Sunny). Oh, darn.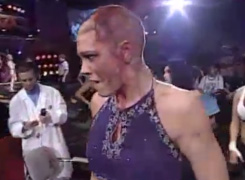 Roxxi would then compete as a fan favorite in TNA's then-respected Knockouts division, entering the ring to a theme called "Voodoo Queen," which bore more than a passing resemblance to Mountain's "Mississippi Queen." She would actually get over thanks to a feud with the Beautiful People that saw her refuse a hoochie makeover and get her head shaved in a convoluted gimmick match. That was, after all, the last thing she hadn'tdone to her hair.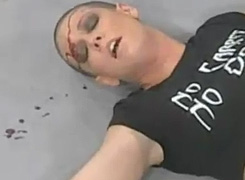 She was then repackaged as Roxxi, the Hardcore Knockout, due to her penchant for swearing and accidentally bleeding…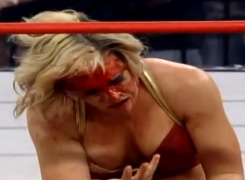 …a lot.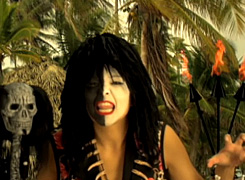 Roxxi has not wrestled full-time in TNA since Hogan and Bischoff decided to gut the women's division in 2010, but the Voodoo Queen lives on not only in the memories of Wrestlecrap readers, but also in the rip-off character White Magic, a white voodoo priestess in the Wrestlicious promotion…
…a promotion which, having gone on hiatus after 13 episodes, also lives on solely in the memories of Wrestlecrappers.
(Note from RD: And Mrs. Deal.)
Curses.