It's official: You, the Crappers, have voted Ric Flair's Last Match as the worst in pro wrestling for 2022. While we initially thought it could be anyone's year to take home the Gooker Award, our readers voted overwhelmingly for the Flair match, which scored nearly an outright majority among the nine other contenders.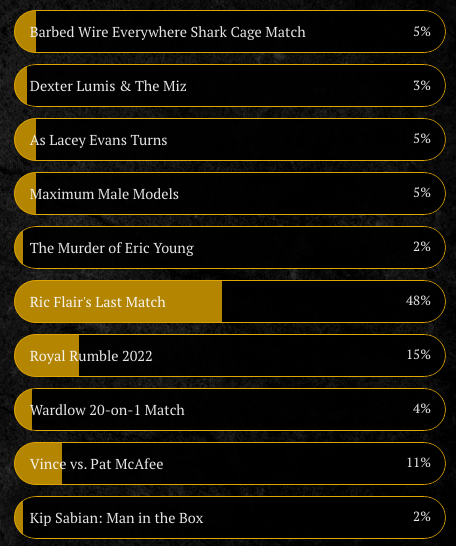 At 48%, Ric Flair's Last Match earned more than three times the votes of the Royal Rumble, more than four times the votes of McMahon vs. McAfee, and sixteen times (WOOOOO!) sixteen times more than Miz & Dexter Lumis. With so many titles and accolades to his name, it's only fitting that the Nature Boy take home the Gooker Award to round out his collection.
Leave the Memories Alone, Ric
It feels like we've done this before, doesn't it? Just a few years ago, we at WrestleCrap inducted what we assumed was Ric Flair's last match, a 2011 loss to Sting on TNA Impact. At the time, we thought the match did nothing but tarnish his legacy as perhaps the greatest of all time. There was no way such an embarrassing performance should have been the last fans ever saw of The Nature Boy, right?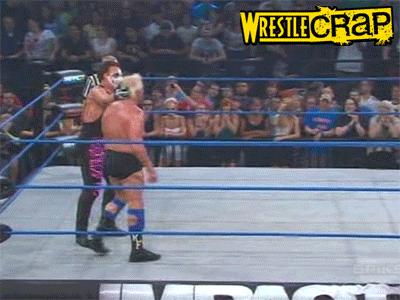 Of course we spoke too soon, committing a cardinal sin of wrestling fandom: until Ric Flair says he's finished, don't assume that he is. Ditto for when he does say he's finished.
Not only has Ric had multiple storyline retirements since the early 80s, he's had an entire "Last Match" Era lasting longer than most wrestlers' careers. Let's recap, shall we?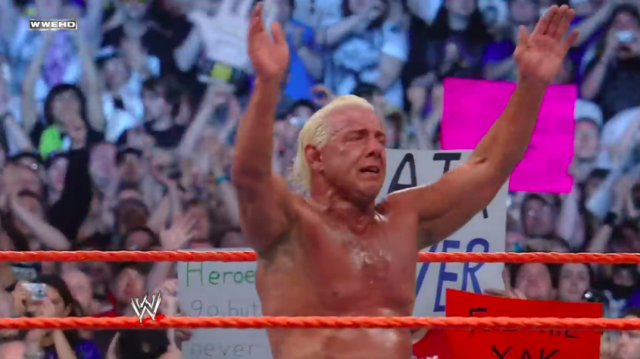 In 2008, Ric Flair retired at WrestleMania with a loss to Shawn Michaels. In front of 75,000 fans, Flair gave an emotional performance named match of the year, and even match of the decade, by various publications.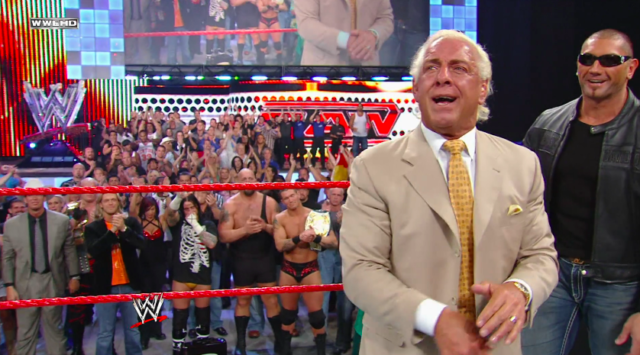 The next night, WWE gave him an elaborate live tribute, complete with a commemorative ring and an ovation from the entire locker room. It was the perfect ending to a legendary career, a send-off WWE may never try to replicate. Many even consider this one of the greatest shows in pro wrestling history.
And so in WWE canon, Ric Flair did in fact wrestle his last match ever in 2008. Even Peacock agrees: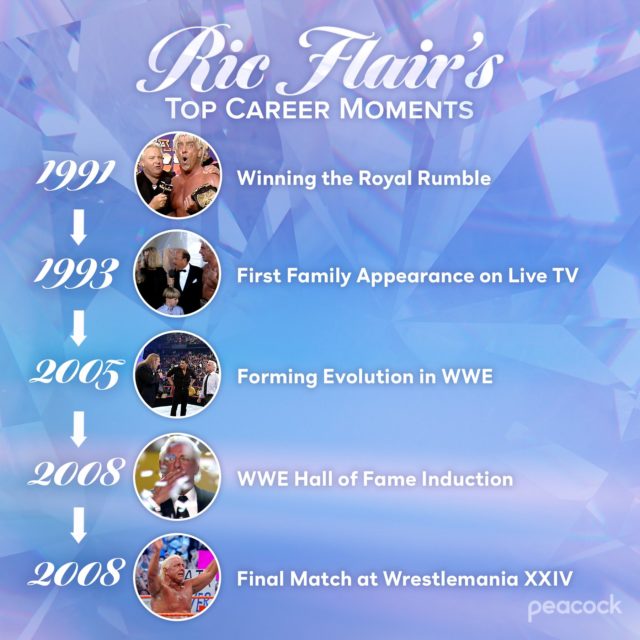 But, like his 1992 Royal Rumble win or the 2005 formation of Evolution, that wasn't completely true. A year after his "last match", Flair fought Randy Orton in the main event of Raw —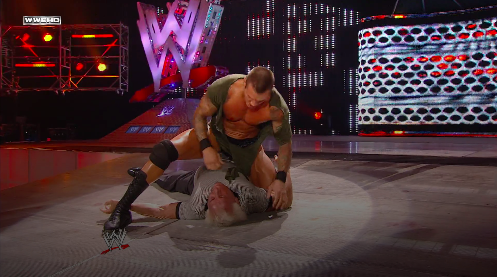 — but that didn't count, because there was no bell. Then a few months later, Flair wrestled Hulk Hogan every night on an independent tour of Australia —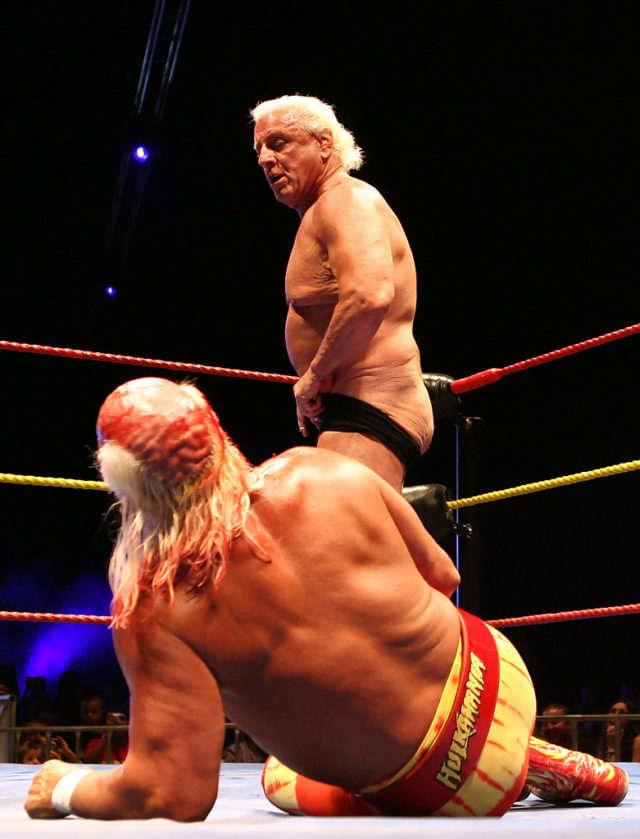 — but that didn't count, because it wasn't in the United States. (Oh, and if you think the above image is disturbing, keep in mind that match took place thirteen years before the one we're inducting.)
The next year, Flair started wrestling in TNA —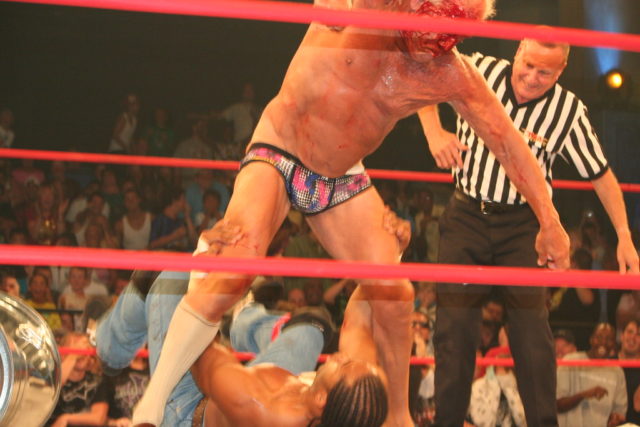 — but that didn't count, because it wasn't WWE. Are you sensing a trend?
Space Mountain Closes for Repair
In 2017, Flair was put on life support with multiple organ failures. Though he miraculously survived, subsequent surgeries and common sense ruled out Ric wrestling another match, let alone showing his cornhole in one.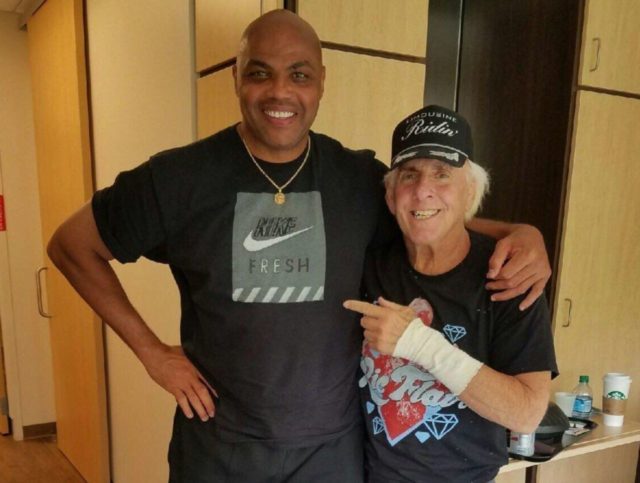 Still, if anyone was going to step back into the ring after a near-death experience, it was Ric Flair. After all, he'd done it in 1976 after breaking his back.
But then in 2021, VICE's Dark Side of the Ring aired an episode on the Plane Ride From Hell, alleging that Flair had sexually assaulted a flight attendant in the 2002 incident.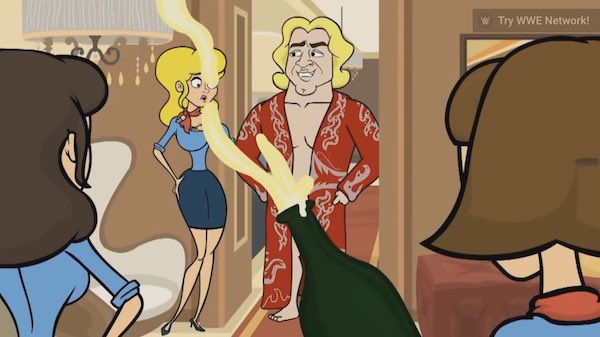 Completely blindsided (by the allegations they'd known about for two decades), WWE scrubbed the recently-released Flair from their TV intros. And AEW, where his son-in-law Andrade wrestled, wouldn't risk hiring Ric as a manager. Being persona non grata in the biggest promotions around, it was over for Naitch — not just in the ring, but in the business altogether.
And still, against all odds, Ric Flair announced his intention to wrestle one last match. Promoted by his son-in-law/podcast co-host Conrad Thompson and the new Jim Crockett Promotions, the event would take place in Nashville the night after Summerslam…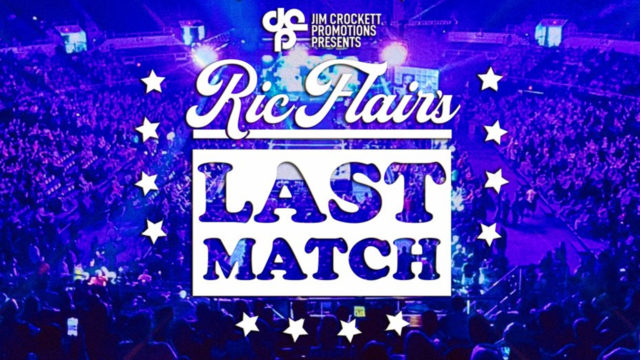 …with the unambiguous title of Ric Flair's Last Match.
Fans who remembered some of Flair's previous "retirements" over the decades were skeptical, especially given Flair's tendency to run out of money every few years. But what set this retirement match apart from the others was the possibility that he wouldn't even survive it.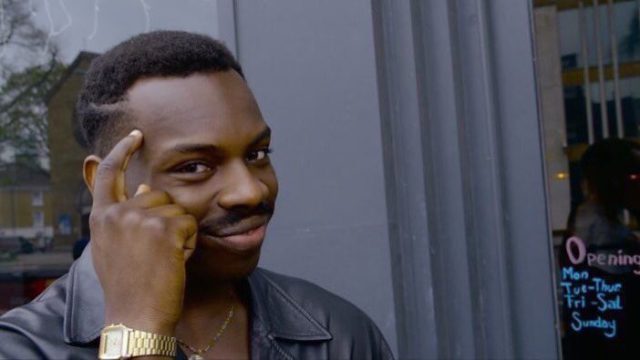 Hey, you can't renege on a retirement stipulation if you die in the ring!
With that in mind, Flair had to get over one final hurdle: medical clearance. To determine whether he was fit to wrestle, the 73-year-old consulted a whopping 40 different doctors.

He listened to one of them (the one who said he could).
To assuage any lingering fears, Flair promised to skip his daily blood thinners on match day. This was important, because he also planned not only to bleed during the match, but to get drunk every night leading up to it. And as for the pacemaker implanted in his chest, if it came unplugged during the bout, he would just plug it back in.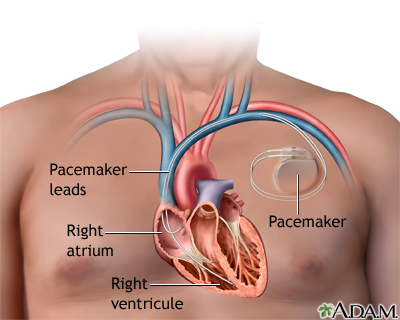 Beating a Dead Horse, Man
You'd think Ric Flair's goodbye match wouldn't need a backstory, but not wanting to shortchange the fans, we got one. In the weeks leading up to the bout, Flair would need to knock the ring rust off, yielding several brief training footage videos with Flair and Jay Lethal. Flair looked quite good in them, and there was some level of anticipation that maybe, just maybe, this wouldn't be the train wreck we all feared.

Despite getting Flair ready for the big event, Jay Lethal, it came out, was not booked for the show at all. You see, in Ric's eyes, Jay just wasn't a main event talent.
Faced with rejection, a better man would have simply boycotted the show and worked out on his trampoline in case another opportunity came up. Instead, Lethal sucker-punched Flair in a parking lot…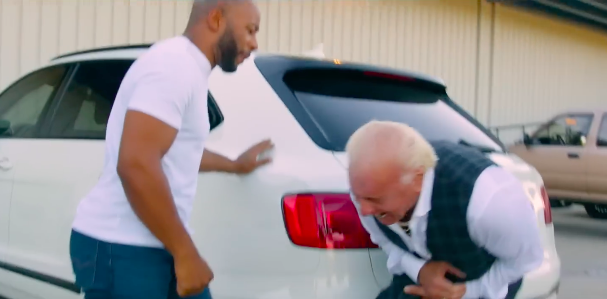 …causing poor Ric to bellow that line everyone says in a real fight, "NO! That's my surgery!"
Seeing this happening, Jeff Jarrett joined the fray to stop the attack. To show his gratitude, Ric repeatedly told him, and we are just quoting here, "F*** off". And he bad-mouthed Jeff's dad, too. With that, Jeff started beating the crap out of Flair, too.

Recapping this, I frankly don't see how Jarrett was the bad guy here.

And so, to keep the septuagenarian's in-ring time to a minimum, and perhaps to avoid promoting something called a "Lethal-Flair" match, JCP booked a tag team main event: In a rare cross-promotional booking, AEW's Jay Lethal would team with the WWE office's Jeff Jarrett against Ric Flair and AEW's Andrade.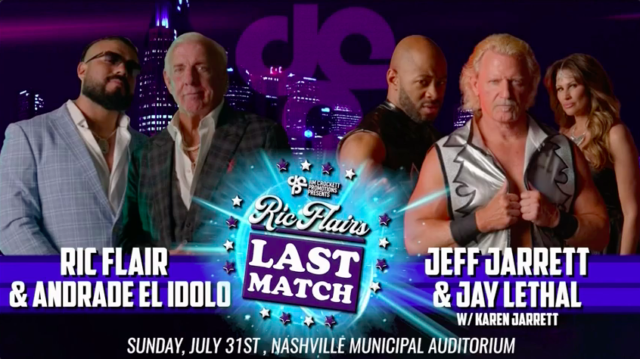 Rounding out the undercard were talents from the likes of Impact, AAA, NWA, and MLW. Where else could wrestlers from so many promotions gather to celebrate the life and career of a wrestling legend (besides a memorial service)?

To help promote the bout, we got a video where Flair loudly and proudly exclaimed "I'm prepared to die!" To be fair, he was only saying that he was prepared to die — there was still a decent chance that he wouldn't!
Cashville, TN
Ric Flair's Last Match was certainly big business, with no shortage of crazy-ass merchandise and opportunities for fans. While the morbidly curious could order the basic card for $34.99…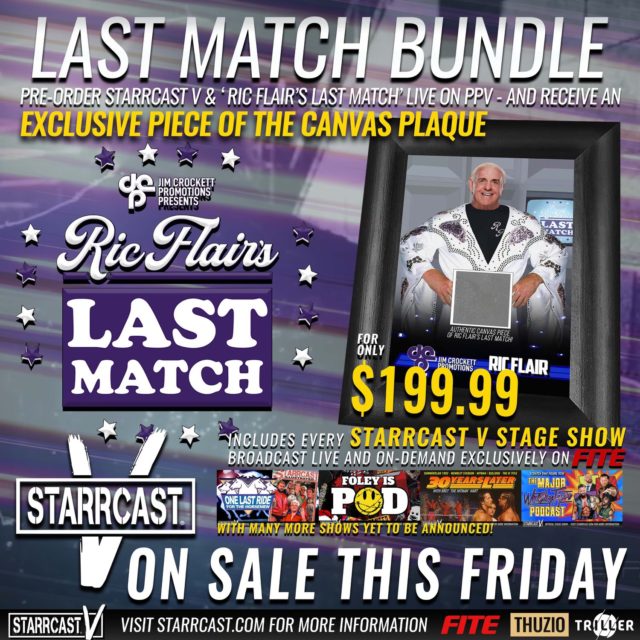 …hardcore Flair aficionados could pony up $199.99 for the entire Starrcast weekend and a commemorative plaque.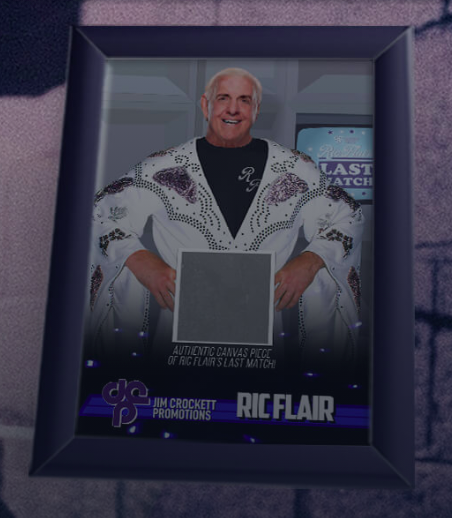 Then there were the figures. Oh (Nature) boy, were there the figures. For starters, 3D printing company Minikin froze Ric Flair's gaze for all eternity…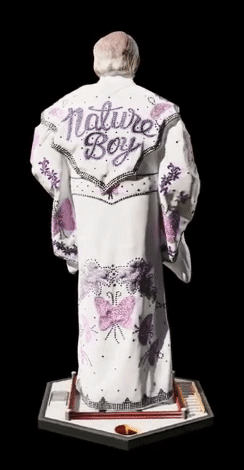 …and for $85, fans could take home a statuette of Naitch in all its photorealistic glory: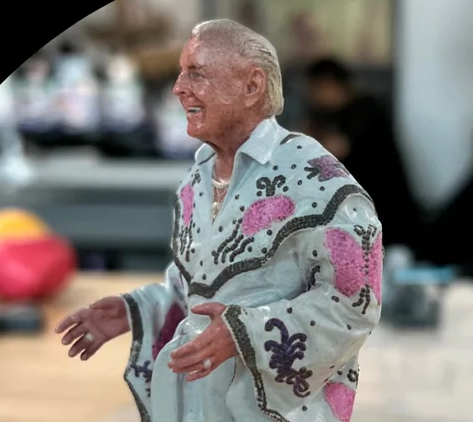 For $399, Starrcast attendees could pose with Flair in the scanning booth…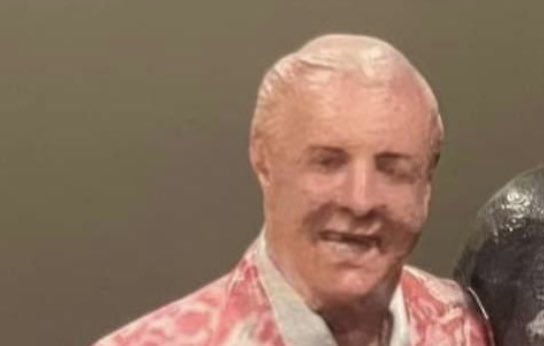 …and receive a one-of-a-kind souvenir from their stay together at the burn ward!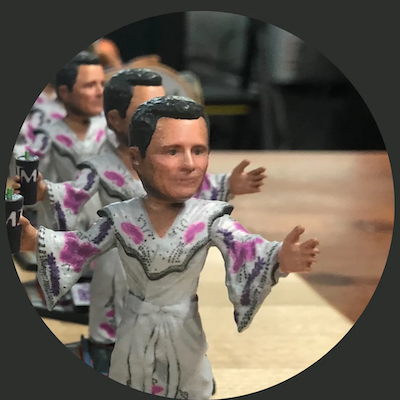 Fans could even pay $49 to put their own giant cartoon head on Ric Flair's body.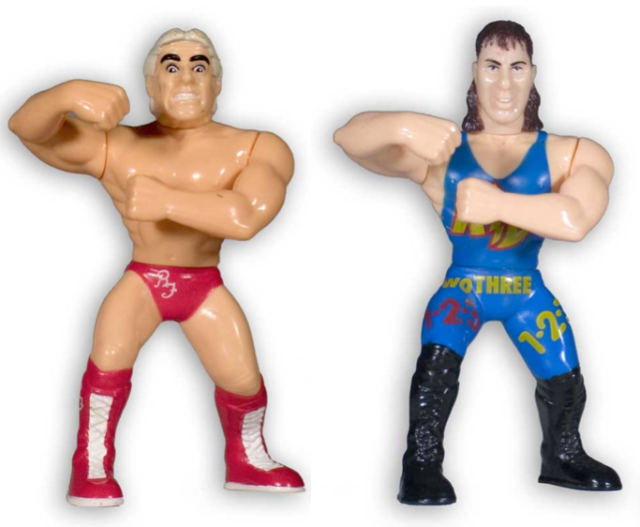 And with Draft Kings, the fans themselves could earn some cash betting on the action. One diehard Flair fan even had his medical license riding on it!
Flashes of Greatness
When the big night came, Flair walked down that aisle like never before: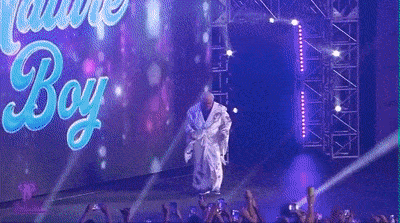 He stumbled out, turned around, and undid his robe to reveal (to everyone's relief)…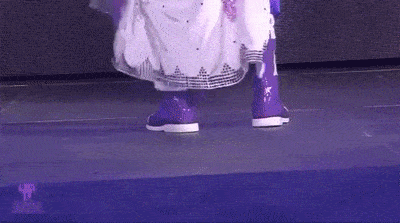 …the original Big Gold belt. Okay, that was pretty cool to see. Still, all things considered, maybe cool it with the robe, Ric.
Though Flair removed his robe, he still wrestled with two layers covering his surgical scars (and God knows what else). Makes sense, because as we all know, dignity has always been important to the Nature Boy.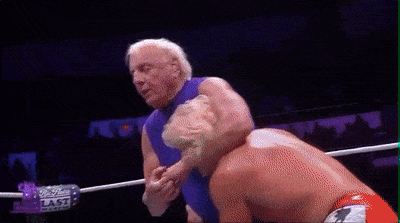 Ric spent the first few minutes of the match largely standing still or doing his shtick (or something vaguely resembling it)…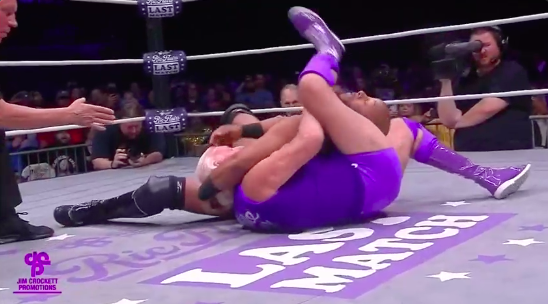 …and sure enough, after one head scissors, the fans were adamant that he'd "still got it".
Whenever Flair got involved in the action, it immediately slowed down 50%. Or, put euphemistically, he set his own pace. "Ric Flair is very, very smart here", said Tony. In fact, it was the second-smartest thing a man in Flair's condition could have done (the first being not to wrestle the match at all).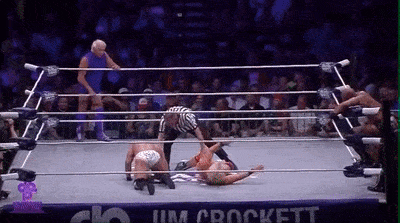 As the match progressed, there was a spot where Andrade was supposed to tag out to Flair. Just one slight issue: the Nature Boy legitimately blacked out on his feet. Eventually, Ric very slowly stepped through the ropes with no tag and sleepwalked through his usual chops. You had to give everyone credit, though, for accommodating Flair's poor health by wrestling a safe style.
Jarrett then stabbed Ric with his wife's high heel, busting him open. (See, technically that's not "wrestling", so my point stands)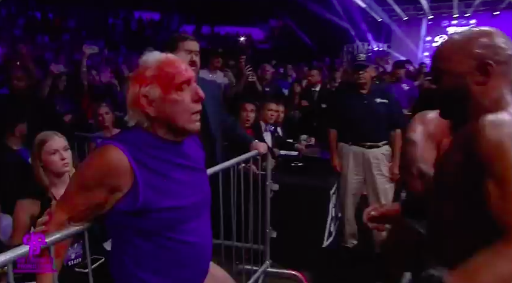 Ric Flair Drips
The blood was a blade job, of course. And at this point, the match broke down into a hair-pulling scuffle between Flair's daughter and Jarrett's wife. Just in case things weren't quite carny enough, in the ensuing chaos, Ric grabbed his chest and sold like Fred Sanford.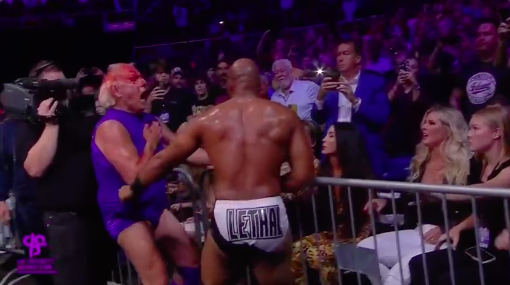 But this was his last match, and there was no turning back now as Flair started no-selling. This wasn't Ric going into business for himself, though; he simply didn't appear fully conscious.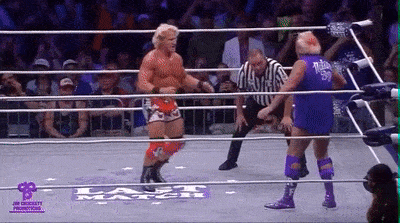 As the match devolved from uneasy viewing to borderline elder abuse, Jarrett hoisted a lifeless Flair to the top turnbuckle for a planned superplex spot. Lethal wisely (relatively speaking) pulled Flair back down and gave him a standard vertical suplex, dropping Flair directly on his back for the first time in 47 years…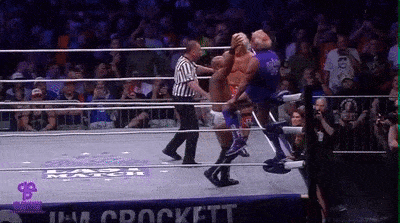 …as Naitch lacked the presence of mind to even land on his hip. This was his second and final bump of the night, the first being a headlock takeover early in the match.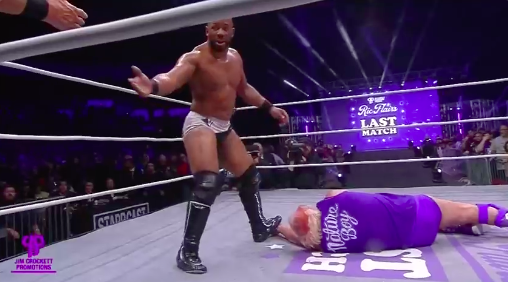 As Lethal tagged in Jarrett, he stepped on Flair's hand to prevent escape, which honestly was giving Naitch an awful lot of credit.
Minutes later, Andrade got the hot tag, drawing surprisingly little reaction. And why might that be?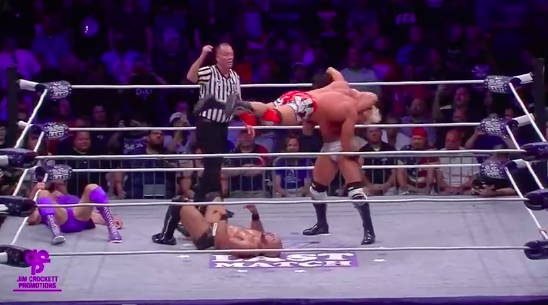 Likely because Flair still wasn't moving. At all. But hey, at least David Crockett enjoyed it. Like, really, really enjoyed it.
And in the interest of fairness, we should note the fans popped pretty big when one of the babyfaces hit Jay Lethal with a poisonrana.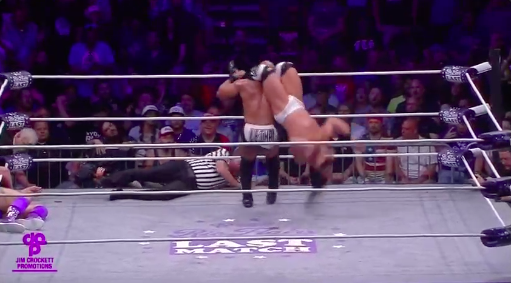 Unbelievably, the fans now buzzed for Flair to tag back in and continue the macabre spectacle. This was the hot tag they had been waiting for. It just so happened to be the only hot tag in history where the guy inside the ring had to reach over the ropes to tag out.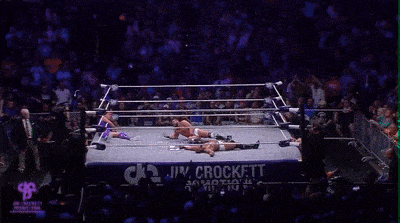 Flair, the "fresh" man, crawled under the ropes and across the ring to cover Lethal, but there was no referee to count the pin.
Lethal eventually rolled over, leaving Flair lying cross-legged on the mat, which is always a good sign.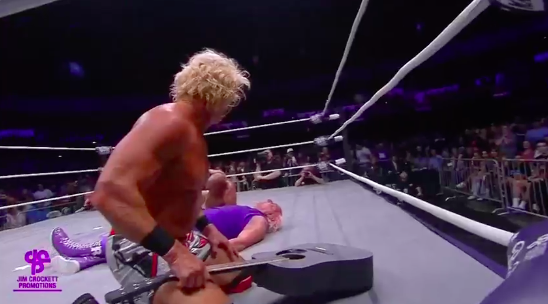 Thanks to some Weekend At Bernie's-style maneuvering by Andrade, Flair avoided Jarrett's guitar, which hit Lethal instead.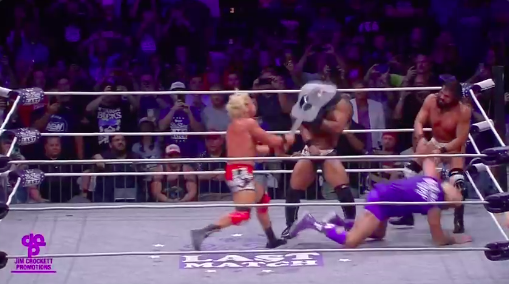 Andrade, like any good son-in-law, placed brass knuckles on his legit unconscious father-in-law's trembling hand…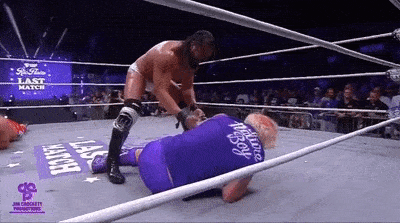 …and pulled him to his feet. Flair knocked out Jarrett…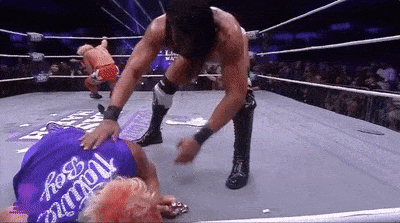 …then gradually… slowly… painfully… locked in the Figure Four to score a pinfall.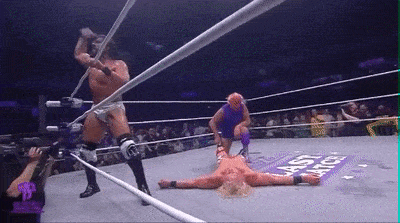 Or did he? Flair's shoulders were down as well, meaning the match should have been ruled a draw. Thankfully, though, the referee had ignored the unresponsive 73-year-old.
In a touching moment, Andrade checked on Ric Flair.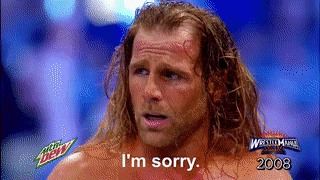 If you recall, Shawn Michaels's last words before superkicking Flair to retire him were "I'm sorry, I love you."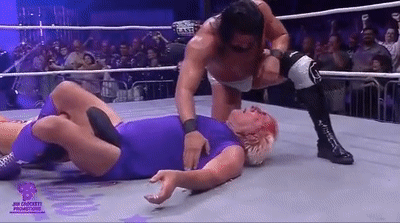 Here, Flair's first words after retiring himself were equally beautiful: "I passed out."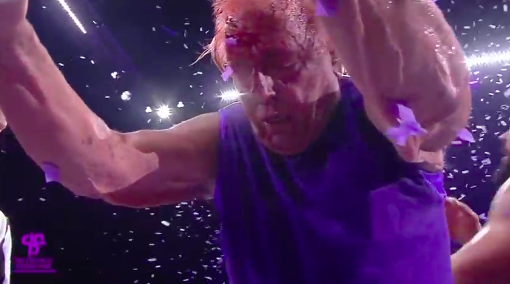 As confetti dropped from the ceiling as Ric Flair, covered in blood, had no idea where he was. And the ticker-tape stuck to Flair's blood and sweat as if he'd been tarred and feathered.
Farewell to Flair
During the post-match interview, all the wrestlers on the show surrounded Ric, per producer Road Dogg's instructions that somehow made it on the air.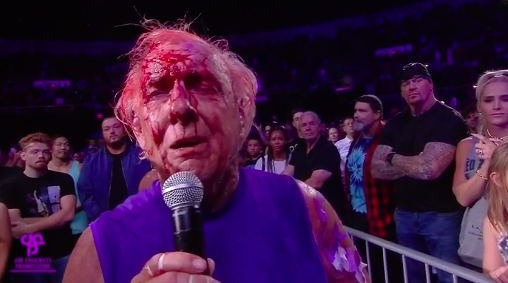 Flair stated that this retirement match was even better than the one at WrestleMania, indicating he was in even more urgent need of medical attention than previously feared. Admittedly, he didn't even remember half the match he just wrestled, but he at least got to wrestle (and curse) in front of all his grandkids.
"Everything you hear about me is true", said Flair, thankfully not under oath. And it wouldn't be a classic retirement speech without repeated references to knowing Kid Rock.
Naitch reveled in the applause from not only his family and Kid Rock, but his legendary colleagues; Bret Hart surely had to admit that on this night, Ric Flair was nothing like his unflattering caricature.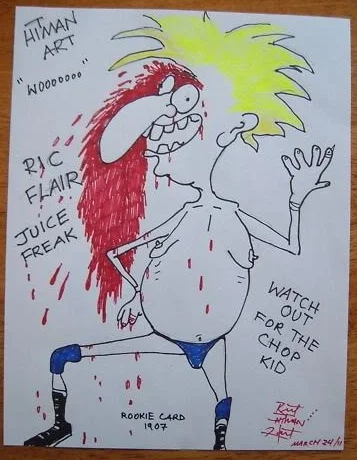 The Undertaker, meanwhile, played mother to the Nature Boy backstage, making him drink two Gatorades before his six-pack. Ric, it turned out, was severely dehydrated. And lest you suspect alcohol had played a role in that (Shame on you!)…
All The Attention That I'm Getting for Dehydration, Which Can Happen To Any 23 Year Old, Is Crazy! When I Get Ready For Something Big Again, I Will Obviously Drink More Water Than Beer Next Time! WOOOOO! 💦 🍺 pic.twitter.com/obLEcRedM7

— Ric Flair® (@RicFlairNatrBoy) August 12, 2022
…the real culprit was Flair trying to cut weight the day of the show (as if fans were going to notice two pounds' difference under his top).
Though Ric had passed out, blacked out, and bled out…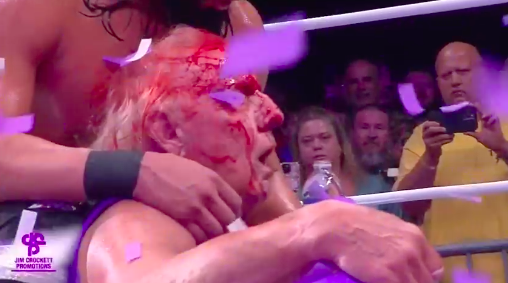 …the important thing was, this was his very last match ever, and he'd never do it again.
A Flair For The Colon
Well, yeah, of course he would. Just a week later, Flair flew to Puerto Rico to fight Carlos Colón at ringside.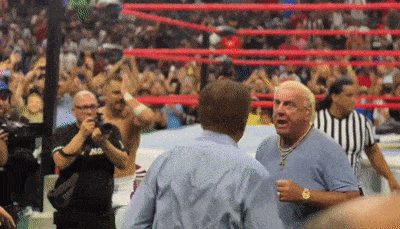 A few days after that, he admitted he regretted calling July 31st his "last match" — even though it wouldn't have garnered 1/10 the attendance, pay-per-view buys, or merch sales without that promise.
That's like MJ and Lionel Richie watching "We Are The World" go 4x platinum and wishing they hadn't pledged the money to charity. Or like seeing a great turnout at your own funeral, jumping out of the casket, and saying, "Hey, let's do this again next year!"
With all this in mind, odds are that Flair & Andrade put over Carlos & Carlito Colón at this year's WWC 50th anniversary show.
We'll get the Gooker ready.