Way back in 2010 Vince McMahon finally pulled the plug on ECW and in it's place announced the creation of a new pseudo-reality show: NXT.
NXT would be a slight rip off of UFC's the Ultimate Fighter, where 8 mostly unknown Rookie's would be paired with 8 current WWE Superstars and over a 13 week period, it would be whittled down to one.NXT would debut the heel, sarcastic Michael Cole, which may have been the only time it worked, as he would bury shitty segments and for some reason Daniel Bryan.
Now NXT was a show that most people either really loved (I think I would be the only one) or really really really hated (that would be most of the alleged 104 million wrestling fans in the United States…of which WWE can only get maybe 4 million of to watch Raw on any given Monday night).
The early seasons did give us the WWE on screen debuts of Wade Barrett, Daniel Bryan, Heath Slater, Michael McGillicutty, Kaval and Alex Riley. It also gave us The Artist Soon To Be Known As Ryback aka the only man to ever lose both NXT and Tough Enough. Feed Me More Reality Shows!
After Eli Cottonwood's mustache and The Genesis of McGillicutty, the SyFy contract for the show was rapidly coming to an end. SyFy, having agreed to pick up SmackDown, decided to cancel NXT effective the end of September.
Now most people would aim to end the season on that last night, but not Vincent K. "I threw away 90 million dollars to get my wife into the Senate and I didn't even get a lousy t-shirt" McMahon. Instead, in a last ditch effort to get either SyFy to change their minds or some other network to pick the show up, he gave us NXT Season 3, which would be an All Diva Season.
As an aside, much to Bryan Alvarez's delight, this season replaced Wild & Young with a different song. However it was replaced with You Make the Rain Fall by Kevin Rudolf. When the show jumped to WWE.com 4 episodes in, the song would play on a non-stop loop from whenever you logged in to whenever the show actually started.
I still have nightmares of that song.
Anyhoo, onto the rookies…
First up we have Jamie, who was the ring announcer for NXT Season 2.
Yes, apparently RING ANNOUNCING qualified her to be on the show.
That should give you an idea of what you are in for here today.
She had Brie and Nikki Bella as Pro's, who were best known as the twins who were pimped out to every Raw Guest Host.
So this was a good pairing.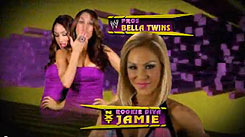 Aksana, with Goldust as her Pro.
Anyone remember when Goldust hung out in TNA as Black Reign and carried a rat all over the place? RD, why on earth haven't you inducted THAT yet?
(Note from RD: Because I'm an idiot. It's on the to-do list!)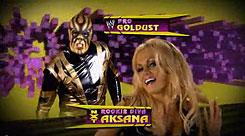 Naomi shows up with Kelly Kelly.
I am sure Kelly taught her how to run the ropes and how to take your bra off.
Oh wait, she could never do either of those right.
RD, you need to also put Kelly Kelly, Exhibitionist on your list.
(Note from RD: Check, yep, gotcha.)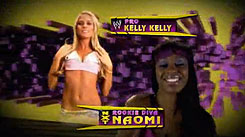 AJ with Primo, and just look at the image of the guy. He looks like a guy who was absolutely thrilled to be on TV.
Which he was, you know, for four weeks.
And yes AJ has always looked like she was 15.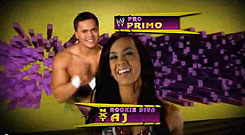 Maxine with Alicia Fox.Alicia would go on television a year and a half later and say WrestleMania was all about what you were going to wear.Well she is undefeated at WrestleMania, so she must know something.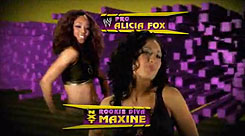 And finally, A MYSTERY ROOKIE!
Originally it was announced as being a giant woman named Aloisia (which sounds like a skin disease), but she was dropped before the contest started. The rumor mill says that she was either dropped for sucking hard in the ring or for Amazon fetish photo's of her appearing on the internet.
When you take into account that woman was a legit 6′ 9″ (SIX FOOT NINE INCHES!!!) tall, and likely would have been quite the sideshow attraction, I doubt it was because she was awful at wrestling.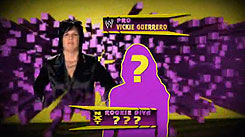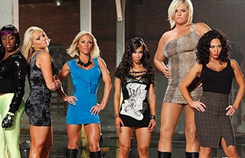 Some people (me) foolishly thought her replacement would be recent signee Awesome Kong, but instead it was Kaitlyn, who we later found out never wrestled a match in her life before the show started.
Nor did she do any ring announcing.
So how, precisely, she qualified for this, remains a mystery.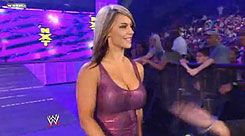 Matt Striker got us off to a fun start as he told us what a great honor it would be to be a WWE Diva and that every competition they would compete in would test how smart, sexy or powerful they were.
And what says "Smart, Sexy and Powerful" like…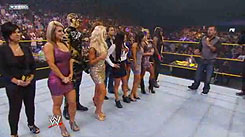 …Michael Cole dancing in shorts and knee socks….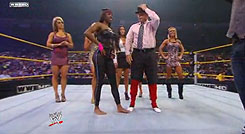 …knowing what Kelly Kelly's ribs look like…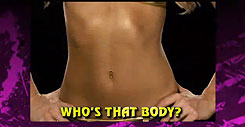 …Naomi dressing like the Hamburger Helper hand…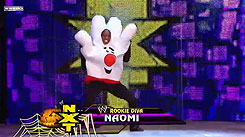 …and a Candy Eating Competition!
SMART!
SEXY!
POWERFUL!!!!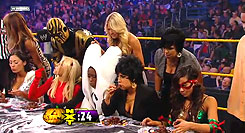 We saw horrible matches like the 2010 Wrestling Observer Award Winning Worst Worked Match of the Year: Kaitlyn vs Maxine.
This was only the third or fourth match of Kaitlyn's career and oh boy did it show. Alicia and Vickie, who were standing on the apron, sent great words of advice like "get her" and "that was good".
The match was fine for roughly 1 minute, but sadly it went almost 4 minutes. We saw one botched move after another, including a snap mare and the finish where Maxine reversed a botched roll up into a botched roll up for the win.
The most entertaining thing to happen was Cole, who explained this was the single worst segment in the history of the show, walking off to talk to his Mom on his cell phone.
His mother, for some reason, also wanted to talk to Chimel.
Probably best not to know why.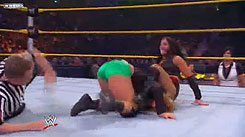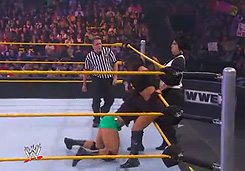 And it wasn't an uncommon occurance for the announce team to simply ignore the matches altogether. One time they got so bored they started watching Knucklehead!
(Note from RD: No match is that bad. None.)
If you are a fan of WrestleCrap, how could you not love this season?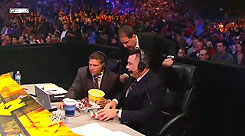 Yeah, I don't know either, dude.You know, that image is way less annoying when you actually get to use it for your own induction.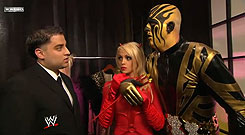 The unquestionable highlight would be the on-going storyline over Aksana's immigration status, complete with Agent Dickopopolus threatening to send her back to Lithuania.
Agent DICKOPOPOLUS I say.
Sadly Aksana's immigration papers could not be won in a ladder match (like the custody of Eddie Guerrero's bastard son Dominick Mysterio could be)…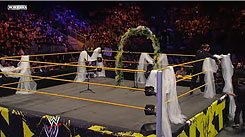 …but it could be solved by Goldust and Aksana getting married on Election Night 2010 in Bridgeport, Connecticut!
Linda McMahon may have lost her first (!!!) bid at a Senate seat that night, but had she fired up her laptop and gone to WWE.com she could have been cheered up by the GREATEST WEDDING IN WWE HISTORY!
Or she could have kidnapped the 10-year old daughter of a Chinese Ambassador and held her ransom, hoping that Jackie Chan and Chris Tucker did not come after her.
Either way, it's a win.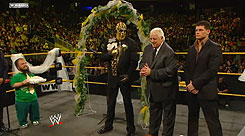 Since he had no friends (other than Rellik (which is Killer spelled backwards) and Misty The Rat), Goldie had his father and brother stand in as groomsmen. Goldust is decorated with the Million Dollar Championship belt that he stole from Ted DiBiase Jr.Does Cody stand out like a sore thumb or what in this family?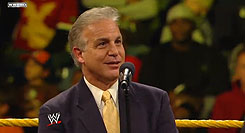 Anyhoo, the wedding moves along at a brisk pace…until the Reverend objects to the wedding.
Yes, the REVEREND objected to the wedding!
And why is that?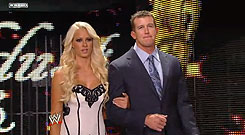 Because he was the first and only person to ever sell out to Ted DiBiase, Jr!
But…but…if Goldust and Aksana can't get married, then Aksana will be deported to Lithuania where she will be hit with sticks!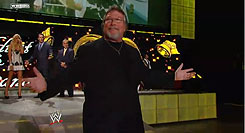 Thankfully Dusty Rhodes somehow figured this would happen and that's why he hired a replacement Minister…
The Million Dollar Man Ted DiBiase, Sr!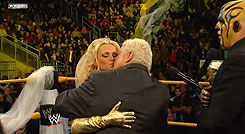 Of course it gets better from there as Dusty Rhodes kisses Aksana…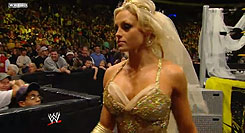 …who promptly slaps Goldust, turns heel and walks away!
Sadly after that the show continued for four more weeks where it ended with Kaitlyn being declared the winner over Naomi.
As for the fate of all the Diva's?
Jamie was fired by WWE days after she was the first one eliminated.
Maxine would return in the never-ending season known as NXT: Redemption and begin a love triangle with Derrick Bateman and Johnny Curtis, before asking for her release.
Aksana would not be deported to Lithuania, but instead deported to FCW for a few years before becoming Antonio Cesaro's girlfriend. And then being dumped. But hey, she still wasn't deported.
AJ would use this to springboard herself into a career of going from man to man to man, as she went from Primo to Daniel Bryan to Kane to CM Punk to Raw General Manager to John Cena. What a skank. If I didn't know better, I'd have thought Kelly Kelly was her mentor.
Naomi, despite being the best athlete and arguably the best wrestler of the bunch, is now dancing with NXT alumnus Brodus Clay and Cameron, who is famous for being the only person from Tough Enough season 5 still under contract and is best remembered for claiming her favorite match of all time was Melina vs Alicia Fox.
Kaitlyn was promised a pay per view shot at the Diva's Title. She would eventually receive it almost two years later at Hell in a Cell 2012. Better late than never.
To be fair that is better than Season 4 winner Johnny Curtis who not only never got his title shot, but now gets to be Fandango/o!
Oh and SyFy went through on their threat to cancel the show 4 episodes into this season, which then became the exclusive property of WWE.com.
How could they not have wanted this?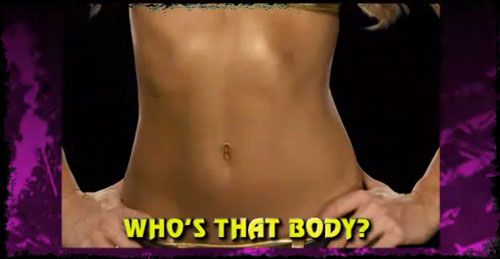 Emerson Witner is the mostly unknown author of the NXT reports on F4WOnline.com and AngryMarks.com. He currently is going through a suicide mission of reviewing every single TNA weekly pay per view for AngryMarks. If you have any questions, comments, concerns or emotional outbursts, he can be reached at ewitner@yahoo.com, on Facebook atwww.Facebook.com/Krazy.E.Man or by following him on Twitter @TheReallyRealEW