You have no idea how fast my jaw hit the floor the first time I saw this duo on my tv screen.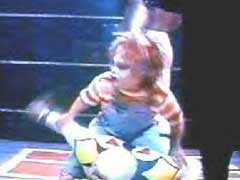 Words really cannot properly describe it, but I'll do my best.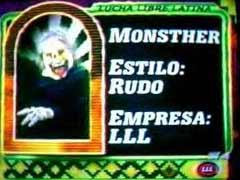 Monsther (the spelling as per Lucha tv graphics) is a wrestler in the Mexican lucha promotion EMLL. Like a number of these guys, Monsther is accompanied to the ring by a midget. In lucha, the midgets are often paired up with full-sized wrestlers, and act as the comic relief of the match. Monsther's cohort is, obviously, Chucky.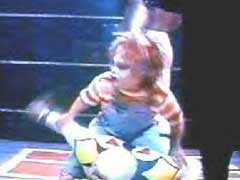 Also as obvious is that Chucky is patterned after the CHILD'S PLAY movie character. Apparently, after he didn't get over in WCW, he headed south of the border. I can't say he got over very well here, either, but at least he wasn't dragged down in a feud with Rick Steiner. Hell, I wouldn't wish that on my worst enemy, much less a demonic My Buddy.
Of the one match I've seen these guys in, Monsther seems to be very un-luchadore. He basically lumbers around the ring like a zombie and doesn't do a whole lot.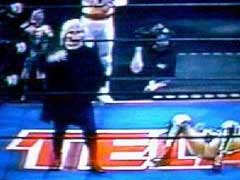 Here we see Monsther, Chucky and some other heels did while visiting some Old West town.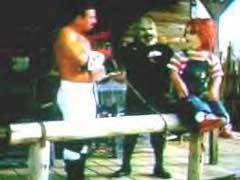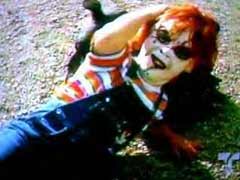 Chucky Goes West?
All I can say is that I hope EMLL didn't give Universal Pictures another bright idea.