Fresh blood in the WWE title scene is usually a good thing, and truth be told, Batista's run as WWE champion has been a breath of fresh air. So, being the ever-so-current goofball I am, I decided to take a look at where Big Dave has been before, on his road to stardom.
Many of you are probably aware of Ohio Valley Wrestling, aka OVW, the developmental farm for WWE (farm. I still giggle like a schoolgirl when I hear that term used for OVW. I just get this weird image of Jim Cornette waking up at 5 in the morning, and going out to the barn to feed and milk the wrestlers. Sigh. I need help). Anyway, before being called up to the big time to be Mr. Steph's personal trained hamster (and D'von Dudley's before that, but that's a tale for R.D. to tell one day), Dave Bautista, er, Batista made a name for himself in OVW as Leviathan, The Demon Of The Deep!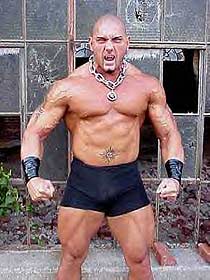 Scary guy, huh? Scary enough that WCW didn't give him the time of day, so he hooked up with Cornette instead. Pushed as a monster heel, literally, Dave was given the name Leviathan and the gimmick of…well, a demon in human form, it seems. Part of a stable called the Disciples of Synn (think low-rent Ministry of Darkness), Leviathan was an unstoppable creature, who had emerged from the depths of the sea to cause havoc and destruction. In a moment I'm sure Paul Wight really enjoyed, a still-green Leviathan pinned and defeated the Big Show during his "go to OVW to lose weight, but actually come back to the WWF fatter than you were before" stint.
One day I hope to induct the entire Disciples of Synn into WWoW. Even with it's similarities to such recent stables like the Ministry and TNA's New Church, it was really a throwback to Kevin Sullivan's old Army of Darkness in Florida. Except with a really big redheaded chick in dominatrix leather as the leader.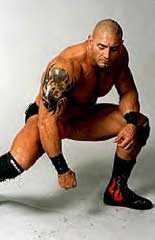 A Demon from the Deep turned Deacon turned World Heavyweight Champion.
And WCW passed it up in favor of giving Lanny Poffo money to sit at home.