In wrestling, there are certain ideas that were so successful at one time that writers can trot them out almost verbatim with no other justification but, "Let's do this again because you liked it the first time!"
Just look at The Four Horseman. Not only did it re-form repeatedly in the 90s, but as late as 2010, TNA had Ric Flair state that his new faction, called Fortune, was the Four Horsemen with this unique twist: it was called, "Fortune."
For WWE, one of the old stand-bys is "This Is Your Life," where a wrestler's supposed long-lost acquaintances are brought to the ring with hilarious results. The original "This is Your Life" segment for The Rock was Raw's highest-rated segment ever, so it only makes financial sense for WWE to try to recreate it over and over again.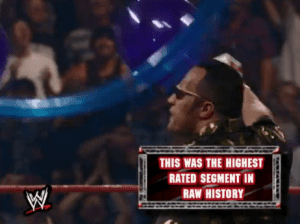 Besides the first on in 1999, WWE re-lived the shenanigans with the roles reversed, The Rock now bringing Mick Foley blasts from his past (but not the ones that nearly killed Terry Funk in Japan).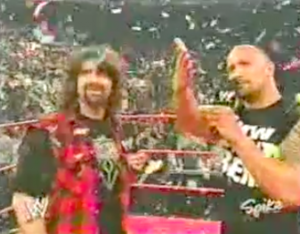 In 2011, it was time to drag the segment out once again.
See, at that year's Survivor Series, the team of The Rock and John Cena would be in action, in the sense that old WWF shows used to advertise Men on a Mission "in action" as a euphemism for a squash match against two unknowns (in this case, Miz and R-Truth).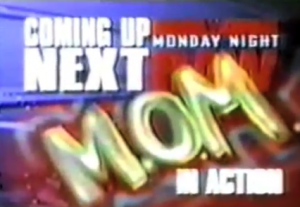 To commemorate the return of The Rock, WWE held a special three-hour Raw. This, of course, required plenty of filler material to eat up the extra hour. As we all know, Raw would soon expand to three hours permanently, but WWE writers would eventually learn to produce a tightly-booked, coherent program on a weekly basis. (That program is called NXT)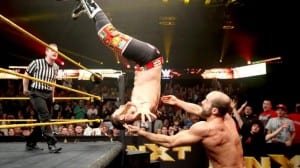 But on this night, eighteen minutes of prime-time television was devoted to the newly-returned Mick Foley so that he could recreate the "This Is Your Life" magic and bring in important figures from John Cena's past.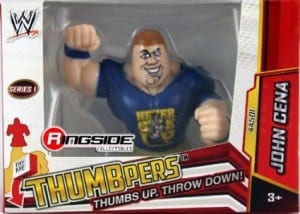 Why? To bring the rivals Rock and John Cena together. In a segment all about John Cena where there was no Rock to be found. It all made about as much sense as this stitched-together shirt of Mick's that read, "TE BRINSE OVE TE."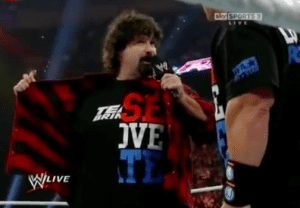 First, Foley presented a video package set to music not edgy enough to play over the speakers at your local Walgreens pharmacy.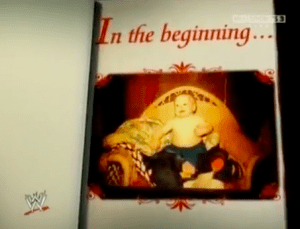 Then it was time for the surprise guests. Mick's first guest was supposedly John's little league coach, who looked about ten years older than John himself and told a story about Johnny striking out and crying about it. The audience ate it up like cinnamon by the tablespoon.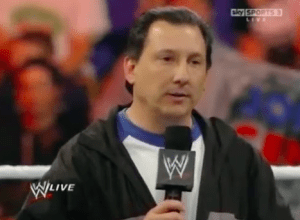 The next guest was Cena's former hip-hop sidekick, Bull Buchanan. A clip of B-Squared together with John Cena was provided for that portion of Cena fans too young to have seen it when it first aired in 2003 (100% is a portion). It just happened to be one of Cena's worst raps, where he dissed Rikishi with such biting lyrics as, "You're so fat, when you sweat, you sweat grease."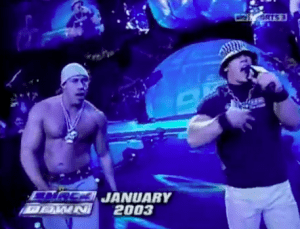 But instead of the promised Bull Buchanan, we got Will Sasso! No, sorry, that was Bull Buchanan. He just looked like Will Sasso.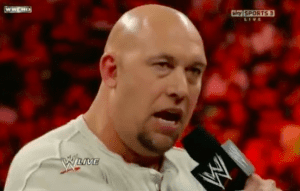 Poor Bull never got to be his own man, starting out as a uniformed mook in the Truth Commission, then moving on to stints dressing like the Bossman, dressing like Steven Richards, and finally dressing like John Cena. It turned out that, when left to his own devices, old Bull preferred the casual look.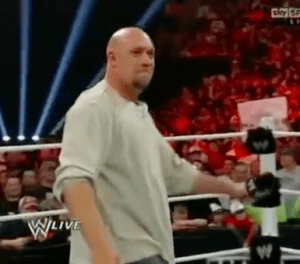 Bull proceeded to deliver Raw's most miserable sob story since Brutus Beefcake's, except at least no one in the audience shouted, "Kill yourself!" One fan did tell John Cena that he saw him cheat on his wife, though, and this was even before the whole Eve incident!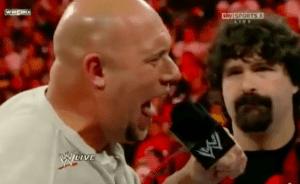 I'm surprised Bull didn't mention how Cena swapped him out for Red Dog. Hey, remember Red Dog?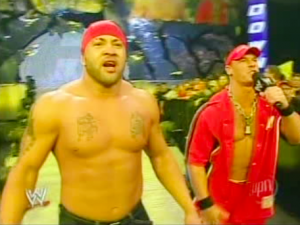 Cena continued to be embarrassed for himself, for Mick, and for all of us, but Foley hoped to save the day by bringing on a guest guaranteed not to tell off John Cena. And that guest was…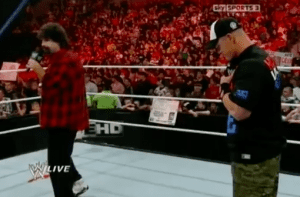 …John Cena, Sr.! "Hey, that actually is John's father!" remarked Jerry Lawler in astonishment. Was he implying that the first guy wasn't his real baseball coach?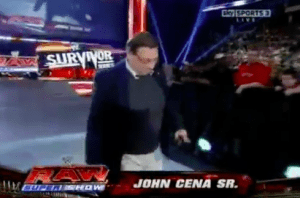 Cena, Sr. harangued the audience for booing his son just because kids like him, at last saying what you've always been thinking (assuming you, the reader, are Vince McMahon. It's an honor, sir).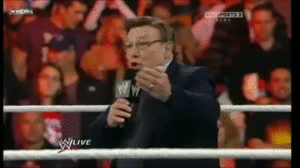 Cena, Jr. begged dad to stop embarrassing himself and his family.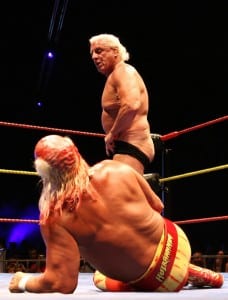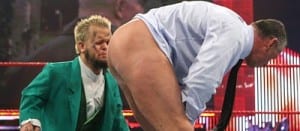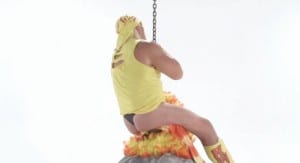 But embarrassment was the theme of the night, which made it an even bigger shame that this photo of John Cena teaming with Trish Stratus didn't make it into the festivities. We've all considered John a Boy Scout, but who knew he could pitch a pants-tent like that?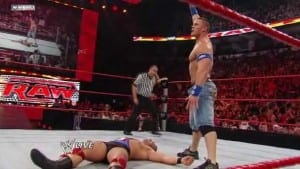 All in all, the segment was a disaster. Not even John Cena, supporter of all things poopy, could put his confidence into this segment, which ranked right up there with the Gobbledy Gooker — Cena's words, not mine. Here was a segment that was intentionally bad, and, in that sense, it exceeded its creators' wildest expectations.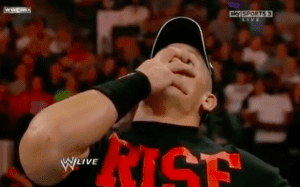 I would at least give the writers credit for not simply rehashing the "This Is Your Life" concept from the famous 1999 skit, flipping it on its ear so that every guest ended up backfiring on Foley. But then I remembered that that was the running joke in the original segment.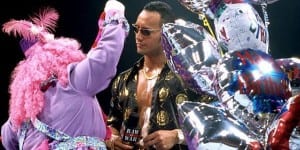 Without The Rock there to tell the guests to something-or-other their ass on out of there, the segment fell flat. Fortunately, the man himself was in the arena that night.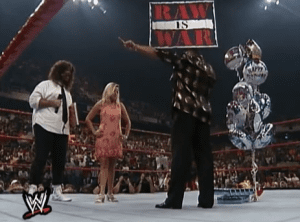 After an excruciating 17 minutes, a juiced-up Rock at last arrived in what I can only guess was a tie-in with the WWE All-Stars video game. He gave Mick Foley the Rock Bottom and left to an ovation.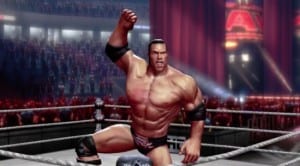 WWE could have achieved the same sort of reaction without turning the fans against Foley over the course of an overly-long and tedious gag. Just have him show up and punch The Miz in the face (not because they were feuding; that would just be a lucky coincidence).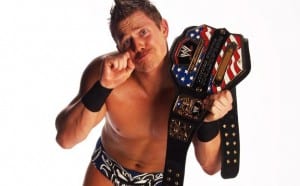 That would have really been something for John to smile about with that "Oh, gotta love that Rock!" look on his face.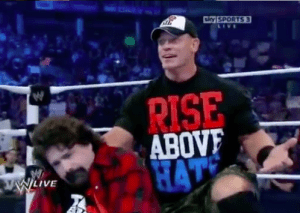 While the original "This Is Your Life" segment didn't really further a storyline (especially by the swerve-every-half-hour standards of the Attitude Era), it was entertaining and did at least reinforce the unique relationship dynamic between The Rock and Mankind, who were in the tag team title hunt, after all. That, and it drew staggering ratings, which certainly didn't hurt matters.
But "John Cena: This Is Your Life"? Unless Mick Foley was planning on forming a tag team with Cena, or even simply sticking around as a regular performer on WWE television, this segment was like a broken pencil: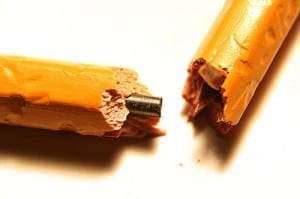 Annoying and extremely painful to have shoved into one's eyes and ears. Oh, and also pointless.