Eric Bischoff is well known for his desire to deal with celebrities. Whether it be Master P, Karl Malone, David Arquette, or Dennis Rodman, Bischoff always likes to rub elbows with the stars.
So it should come as no surprise that during Bischoff"s first WCW tenure, he decided an angle with The Tonight Show's Jay Leno would garner a lot of publicity for the promotion. It did…but for all the wrong reasons.
It turned WCW into a joke.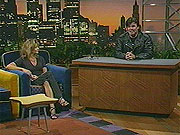 The angle began when Bischoff started his own talk show – nWo Nightcap. He sat behind a desk on a set that looked eerily like the Tonight Show set.
He even had a co-host: the lovely (not as lovely as she used to be, but come on, you wouldn't kick her out of bed) Elizabeth.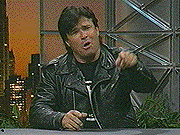 Bischoff would sit and tell really bad jokes to canned laughter. Sometimes he would even use the same jokes Leno used on the Tonight Show.
Now this would be bad enough…but each segment went on for upwards of TWENTY MINUTES! Crowds were bored, and viewers flipped off Bischoff (and flipped on Raw).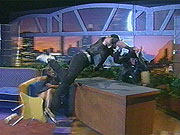 Bischoff began making derogatory comments about Leno and Diamond Dallas Page. One night, DDP became my 17th favorite wrestler by attacking Bischoff…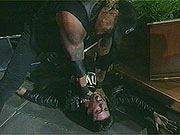 …and then elevated himself to my 4th favorite wrestler by choking Bischoff…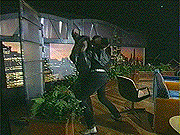 …and then became my ALL TIME, NUMBER ONE FAVORITE WRESTLER by destroying the nWo Nightcap set, so that we never had to see it again!
This set up a tag team war with Hulk Hogan and Eric Bischoff vs. Page and a partner of his choosing.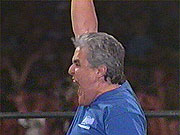 Page became my ALL TIME, LEAST FAVORITE WRESTLER by choosing Jay Leno.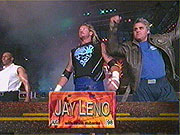 The match was set for Road Wild in Sturgis, amongst a bunch of Harley ridin' hooligans. DDP and Leno were escorted to the ring by Leno crony Kevin Eubanks.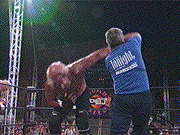 The match was, of course, a complete and utter travesty. Leno did all of three moves, thus bettering Hogan by one and tying Kevin Nash.
Hogan actually sold for Leno, which probably netted him a $200,000 bonus.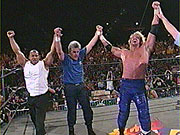 The match lasted six days (os so it felt). It finally came to an end when Eubanks snuck into the ring and gave Bischoff a Diamond Cutter. Leno covered Bischoff for the pin.
Thankfully, this was Leno's last appearance on WCW television. He has since moved up in the world and is now interviewing WWF superstars on the Tonight Show.
Memo to Vince McMahon – don't get any "funny" ideas!