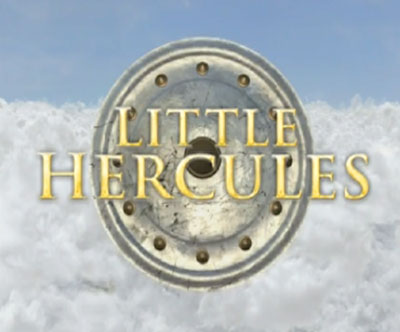 Since day one here at WrestleCrap.com, I've known that an integral feature on the site needed to be in-depth reviews of horrible movies starring wrestlers. Ever since I saw No Holds Barred back in 1989, I was scarred for life, and I wanted others to be equally scarred. Look back into the archive (cheap plug, it's only $14.95!!), and you will find such gems as Santa with Muscles, Mr. Nanny, The Wrestler (starring not Mickey Rourke, but Verne Gagne!), Ready to Rumble, Body Slam, and a zillion other piles of crap I've wasted not only hours watching, but tons more writing about, doing screen grabs, sound pulls, and all that.
I do it because it's the ultimate to me – it's horrible wrestling combined with horrible cinema. I dare ask, what could possibly make them better?
Three words, then a number and letter jammed together: Hulk Hogan in 3D!
In the interest of full disclosure, I didn't watch this in its native multidimensional format. The disc I got was just Little Hercules. I was half tempted to watch it whilst wearing an old pair of red and blue glasses. Maybe it would have made it a better experience, not sure. What I am sure of is that this is a rotten, festering, heaping pile of celluloid crap.
Just the kinds I likes.
You know that you're not exactly in for the next It's a Wonderful Life when you get an opening sentence of "On the day that time began, the heavens were filled with flaming fireballs, a million billion stars, and one special place."
Only 30 seconds in and I'm already firing up Audio Hijack to do my dirty work. This could take a while.
So the credits roll (which last about 10 minutes, no doubt to milk the "3D" effects they paid top dollar for) and what a case is on stage for our enjoyment today. Elliot Gould, Judd Nelson, Robin Givens…Paul (Big Show) Wight…and Nick Hogan. NICK HOGAN, ladies and gentlemen. The Hulkster, of course, is in this as well, portraying Zeus.
In the interest of not making this review 85,000 words, I will pass on making any jokes about the following:
– Rock being in a new Hercules movie
– Ray Hernandez as Hercules Hernandez
– The irony of Hulk Hogan being Zeus instead of Tiny Lister
There, done.
So we meet Little Hercules, a very sad looking kid who doesn't look very Herculean at all. As I was watching this, Mrs. Deal was next to me and chastised me for calling him "Little Paunchy". "Don't make fun of the kid," she noted. "Just say he should probably have worn a shirt." Mrs. Deal, she's always the angel on my shoulder telling me to do the right thing.
Thankfully, even with her years of experiencing such travesties by my side, she could take no more than 3 minutes of this torture, so Little Paunchy it is.
And here's the thing about Little Paunchy – he's, well, very strange. Sporting not only the physique of your average 13 year old who's skipped the whole Happy Meal phase for the Double Quarter Pounder flab fest plan, he has the voice of a dude in his mid 20's, and the tired, world weary face of a burned out 30 something stoner.
(Also, it's odd that he looks like this, as apparently the actor, Richard Sandrak, was ripped from the age of six. SIX! Seriously, here's a documentary on him, wherein it is alleged his parents were loading him up on…ummm…well, not big bowls of Cheerios. You can be the judge. As for me, I'll just say he's anything but ripped in here, and I'm going to get back to the film, k?)