The debut edition of Monday Nitro set the world on its ear. It had a great Brian Pillman vs. Jushin Lyger match, the WCW return of Lex Luger, and, of course, the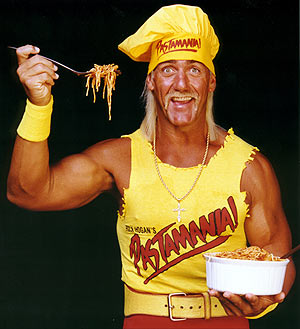 shameless self promotion of Hulk Hogan's restaurant, Hulk Hogan's Pastamania.
What? You don't remember Pastamania? Well, here's Eric Bischoff to tell you all about it!
Yes, just like other sports legends, Hogan had a restaurant for a brief period in the mid 90's. Serving up such delicacies as Hulkaroos and Hulk Us (Hey, Hulk U, Hogan!), the place delighted probably dozens of small children and bored shoppers at Minnesota's Mall of America.
Hogan did his best to shill the place whenever he could, and did so during interviews like this one.
There's really not much more to say. I never went there, but a friend of mine did, picking up the picture to the right, along with a Pastamania t-shirt that he wears proudly as he competes on the independent circuit.
You see, his character is that of a goofball, which is probably the only kind of person that would eat at restaurant owned by Hulk Hogan.