Now here's a gimmick. Take a big guy who has proven in another federation that he has no skills, and push him into a feud with one of your top stars.
Have him managed by Harvey Wippleman.
And best of all, put him in a SKIN TIGHT SUIT THAT MAKES HIM LOOK NAKED WITH AIRBRUSHED MUSCLES AND FUR.
Hey, he's BIG, it's GOTTA work, right?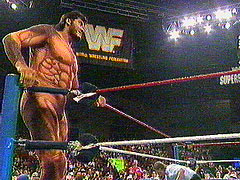 Well, no.
But that was the plan when Jorge Gonzales headed to the WWF in the mid 90's. Thrown immediately into a feud with The Undertaker, Gonzales showed the world just how bad he could be. Bad not in the "what a bad mutha" sense, but in the "I'd rather poke out my eyes with a Pez dispenser than watch this goof in the ring" sense.
Gonzales was quickly felled by The Undertaker. He turned on Harvey Wippleman, and then…DISAPPEARED, never to be seen again. Actually, I believe he went back home to his native Argentina to be with his mother, who had fallen ill.
While I wish Mrs. Gonzales nothing but the best, I kinda hope she stays ill the rest of her life so her son can no longer pollute wrestling rings with his presence.