Thanks to my buddy Alan for helping me with this induction and making me laugh
I'm not gonna lie to you, my fellow crappers.
I can't sing.
Can't do it.
As evidenced by the Cher-Off and Sister Sledge duet that my colleague/boss RD Reynolds and I have partook in on episodes of WrestleCrap Radio. There may have also been a Suzie Quatro & Chris Norman duet thrown in for good measure but my memory is a bit fuzzy on that.
I also can't dance either. It's somewhere between Elaine Benes from Seinfeld and when the Three Stooges took dancing lessons and their instructor had a bumble bee fly down her dress.
All this talk of bad singing and dancing brings me to this week's induction. So without further Apu, here we go.
Honky Tonk Man and "The American Dream" Dusty Rhodes were set to have a match at Summerslam 89 (best known as Mean Gene "F*ck It!" Okerlund's finest moment). In order to build up some interest in the match, the two wrestlers wanted to prove their abilities.
As tough guys?
As wrestlers?
Um, guys, we're talking WWF 1989 here!
No no, silly – as singers and dancers! And what better way to do than by having a good ol' fashioned sing and dance-off on the set of Prime Time Wrestling?
Feel the tension!
Smell the buyrate! (™ Scott Keith)
Of course, you can't have a sing off of any reputable nature without one James Hart on hand to oversee the proceedings.
"James Hart". That sounds horrible. No wonder he goes by Jimmy.
Anyway, he's here to introduce The Honky Tonk Man.
I think Jimmy took the "Piano Key Necktie from 1984" trend a step further than it should've gone.
(Note from RD: I think that look really needs to make a comeback.)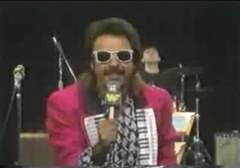 Here comes the Longest Reigning Inter-Continental Champion of ALL-TIME to dance and sing his AWESOME THEME song.
Hey, remember when the wrestlers all had UNIQUE entrance themes with their own style? Man those were the days.
And this is even better, because he's backed up by the Prime Time Wrestling house band. I wonder what they'd charge to do a wedding?
Honky wastest no time in inviting Dusty to "feel the heat! thankyaverymuch!" Talk about heat, Honky in these days was a HEAT MAGNET.
The heels of the WWE today say rosary prayers and go to Louisiana voodoo priestesses to get the kinda heat Honky got just for wiggling around with his guitar in the ring.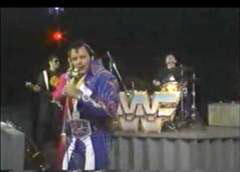 But alas, here comes Dusty to spoil Honky's shake rattle n' rolling.
At first glance, I actually thought it was Superstar Billy Graham, but then realized for Billy to look like that, he'd have needed to be injecting Doritos into his bloodstream for the last 20 years.
And that hat? What was that? Was auditioning to be the new cop in The Village People?
Makes you shudder when you ponder where he wants to put that baton..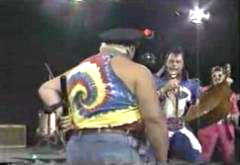 To be fair to big Dust, I was informed by a friend that he had been feuding with Big Bossman at the time and took Bossman's hat (which I've never seen him wear) and baton as a prize.
You know, that's just like Harvey Wippleman and Mr. Hughes coveting Undertaker's urn.
I just hope there will be no suspicious gases emited by The Dream.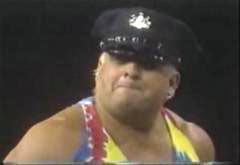 YES!! LEVEL HIM WITH THE GUITAR HONKY!!!
DO IT!!
DO IT THEN STEAL THE HAT!
No, better not. Bossman would totally kick your ass.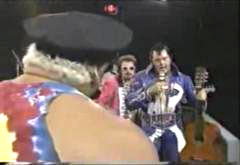 Alas, Honky just runs off while Dusty takes over the mic stand.
Man those jeans are tight. I wonder how many road agents it took to stuff Dusty into those jeans and how many coat (NO WIRE!) hangers were used. This looks like a real low budget wrestling remake of The Rose.
With 60% more cholesterol and the love interest is bacon.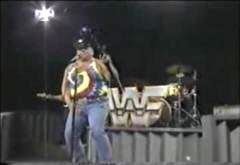 Dusty then proceeds to do the worst version of Johnny (Dusty) B. Goode you will ever hear. And when you think he's done…
MAKE IT STOP!!!
Seriously, I had this conversation with RD today verbatim.
RD: Didn't that go on for 10 minutes?
TK: It felt more like 10 hours.
All the while, Dusty dances around and sweats like Jimmy Swaggert cries.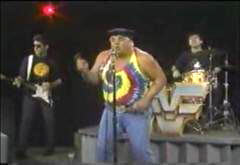 "Chuck, it's Marvin! Your cousin MARVIN BERRY. You know that crappy build up to a wrestling PPV match you're looking for. Well listen to THIS!"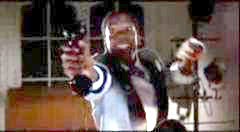 And therefore, Dusty Rhodes ensures his parents will meat (pun intended), fall in love and get on top of one another to sweat for at least 2 1/2 minutes so he'll be born and get to have his match with Honky Tonk Man at Summerslam '89.
GREAT SCOTT!
Just as an added reference, here's a sampling of HTM talking about his match with Dusty Rhodes over at Kayfabe Commentaries.