I've covered in the past what a disaster the InVasion storyline was, not only on this site (as the "lost" 2001 Gooker Award winner) but in depth as the epilogue in The Death of WCW. Every single thing the WWF could have done wrong with that storyline…they did. And the saddest part is that it wasn't even bad in a comical way. It was just annoying and grating on the nerves to watch them absolutely implode the dream feud week after week.
In fact, if you ever wanted to see just why that thing was such a disaster, look no further than the WWF career of one "Diamond" Dallas Page. While other so-called pro wrestling "experts" may not have any respect for DDP, good ol' RD Reynolds actually has a great deal of respect for the guy. He busted his ass for years in an attempt to make himself into a good worker, and for my money, he did just that. In addition to being very good in the ring, he also excelled in his storylines – no matter how dumb they were, he put everything into them and did his best to make them work. Those who blast the guy say he only became champion due to his friendship with Eric Bischoff. While that may (or may not) be true, their friendship had nothing to do with DDP's improvement as a performer. By the end of his run in WCW, he was one of the few guys I still had an interest in watching.
And when he showed up in the WWF…well, I had an interest in watching him then, too. But it wasn't for his matches; it was with an eye towards a future induction. Seriously, it was almost as if the booking crew there were obsessed with burying the poor guy. A guy, I might add, who was willing to give up hundreds of thousands of dollars, taking a buyout of his WCW contract (which Time Warner had to pay in full), just so that he could be involved in what promised to be a historic storyline.
So it pretty much goes without saying that Page loved the business. When you are willing to give up cash out of pocket, just to be involved in a storyline…that says something. But had he known the way it would have all played out, I somehow doubt he'd have been so anxious to give up those easy paydays sitting on his couch.
Let's start at the beginning. During the summer of 2001, a mysterious figure began stalking the Undertaker's wife, Sara.
Stop. Wait.
The Undertaker, who we'd been lead to believe was some sorta zombie for all these years, had a wife? I guess there really is someone out there for everyone.
Anyway, Sara Undertaker (presuming that "The" is actually The Undertaker's first name; just change that to Sara Taker if you feel that "Under" is his actual surname) was getting watched by this masked pervert, and obviously, that didn't set too well with her undead biker hubby. Taker, naturally, was livid that some wacko Peeping Tom was watching through the bushes while his wife was in the shower. Instead of perhaps taking a logical action, like calling the cops (or better yet, putting up some CURTAINS), Taker made it his goal to hunt down and destroy the creep.
After weeks of footage airing on WWF TV of the stalker oogling Sara, the masked man revealed himself to the world as none other than "Diamond" Dallas Page. When he pulled of the hood, the crowd went absolutely insane. Here was this huge WCW star, and here he was making a mockery of the WWF's finest! The feud was on!
So yeah, maybe it wasn't the greatest way for him to make his debut. Seriously, a STALKER? Yeah, that's kinda dumb. But the really idiotic thing is that everyone knew DDP had a smokin' hot dish waiting for him at home in the form of his wife, Kimberly.
Seriously: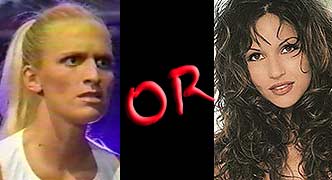 Which of those two would YOU choose? If I had Kim Page hanging out with me, ain't no way I'm wasting my time hanging out hoping to catch a glimpse of ol' lady horseface's poontang.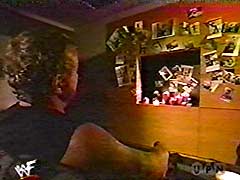 But Page did…and oh how he loved Sara, no doubt fantasizing for her to lift the tail. Page's obsession with Lady Taker was legendary, to the point that he'd construct shrines to her, with pictures, candles, the whole nine yards. Once he even did a panty raid while the Takers were out, swiping one of Sara's bras, in a move we have no doubt that would have filled Long Duc Dong with pride.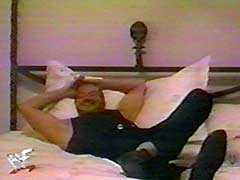 Revenge of the Nerds/Sixteen Candles escapades aside, there was actually one far larger issue with this feud. And that was the fact that it was completely lopsided. Taker pummelled Page in their first meeting, and then continued to do so for the next three months. If the poor guy got even a half-dozen offensive moves in in that entire time, I'd be stunned. It was the single most one-sided feud in history.
And just when Taker got tired of beating on the guy, well, someone else decided it was their turn to beat the tar out of him: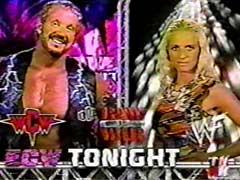 That's right – Sara herself! Yes, amazingly enough, the feud didn't end with Taker polishing off poor ol' DDP, but with Sara pinning the poor sap for a three count.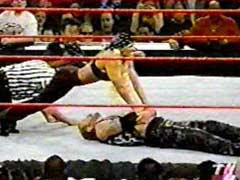 As for Page, you'd think that little encounter would have been enough to do him in. But no…it just lead to him re-evaluating himself, and deciding that horrific beatdown wasn't a bad thing…it was a good thing.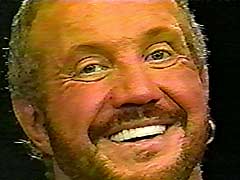 But that, dear Crappers, is a story for another day.
In the meantime, if you want to know what the real DDP is up to, might we suggest heading over to his website, where he is currently promoting his latest venture, YRG (Yoga for Regular Guys).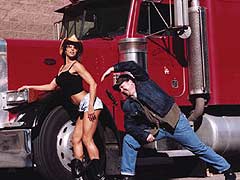 If that shot's indicative of his workouts, damn…we'd be smiling too!