Before there was Billy and Chuck, there was Marcus Bagwell and Scotty Riggs. The two handsome youngsters made their way into WCW and teamed up to form a pretty boy tag team known as The American Males, much to the delight of pimply faced girls and gay men all over the planet.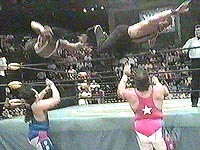 Now don't get me wrong – they had some talent. In fact, both guys could move around – and above! – the ring something fierce. I would say they could fly around like fairies, but that might be somehow misconstrued.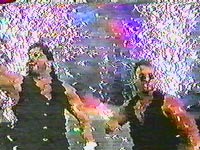 Their entrance had all kinds of sparklers and fireworks. In fact, you could say it was flaming, but of course, in a good, "we're not trying to imply that they're homos (not that there's anything wrong with that)" kind of way.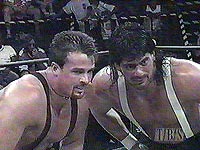 Here they are plotting out their strategy before a tough match. That or scoping out some hunky guy in the fifth row.
Almost certainly the strategy thing (although the look in Buff's eyes certainly leaves some room for doubt).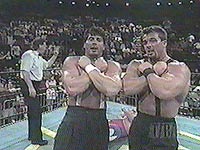 Finally, here they are giving the universal sign of love.
One can only wonder what they loved. Their country? Themselves? The funny tingling feeling south of the equator as they watched each other shower?
Ok, ok, enough with the gay innuendo. After all, there was something much, MUCH worse about this duo than their obvious choice of lifestyle. And that would be their theme music.
Before I post the link, I must warn you. This is not just the worst entrance theme in the history of WCW. In fact, it's not just the worst entrance theme in the history of all of pro wrestling. I will go so far as to claim that this "song", if you can even call it that, is the worst collection of notes in the entire history of the civilized world.
I'm not kidding. And neither RD Reynolds nor WrestleCrap.com will be responsible for the immediate and irreversible damage that listening to it will cause. Therefore, I must ask that you agree to this waiver below before subjecting your poor, defenseless eardrums to it.
I, the reader of this page (henceforth referred to as "masochist") fully understand and acknowledge that; (a) risks and dangers exist in listening to the American Males theme music; (b) my participation in said activity may result in my injury or illness including but not limited to bodily injury, deafness, partial and/or total paralysis, projectile vomitting, heart attack, death or other ailments that could cause serious disability; (c) these risks and dangers may be caused by the negligence of Marcus Bagwell and/or Scotty Riggs, WCW management, and those who wrote this wretched exuse for a song. These risks and dangers may arise from foreseeable or unforeseeable causes; and (d) by my clicking the "I Accept" button below, I hereby waive all liability to WrestleCrap.com and/or RD Reynolds, and assume all risks and dangers and all responsibility for any losses and/or damages, whether caused in whole or in part by listening to the American Males theme song.

Don't blame me – you had your chance to back out.
HORRIBLE MUSIC AND EVEN WORSE VOCALS: "American Males! American Males! AMERICAN MALES! AMERICAN MALES! AMERICAN MALES! AMERICAN MALES! AMERICAN MALES! AMERICAN MALES! AMERICAN MALES! AMERICAN MALES! AMERICAN MALES! AMERICAN MALES! AMERICAN MALES! AMERICAN MALES! AMERICAN MALES! AMERICAN MALES! AMERICAN MALES! AMERICAN MALES! AMERICAN MALES! AMERICAN MALES! AMERICAN MALES! AMERICAN MALES! AMERICAN MALES! AMERICAN MALES! AMERICAN MALES! AMERICAN MALES! AMERICAN MALES! AMERICAN MALES! AMERICAN MALES! AMERICAN MALES! AMERICAN MALES! AMERICAN MALES! AMERICAN MALES! AMERICAN MALES! AMERICAN MALES! AMERICAN MALES! AMERICAN MALES! AMERICAN MALES! AMERICAN MALES! AMERICAN MALES! AMERICAN MALES! AMERICAN MALES! AMERICAN MALES! AMERICAN MALES! AMERICAN MALES! AMERICAN MALES! AMERICAN MALES! AMERICAN MALES! AMERICAN MALES! AMERICAN MALES! AMERICAN MALES! AMERICAN MALES! AMERICAN MALES! AMERICAN MALES! AMERICAN MALES! AMERICAN MALES! AMERICAN MALES! AMERICAN MALES! AMERICAN MALES! AMERICAN MALES! AMERICAN MALES! AMERICAN MALES! AMERICAN MALES! AMERICAN MALES! AMERICAN MALES! AMERICAN MALES! AMERICAN MALES! AMERICAN MALES! AMERICAN MALES! AMERICAN MALES! AMERICAN MALES! AMERICAN MALES! AMERICAN MALES! AMERICAN MALES! AMERICAN MALES! AMERICAN MALES! AMERICAN MALES! AMERICAN MALES! AMERICAN MALES! AMERICAN MALES! AMERICAN MALES! AMERICAN MALES! AMERICAN MALES! AMERICAN MALES! AMERICAN MALES! AMERICAN MALES! AMERICAN MALES! AMERICAN MALES! AMERICAN MALES! AMERICAN MALES! AMERICAN MALES! AMERICAN MALES! AMERICAN MALES! AMERICAN MALES! AMERICAN MALES! AMERICAN MALES! AMERICAN MALES! AMERICAN MALES! AMERICAN MALES! AMERICAN MALES! AMERICAN MALES! AMERICAN MALES! AMERICAN MALES! AMERICAN MALES!"