Not everything I find in this section is from my own collection of wrestling magazines, sometimes it's from stuff I find online or even if it is from my endless boxes of mags, it could be ones I bought and thus weren't mine originally. Such is the case today, as I have unearthed the mad scramblings from an unknown wrestling fan from the past.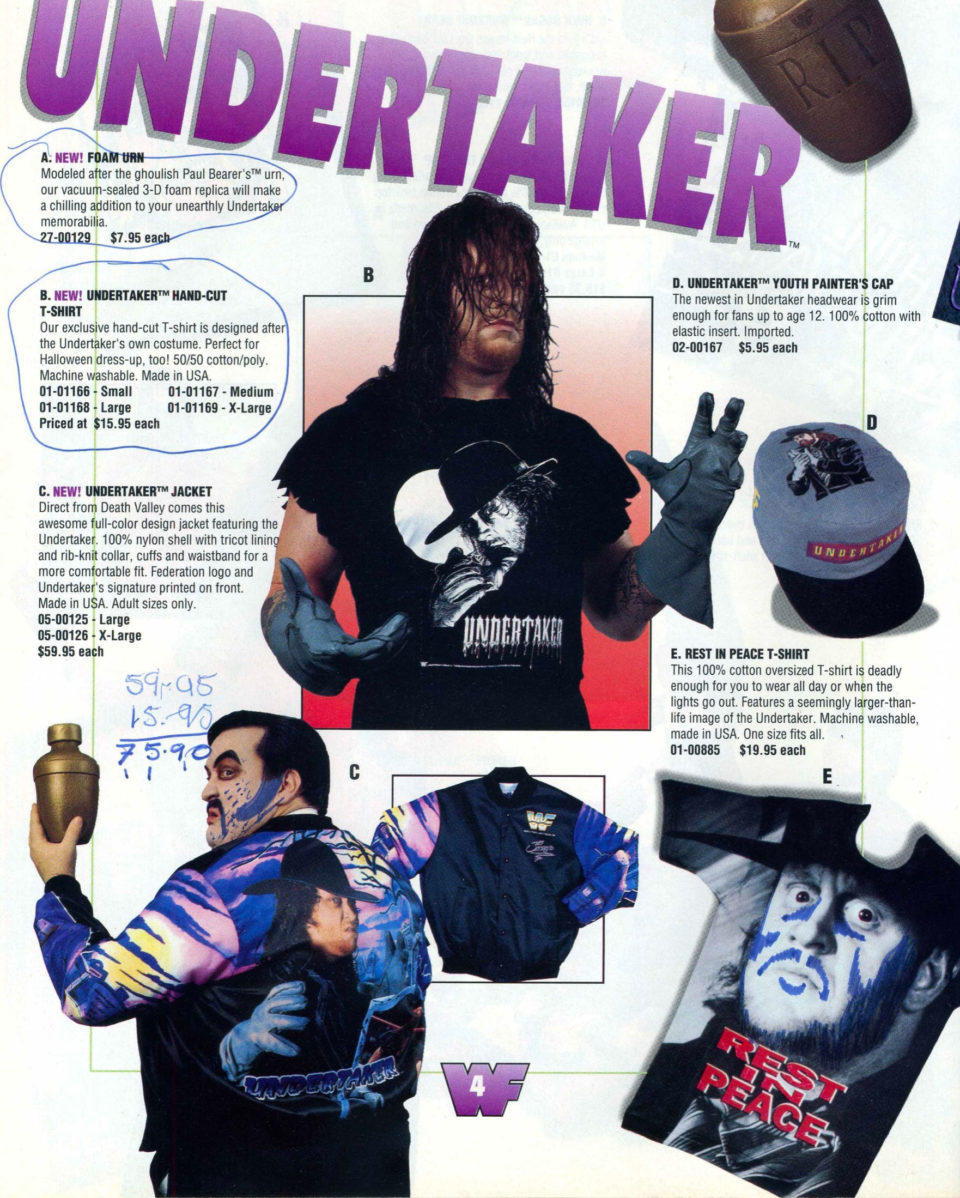 At least I THINK this person was a wrestling fan. My guess is that the person started wanting to actually order something, a large Undertaker shirt as well as an X-Large Undertaker jacket it would seem. These specifically.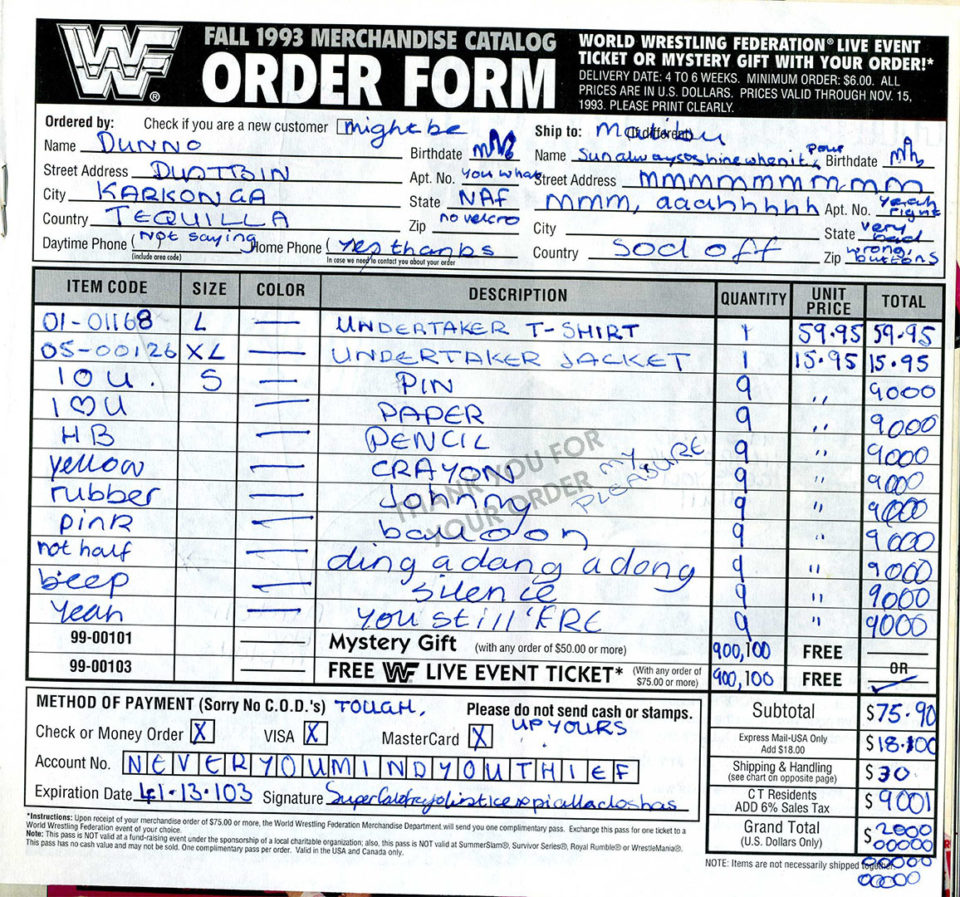 However, at this point he seemed to go completely insane with random scribblings and nonsense! Pretty sure the item code BICEP is not in this catalog, and if it is, I don't think it's going to net you a "ding a dang a dong". And if it does, 9000 seems a very steep price to pay. Also guessing that the credit card number of "neveryoumindyouthief" is an invalid account number, and that putting "UP YOURS" on the form isn't going to entice the guys in the warehouse to do their best when packing the order.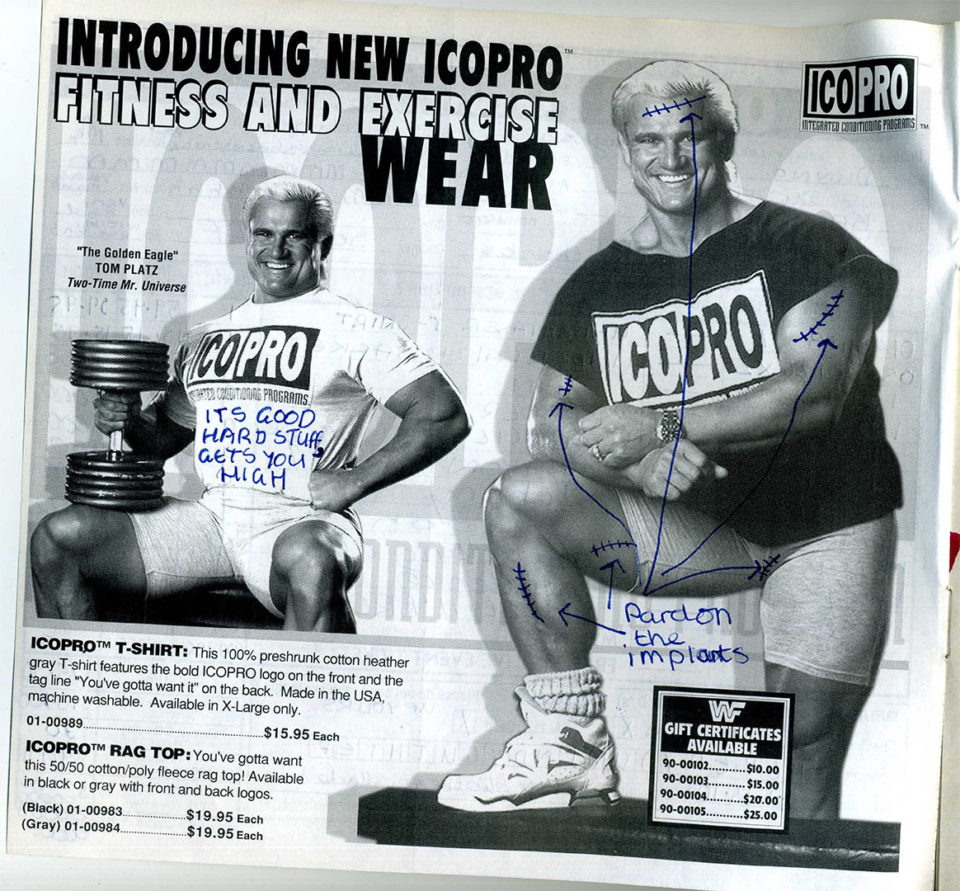 Also – this person is no fan of "The Golden Eagle" TOM PLATZ. Here we are shown that "IT'S GOOD HARD STUFF, GETS YOU HIGH." Or maybe they were sending in this drawing in hopes of getting a custom printed shirt. Further, they mark up Tom to show where he's had implants: both biceps, the right calf and thigh, the brain, and apparently on his crotch. That sounds really expensive, so I hope folks are buying lots of WWF Gift Certificates to help the fella out.
Screw this magazine, I want to learn more about the guy who was behind the blue ball point. Guessing he's either dead or in prison now.