WWF RAW August 11th, 1997 – Gulf Coast Coliseum — Biloxi, MI
Jim Ross and Jerry Lawler narrate the opening to this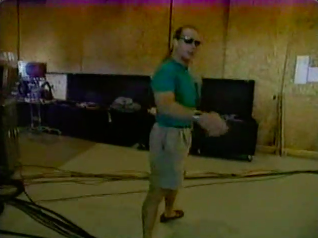 Raw is live this week from Biloxi, Mississippi, home of Steve Urkel's cousin Myrtle. Michaels, who is scheduled to face Mankind tonight, is resentful of being forced to do a job (referee the Summerslam main event). Michaels says he doesn't like WWF management (motioning to Vince) throwing the fallout on his lap, which itself has seen plenty of action. He then chops his crotch, which the camera, shooting him Elvis-style from the waist up, misses. On commentary, Vince clarifies that it was Michaels himself who requested the referee duty. Although he can't actually hear McMahon's commentary, Shawn continues his accusations against the owner, pointing and calling him a "Nimrod" who couldn't tell him about the Mankind match in person.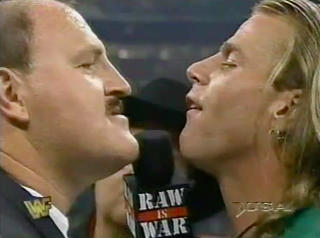 The fans start a "Shawn is gay" chant, which Jerry Lawler pretends not to understand. "I don't think it's complimentary", states McMahon. Shawn rebuts, admonishing them to consult with their mothers and sisters about "how gay Shawn is". He then tells Undertaker to watch him beat Mankind, who beat Undertaker, thereby proving that Shawn can beat Undertaker. That's the transitive property. Let's just ignore that the Undertaker beat Mankind in their last four televised matches.
Michaels tells Commissioner Slaughter to keep his chin out of HBK's spotlight. Michaels wants all the spotlight, as the 'Shawn is gay" chants resume. "And I know that's right!" assures McMahon, referring to the spotlight thing. Slaughter steps into the ring and suffers some more chin jokes. Michaels gets up in Slaughter's face and sells the spit from his words. He then says he'll have an insurance policy tonight against Mankind, and that he delivers better than UPS (whose truck drivers, we learned last week, are on strike).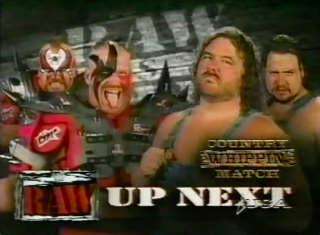 Fans in Biloxi all think Shawn Michaels will win tonight, minus one twenty-something who thinks he's "a piece of crap". But up next is the Road Warrior Hawk vs. Henry Godwinn in a "Country Whippin' Match". "I know that's right," says Vince. Backstage, Hawk practices his whipping on a Raw is War trash can before squealing like Ned Beatty.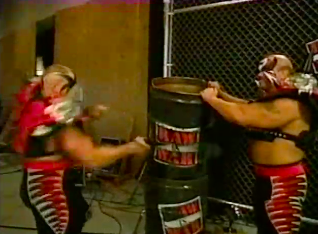 The British Bulldog and Owen Hart are in the ring with "Rue Britannia" playing, but they exit with their title and Slammys, respectively, as the LOD enter. Backstage, an angry Henry threatens to whip the hide off the Hawk.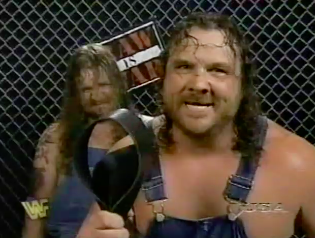 Vince promotes an article in the new WWF Magazine, titled, "When the Slop Hits the Fan", which features a manipulated picture of Phineas slopping Hillbilly Jim. "When the slop hits the fan?" asks Jerry Lawler.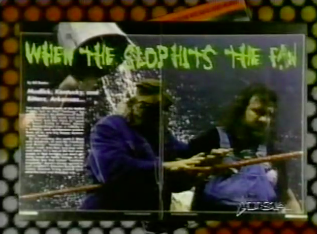 This Country Whippin' Match can only end when one man exits the ring and his feet hit the floor. Hawk hits Henry with a clothesline, the leather strap, and a leather strap-clothesline to take the early advantage. Vince McMahon finally explains the presence at the announce desk of Bulldog & Owen, who are here scouting. The team will challenge for the tag team titles in "a most unusual manner" called a "Fatal Four-Way" at In Your House: Ground Zero. Jim Ross says that Steve Austin will be in that match along with his championship partner Dude Love, but with his accent, it sounds like he says won't. McMahon states that the tag team titles have never been defended in such a match, forgetting the match at last year's Summerslam. Meanwhile, Davey and Owen argue over who should face The Patriot tonight.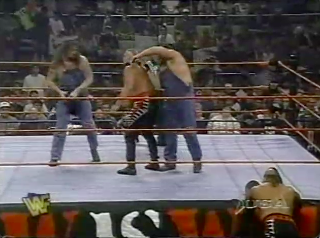 Henry Godwinn turns the match around via whipping, but Hawk makes his comeback with a strap-clothesline from the top rope. "The strap can be used as a weapon", clarifies Jim Ross, in case the "Country Whippin'" stipulation was too complex for some viewers. Since there is no disqualification, Phineas blatantly enters the ring to double-team Hawk, showing more genre savvy than 99% of the roster. Meanwhile, Animal just stands by at ringside like a shmuck. Finally, the other Road Warrior evens the odds with a bucket as Hank hangs Hawk by the neck. Animal knocks both Phineas out of the ring, then Henry, winning the match for Hawk. Regardless of the outcome, both teams will also be in the Fatal Four-Way next month.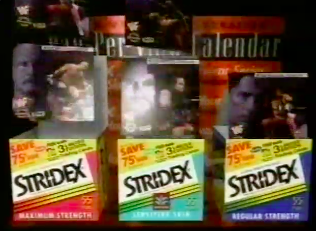 Cameras backstage wait in front of Brian Pillman's locker room door, where Vince speculates on what exactly Pillman will be wearing (Or not wearing. Yow!). In other news, limited edition WWF Superstar cards can now be found in boxes of Stridex, which are "as effective on pimples as a Stone Cold Stunner".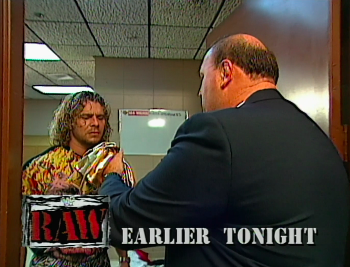 Earlier tonight, Commissioner Slaughter presented Brian Pillman with a dress, telling him it's his wrestling gear for tonight. To which an amnesiac Pillman replies: "That's not wrestling gear, that's a dress, Slaughter!" The Commissioner reminds him of the stipulation that everyone else remembers, wherein he'll have to wrestle in a dress on every Raw until he wins a match.Scott Pustki and Tony Williams are set to square off when they are interrupted by Goldust and Marlena's entrance. Jim Ross calls the golden pair the WWF's answer to the Cleavers. No, I think that would be Chaz and Marianna. Vince suspects they may be here to enjoy the Light Heavyweight action.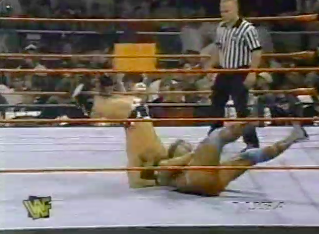 Scott Putski, who faces Brian Christopher at the next pay-per-view, takes control early against Tony Williams, the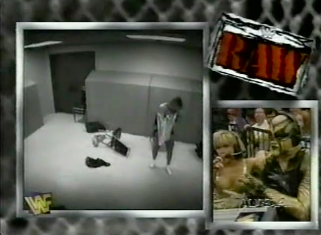 Meanwhile, Goldust explains his presence on commentary, debuting a new Shattered Dreams Production that is better than Air Force One (starring Harrison Ford), Conspiracy Theory (starring Mel Gibson), and George of the Jungle (starring Brendan Fraser). The "film" is black-and-white hidden camera footage of Brian Pillman's locker room, reminiscent of the "GDTV" footage that would pop up two years later (soon re-named "GTV"). Jerry Lawler calls it a "Frank Gifford cam". Normally, the King would love to spy on a blond(e) stripping down to underwear and putting on a dress, but not in this case. Vince McMahon concurs. A frustrated Brian Pillman struggles to put on the dress, then throws chairs around as Goldust's "Golden Handy-Cam" continues to roll.
The rest of the match plays out in a tiny picture-in-picture; Putski wins with the Polish Hammer, though no one is paying attention. McMahon apologizes to Scott Putski, while Commissioner Slaughter comes to ringside and asks Goldust and Marlena to leave ringside.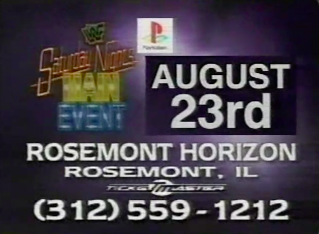 The announcers plug some upcoming WWF events, including a Saturday Night's Main Event at the Rosemont Horizon. Despite the name, the event will be split up into two weeks' worth of Friday Night's Main Event specials airing on USA in lieu of Monday Night Raw. If that sounds cool, just know that The Truth Commission will main event both shows. McMahon also promotes tonight's Michaels-Mankind bout, a rematch of their Slammy Award-winning match from last September. But next, Brian Pillman is in action; cameras catch his hairy legs as he leaves his locker room in a dress.
Vince McMahon thinks Goldust will be in big trouble with Commissioner Slaughter for his voyeurism. Speaking of Goldust and controversy, Vince also references a "controversial article" in Raw Magazine about Goldust and his father.
It's now time for Brian Pillman to wrestle in a dress, this time a bright gold one like Marlena wears. "Actually, it's quite an attractive gown", admits McMahon. Jerry Lawler thinks Tommy Dreamer, his opponent this weekend at ECW's Hardcore Heaven, should wear a dress. Well, it would be a practical garment for Dreamer, who is still recovering from swollen testicles after Lawler caned him.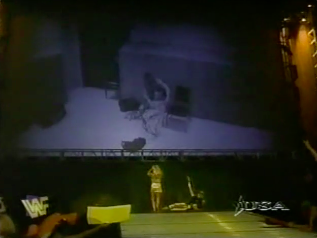 The Commissioner pops on screen to announce that the British Bulldog & Owen Hart will face The Patriot and a tag team partner later tonight. In the ring, Flash Funk mounts a comeback, delivering a spinning knee for the night's first Maneuver. Funk then lands a flying cross body; Pillman covers his modesty before kicking out. Brian counters a moonsault by putting his knees up, then DDTs Flash. Before he can cover, Goldust and Marlena come out on stage with popcorn and show the dressing room footage. The distraction allows Funk to roll up Pillman and expose his undies. They don't call him Flash for nothing! Pillman loses again, meaning he'll have to wrestle in drag yet again next week.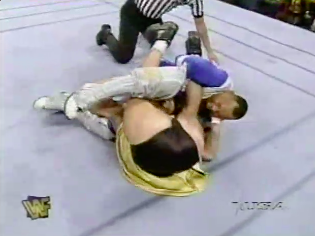 Up next, Dude Love will speak. A number of his fans rallied outside the arena earlier today holding signs. It appears the Deep South loves Dude Love after all.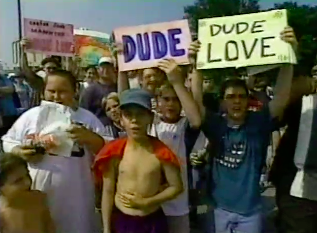 A Summerslam home video commercial disguised as a "Special Bulletin" airs, followed by a replay of Steve Austin's injury; the roll-up finish is edited to seem less pathetic. Last week on Raw, a doctor barred Austin from competing that night specifically, but Stone Cold is still advertised for next month's pay-per-view as if he'll be recovered by then.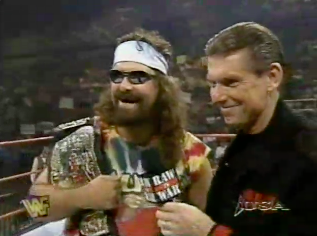 Meanwhile, his tag team partner Dude Love comes to the ring, where he is again greeted by his groupies. He says Stone Cold will be back soon to kick "some serious, serious… Ask me another question because the Dude is on a roll!" As far as the Fatal Four Way goes, the Dude doesn't sweat his opponents, daddy, whether it's the Road Warriors, Owen & Davey Boy, or the Godwinn cousins, whom he calls "brothers". Hey, they might be! And as for the upcoming Mankind vs. Shawn Michaels, Dude Love picks Mankind, naturally.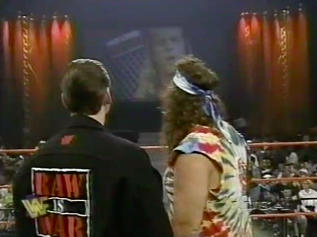 Michaels interrupts the Dude, telling him he hopes someone knocks him out so he can "wake up in the twenty-first century". Dang, he's talking about a three-to-four year coma. He calls Dude Love a Nimrod, too, before saying he'll give him Sweet Chin Music down his throat. "Boastful comments from that young man", says Vince. In response, the Dude quotes another "hip cat", John Lennon, by reciting the first few lines of "I Am The Walrus". When the Dude's groupies rush the ring, she instinctively flees, then steps back in to dance. "Good Lord, my mama's watching", says Ross.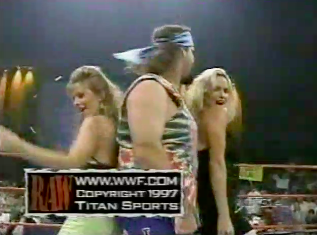 More Biloxi fans have some strong opinions on the main event, except for one teenager who picks Mankind by default because Shawn "really isn't that good". The King is more concerned about the massive zit on another fan's nose; Jim Ross recommends Stridex.
Backstage, The Patriot gives a pep talk to an unseen partner. That match is next. Patriot's battle royal victory last Saturday, where he last eliminated Vader, is this week's Stridex Triple Action replay.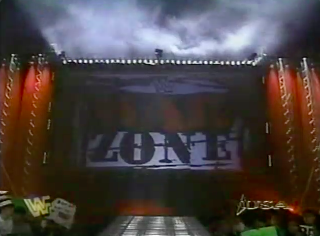 Too much dung and not enough gas! One hand hides the sores in your ass! It's time for War Zone! Glad I've finally figured out the lyrics. The Titantron appears to have Christmas lights strung along the top, plus fog and lighting. Coming to the ring are Owen Hart ("a very unpopular individual") and the British Bulldog, who will wrestle in Birmingham, England next month. Owen dedicates the match to Bret Hart who is "behind the scenes watching". The Patriot shows up with Old Glory, prompting some very aggressive flag-waving by all parties. "Things can get quite political around here," says McMahon. "I know that's right", says Jim Ross. Really? Not Vince McMahon? Whatever. Patriot's partner is Ken Shamrock.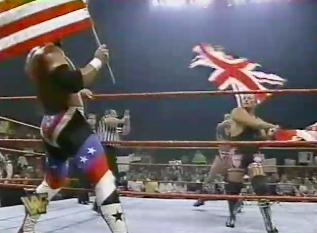 Bulldog immediately tags out to avoid Shamrock, who savaged him and many officials at Summerslam. The resulting fine, says Ross, was close to that of Barry Switzer of the Dallas Cowboys (who was fined 75k after being caught at an airport with a loaded gun in his luggage). Shamrock and Owen circle each other until Shamrock wrestles him down with some basic moves. Backstage, we see Bret Hart watching on a monitor to prove he's really there. Then again, we only see the back of his head, so it could be someone else with long, stringy black hair.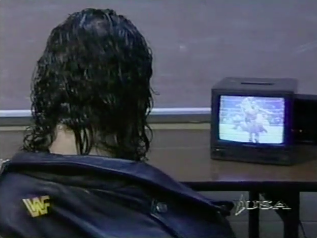 Once Shamrock tags out, Bulldog tags in. Vince, who has been on commentary all summer and owns the company, incorrectly notes that this is the Patriot's "very first match-up in the World Wrestling Federation". It's his fifth match on TV; his first match was a count-out lost to Hunter Hearst Helmsley.
The Patriot frustrates Bulldog as fans chant, "USA"; Lawler is impressed that the fans in Biloxi know what country they're in, and Vince chuckles. Patriot tags in Shamrock, and the Bulldog immediately crawls away on all fours like some sort of canine. Vince attributes this cowardly behavior to "mind games". Bret Hart steps out onto the stage before Raw goes to break.
Owen & Bulldog have isolated Ken Shamrock, whom the announcers note has little experience in tag team matches. See, before he was a wrestler, he was an Ultimate Fighter (but before that, he was a wrestler. He even teamed with Tatanka!). The commentators remind viewers that Steve Austin is watching and will be back soon. Ken Shamrock hits a desperation cross-body on both opponents and makes a hot tag to The Patriot, who gets on a real roll. Also on a roll is Vince McMahon, who manages to say, "at this juncture" three times in 93 seconds.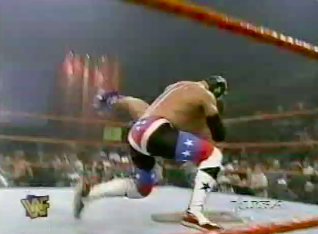 Owen breaks up a pinfall attempt before Patriot and Bulldog simultaneously clothesline each other to the canvas. This prompts Bret Hart to slowly walk down the ramp, where Ken Shamrock awaits him. Commissioner Slaughter gets between the two as Owen Hart slides a chair in the ring, then distracts the referee and Shamrock. However, The Patriot catches Bulldog and full nelson-slams him onto the chair for a pinfall victory. "Well, The Patriot, I guess, will do whatever it takes to win a match-up," says Vince to justify the tactics. "Just like everybody else".
On the WWF Superstar line, fans can learn about why Ahmed Johnson was kicked out of the Nation, plus Steve Austin's future.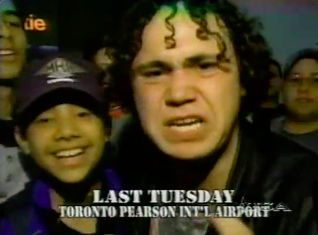 Footage airs of Bret Hart's Canadian homecoming. Vince compares Bret's reception to that of an Olympic gold medalist — perhaps Donovan Bailey, whom the Hitman likes to mention at every opportunity. Unnamed fans get microphone time at the Toronto airport, including Jason Sensation.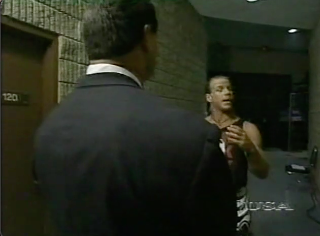 Backstage, Shawn Michaels talks with his insurance policy. Hey, that's no insurance policy, that's a person! Or maybe it's an insurance agent holding the policy in his hand. Either way, Shawn shoos away the camera man.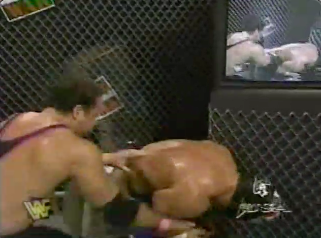 The Patriot says that at Ground Zero he'll prove to Bret Hart that he belongs in the WWF, which seems like a very low bar. The Hitman attacks him from behind with a chair in front of the monitor, which provides double-vision.
Faarooq comes to the ring alone thanks to Commissioner Slaughter. The same goes for Chainz, whose biker buds are nowhere to be seen. As Faarooq raises his fist, Chainz gives him the old Italian salute. Jim Ross asks Lawler about rumors of him and Suzen Johnson — that's the woman in the Frank Gifford scandal. Lawler denies it, but is excited for her to pose in Playboy this November. The fans are about as interested in the match at hand as the announcers are until Chainz gets his knees in Faarooq's crotch. With Ahmed Johnson injured again and expelled from the Nation, Faarooq's group would be short-handed tonight "if all you-know-what breaks loose". What does Vince mean by that? "F*ck"? Chainz clotheslines Faarooq, who knocks down the referee; this leaves no one to count Chainz'z pinfall.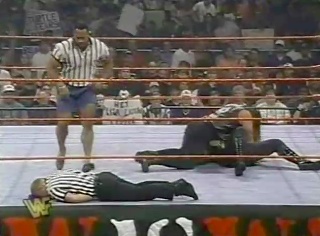 Out of nowhere comes Rocky Maivia, who hilariously is wearing a black-and-white striped shirt like a referee. After checking on the real referee, Rocky gives Chainz the Rock(y) Bottom, allowing Faarooq to win the largely meaningless match. Maivia salutes with Faarooq, signaling his entry into the Nation of Domination and perhaps a change to the Nation's dress code: striped polos, jean shorts, and loafers.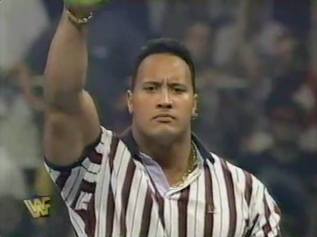 In the Nation's locker room, Faarooq kicks out a camera man. It's a bad night for that line of work: wrestlers yelling at them left and right, Goldust unethically scooping them…. Chainz then attacks the door with either a medieval mace or a bent piece of metal, but not even the combined efforts of the DOA can break into the Nation's inner sanctum. This, despite the fact that the door is actually open a crack.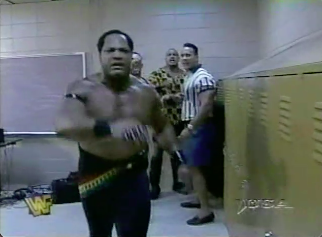 Speaking of opening cracks, Vince McMahon is real excited to see Sable. "Ohhh my goodness, is she ever hot!" Now with her own TitanTron video with kickboxing and bikini footage, Sable is the guest ring announcer. As the camera zooms in on her gazongas, Jerry Lawler notes, "Well, you've noticed since she's gotten here she's gotten much bigger", says the King, who hesitates for a fraction of a second before continuing, "in popularity than the Wild Man." Ross adds that her "prominent profile" rivals that of Commissioner Slaughter and his big chin.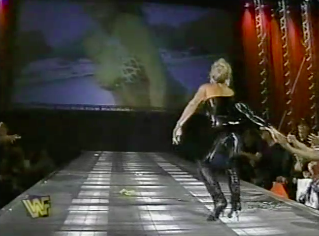 In a move doing irreparable damage to his popularity as a babyface, The Patriot interrupts Sable's posing to cut a promo in the ring. Patriot calls out the Hitman, who brawls with Wilkes. The rest of the Hart Foundation mobs the Patriot, except for that one goateed guy everyone seems to have forgotten about. Who? Exactly. Bret lays a Canadian flag over his fallen foe, "immersing The Patriot in the maple leaf" as Ross puts it. Sarge and the stooges eighty-six the Hart Foundation.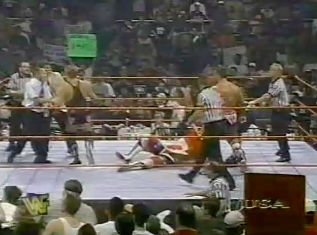 Mankind, speaking for the first time tonight, says Shawn Michaels will have a lump in his throat — his own liver! "Ohhh my goodness!" growls McMahon, using the same verbiage he used for Sable.
Brakus, who is coming soon, challenges Vader in yet another vignette. Before Veer took forever to come, there was Brakus.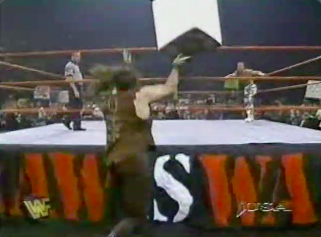 Shawn Michaels enters with his sparkly vest; Mankind, a trash can, which he tosses into the ring. Michaels put the receptacle over Mankind's head, then takes him down with a flying cross-body. Still wearing a black plastic bag, Mankind puts the Mandible Claw on Shawn until HBK hits him low. The announcers compare the "extreme action" to that of ECW and its upcoming pay-per-view, Hardcore Heaven '97 this Sunday at 9 PM Eastern. Mankind drops Michaels on the guardrail, where he hugs a young fan. Shawn back-body-drops Mankind onto the announce table, then delivers an elbow off the ring apron.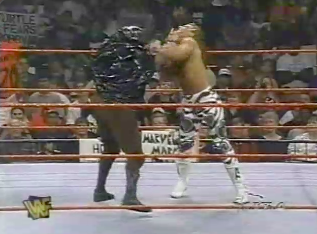 Michaels looks to win his second comeback match of the year with Sweet Chin Music, but Mankind ducks and delivers the Mandible Claw again. Foley keeps the hold applied even as both men tumble through the ropes to the outside. Only when HBK rams the back of Mankind's head into the ring post does he relinquish the hold, at which point Jim Ross inaugurates him as mayor of Concussion City. Michaels drops Mankind yet again on the very sturdy announce table without breaking it. Hunter Hearst Helmsley and Chyna walk down to the ring as War Zone goes to its final break.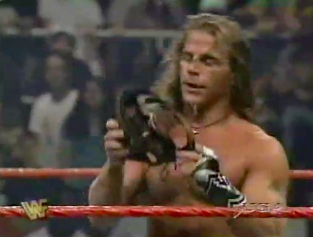 Michaels plays with Mankind's mask when the show returns, though Vince isn't sure they're even on the air thanks to the havoc wreaked on their equipment. The Undertaker, he says, was invited to watch the match and is surely "glued to the monitor" backstage. Michaels charges at Mankind in the corner but misses and hits the pole for a hope spot. However, Shawn is back at it again when he dodges an elbow drop and puts him in a sleeper. The announcers speculate whether Hunter and Chyna are the promised "insurance policy" or whether they're just here due to their issues with Mankind (or Dude Love). Vince points out that Shawn is cut on the "facial area", but Jim says it's from his right arm. Could it be the result of that Death-Defying Maneuver (#2 – elbow drop onto the table)?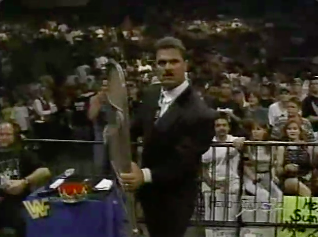 As Mankind mounts a comeback, Ravishing Rick Rude walks down the ramp. Helmsley trips Mankind with the referee distracted, allowing Rick Rude to whack Shawn's opponent right on the top of the noggin with a chair. Shawn wins with Sweet Chin Music and celebrates while looking disoriented. Vince McMahon makes it sound like Rude's chair shot was meant for Hunter, and that Shawn knew nothing of the interference.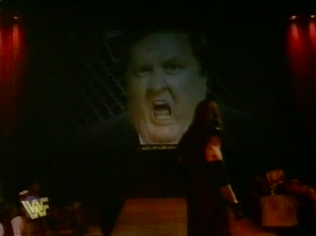 The mood changes in a hurry when the Undertaker surprises Shawn with his dong. The lights go down and Taker appears on stage with about thirty seconds left on the air. Paul Bearer appears on the TitanTron, bathed in red lighting, to remind The Undertaker that he'll burn in hell. Or, as McMahon might put it, "burn in you-know-what".
Final Tally:
2 Maneuvers (Year total: 98)
2 I Know That's Rights (plus 1 from Jim Ross)
3 At This Junctures
1 JR's Mama