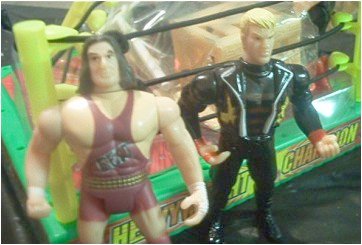 My friend (and Loyal Crapper!) Matt over at X-Entertainment did this great article a few years ago on stupid bootleg wrestling figures. 
Yeah, some (and by "some" I mean "nearly all") of them look really, really weird. I guess you could just pretend they're indy guys. The ring is pretty cheap and ugly, too.
That picture of Chris Benoit on the packaging was creepy even before "the incident" happened, but now in hindsight it's even more upsetting. Gah!
Be sure to check out Matt's new site Dinosaur Dracula!