Esteemed WrestleCrap President Jack Tunney announced on Friday night, at The Meme Event in Buffalo, that the first ever WrestleCrap World Heavyweight Champion would be decided at WrestleCrapMania on March 30 in Atlantic City, NJ.
This morning on Superstars of WrestleCrap, our own Mean Gene Okerlund revealed that the brackets were confirmed late last night, and were ready for revelation.
After President Tunney revealed that RD Reynolds and Irwin R. Schyster would be permitted entry into the tournament, the picture has become clearer, as Reynolds and IRS will each receive a FIRST ROUND BYE, due to Reynolds' dubious Royal Rumble elimination, and IRS' Rumble victory, tainted as it may be.
The catch? RD Reynolds and Irwin R. Schyster will square off in the QUARTERFINALS of the tournament! Finally, Reynolds will get his hands on Schyster in a one on one capacity, with a chance at the richest prize in all of WrestleCrap at stake!
As for the remainder of the brackets, 12 men will fill the rest of the slots as follows.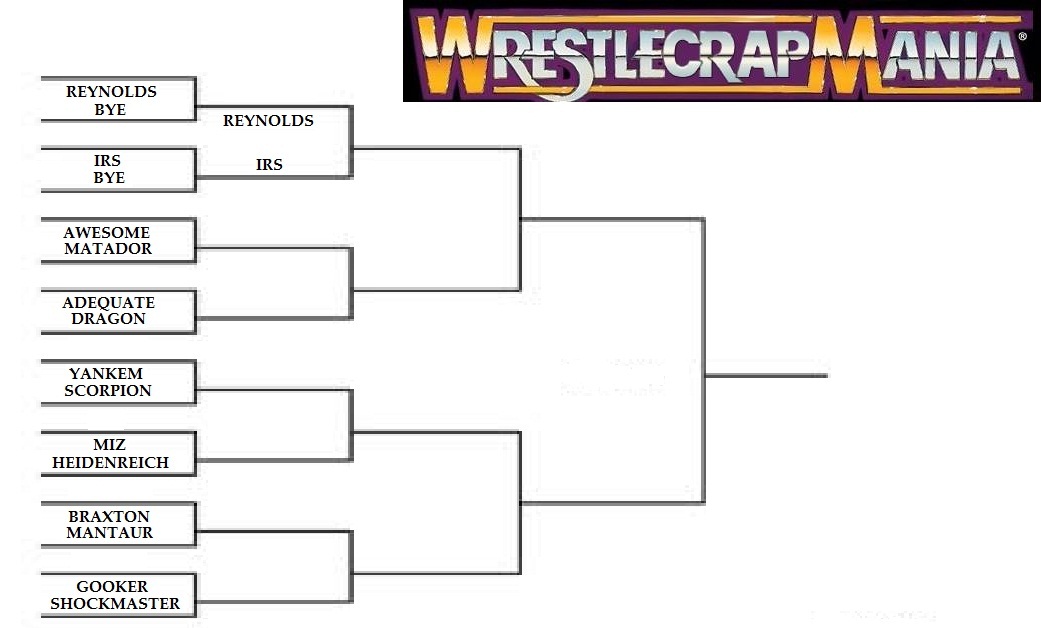 The rejuvenated Mike Awesome, managed by Bobby "The Brain" Heenan, takes on El Matador in a battle of strength vs. speed! Mr. Adequate Curtis Axel brings his no-frills offense to the table against the scorching Dragon, allegedly no stranger to tournaments of this ilk!
Dr. Isaac Yankem DDS and The Black Scorpion will meet in the round of sixteen, having fought each other tooth and nail in the Royal Rumble match! That winner faces the victor of The Miz and Schyster Family henchman Heidenreich, both part of the Rumble's final five entrants!
Speaking of The Schyster Family, the beastly Mantaur will take on an arch nemesis, the dynamic Blade Braxton in the first round! Whoever gets past that one battles the winner of The Gobbledy Gooker and The Shockmaster, both cornerstones of WrestleCrap!
You don't wanna miss WrestleCrapMania on Sunday, March 30, live and exclusively on Pay-Per-View!