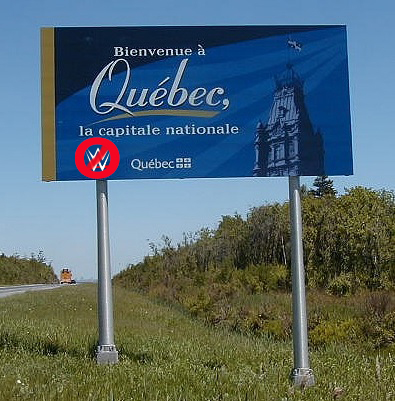 Montreal, QC, Canada – In an unprecedented move, the city of Montreal has filed a restraining order to World Wrestling Entertainment.
Denis Corderre, the mayor of Montreal, addressed the legal notice at a press conference with reporters this afternoon. Flanked by members of Parliament, Montreal Canadiens great Guy Lafleur, a moose, and a plate of Canadian Bacon, Corerre explained the decision.
"For too long, Vince McMahon and the WWE has used the infamous Montreal Screwjob moment as a crutch for poor storylines and booking. At Payback, the company once again used the Screwjob, this time for the match between Charlotte and Natalya. We, the people of the proud city of Montreal, will no longer stand for it," said Corderre as the Moose ate some of the bacon. "Therefore, effectively immediately, WWE is no longer allowed to use the city of Montreal or events that have taken place within the city limits in their product. Doing so will cause immediate legal repercussions and we won't give them any of our Timbits either."
Corderre then had Lafleur take a slapshot of a "Kliq Rules" DVD.
After the event, Pat Laprade, author of the book "Mad Dogs, Midgets, and Screwjobs: The Untold Story Of How Montreal Shaped The World Of Wrestling" explained the significance of such a decision.
"Montreal has an incredible wrestling history that WWE will no longer be able to reference. No more Don Leo Jonathan. No Mad Dog and Butcher Vachon. No Rougeaus, no Frenchy Martin, no Leducs. No LuFisto!" yelled Laprade.
WWE has made adjustments to both their travel schedules and their characters to avoid further legal problems. Sami Zayn will now be listed as being from Flin Flan, Manitoba and Kevin Steen will be from Crotch Lake, Ontario.
Carl Ouellet, who wrestled in the WWE as Jean-Pierre LaFitte has offered to serve as a mediator for the two sides to work out a deal, but both WWE and the Montreal government have told him to go eat a bowl of poutine.