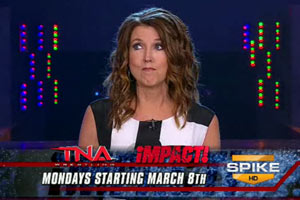 Some people are ringing the oft-rung death-bell for TNA, after word came out that the company would revert to a schedule of four PPVs a year: Genesis (January), Lockdown (April), Slammiversary (June), and Bound For Glory (October). The remainder of the schedule is filled in with pre-taped, lower-cost PPVs with themes based on tag teams, the X Division, et al.
While other folks mock TNA for a perceived one-step-back, I have to say I'm for this idea.
Think about it. Some of you long time fans out there talk about the WWE time-frame from 1987-92 like it was the holy grail. As a fan from that time-frame as well, I agree.
And how many PPVs came each year? No more than 4, right?
Shows were more memorable back then. You didn't have those feuds that ran over 2-3 months that you had to pay $120 or so to see the entire length of.
I mean, it was different in the Attitude Era when feuds ended abruptly, title changes were frequent, and people turned face or heel depending on oft-changing star alignments. Each show felt a little fresher then.
Nowadays, everyone runs together to try and conserve angles, but they take so long to play out on a monthly PPV schedule that oversaturates our minds, and things drag.
WWE is no better than TNA in this regard. Other than theme-PPVs like Money in the Bank and Hell in a Cell, can you really tell most of the shows apart? It's the same matches month to month!
I think TNA is doing the right thing. People are going to stream most of the PPVs anyway; why run your costs up with live production? Instead, make your "big four" special, and have some bonus, lower-cost shows to fill the remainder of the year.
So what say you? Do you agree or disagree with TNA doing this? And is this something you think WWE should consider, given the economy and the availability of streams? Not to mention the quality of the shows?
(Follow Justin Henry on his Twitter for live site updates and live-tweeting of Raw and PPV!)