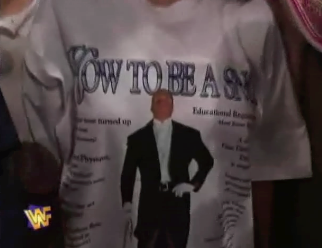 I was re-reading Art's fantastic induction of Hunter Hearst Helmsley (go read it right now or I will make you jump hurdles on a horse while trying to balance a glass of fine wine on your head) when I saw this screen shot of a Hunter "How To Be A Snob" shirt.
This is a rare example of a piece of WrestleCraptacular merchandise that completely flew under my radar at the time. I didn't even know it existed until Art mentioned it!
UPDATE! Crapper Drew came through with flying colors and found some better shots of the shirt!
Thanks, Drew!
Did any of you Crappers have this shirt?