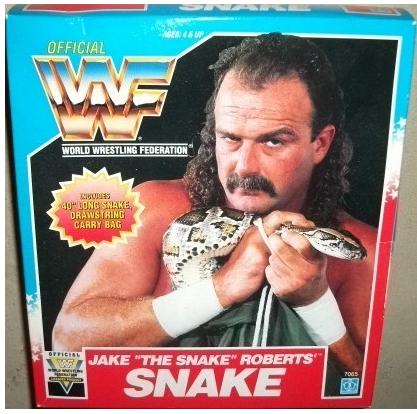 (I know R.D has already posted this same item as a "SBT Classic, but I found some alternative pictures of it).
In 1991 the WWF and Hasbro actually had the gaul to sell an overpriced 40″ long rubber snake and nylon drawstring bag to kids.
And what's worse is that they did it not long after Earthquake "squashed" the real Damien! Talk about some weird marketing synergy…
I guess this toy was good for kids who either wanted to be like Jake Roberts, or kids who just wanted to pretend to be Earthquake crushing Damien into oblivion.
Please note that this is the "Official" WWF Snake In A Bag(™) as opposed to all those other knockoff rubber snakes out there, I guess (?). I guess the thing this has going for it is Jake's logo is on the bag.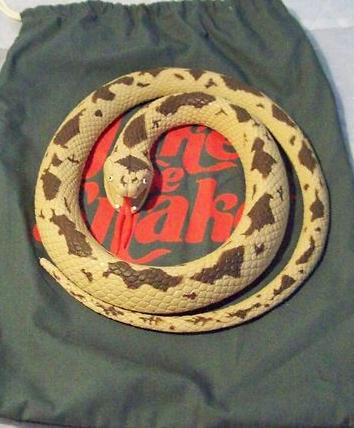 And of course, at the age of 8 I thought this was really, really cool because I liked both Jake and his snake, so I asked Mom to buy it for me. It was probably retailing for $19.99 or some absurd amount back then.
Stupid lousy effective WWF Marketing Department…
I want to give full credit to this PW Torch article for all of the pictures and information I used here. Check it out for more details about the rarity of this toy and what it sells for today.
Did any of you Crappers have this? Comment below and let us know!