Here at WrestleCrap's Count of 10, irreverent reporter Justin Henry asks ten questions of varying weight to professional wrestling's finest stars of the past, present, and future.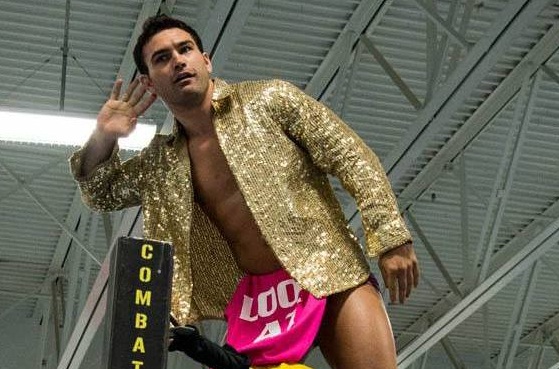 He's arrogant, but with plenty of reason to be. "The Product" David Starr is only 22 years of age, and he's already making waves in the wrestling biz.
An accomplished amateur wrestler at West Chester University, Starr would begin his professional career at the famed Wild Samoan Pro Wrestling Training Center in Allentown, PA. There, he learned his craft under the tutelage of Headshrinker Samu and Supreme Lee Great, the latter of whom made Starr his personal project only after just a week of training.
Turns out, Great can pick 'em. Starr's technical precision, natural ring presence, and subtle charisma would be less surprising if "The Product" were a ten-year, world-traveled pro. Instead, anyone that's watched Starr perform would be astonished to find out his age, and his comparitively limited experience.
Though he's only been wrestling for a year and a half, Starr surprised everyone (except himself, apparently) when he was ranked 197 in the 2013 PWI 500, topping such mainstream performers as David Otunga, Robbie E, Brian Kendrick, and Paul London, among others. In addition, the longtime magazine has nominated Starr for its Rookie of the Year Award, to be decided around the end of this year.
Hawking a simple t-shirt with the command, "LOOK AT IT" emblazoned on the chest (though he shirt is more like worn from his waistband, per his preference), Starr is a proud man with zero inhibitions, and all the talent in the world to back up his bluster.
1. Growing up, who was your favorite professional wrestler and why?
I grew up on RF Video tapes with my step dad, so naturally my favorite was Superstar Billy Graham. His charisma, uniqueness, and connection with a crowd stood out to me.
2. As a former amateur wrestler, you understand the long hours that go with conditioning and training. How different was the experience of training for professional wrestling?
There are a lot if similarities with amateur wrestling and professional wrestling training. My conditioning needs to be excellent in order to last an entire match (in both cases). Your strength needs to be on point. The only added condition in amateur wrestling was the idea of cutting weight in order to make weight for your match. The main difference was in my lifting regimen. I focused more on power lifts to gain more weight. In order to be one of the top wrestlers in the world I needed to add on size. From when I was a collegiate wrestler competing at 149/157 lbs to now tipping the scales over 210 lbs.
3. Making your debut just shy of your 21st birthday, against your mentor, Supreme Lee Great, was it an anxious experience for you?

It absolutely was. I had only trained 10 times before, becoming the fastest graduate in the history of the Wild Samoan Training Center. I was extremely nervous, until I walked out of the curtain and then I felt at home.
4. Sometimes a wrestler can overdo it with a catchphrase, and try too hard to be clever. Was "Look At It" something that just sprung to mind, or was it whittled down from another idea?
"Look At It" was originally developed by Supreme Lee Great for our faction, the Culture of Charisma, in WXWC4. Eventually, I branched out on my own and made the phrase my own.
5. You received additional training at the CZW Academy from Adam Cole, who is now Ring of Honor's World Champion. How instrumental was he in your learning experience?
Adam's a good friend of mine and has helped me a lot along the way. More with mental lectures, in ring psychology, and professionalism than in ring work. He's been a great addition to the team of veterans that's been guiding me along with Great, Tommy Suede, DJ Hyde, and many others including the Angry Wrestling Vet.
6. Sometimes CZW owner DJ Hyde gets a bad rap, especially from the internet crowd. What would you say to his naysayers who haven't worked with, and receiving training from, the man?

I would love to see anyone else juggle all the roles that DJ does for CZW. He has taken CZW to an entirely different level and every boss takes heat from people who aren't involved and think they can do his job better than he can. I invite them; it's a lot harder than it seems. He's been a great help and guide.
7. Although it's not in the nature of "The Product" to be humble, what was your most humbling experience in the business so far?

A four-day training camp with Dr. Tom Prichard, Les Thatcher, Gerry Brisco, Tully Blanchard, and Leilani Kai. I was exposed to an entirely different level of professional wrestling. It made me realize that I still need to work on perfecting my craft. I always knew I needed to improve constantly, but this made me realize where I need to get to in order to achieve my dreams.
8. What is the funniest, or most bizarre, thing you've seen at a wrestling event you've performed on, be it from yourself, another performer, etc?
Hmmmm….well that's more of a 'leave it to the boys' answer. We all have a good time backstage (laughs).
9. In that vein, what's the most unusual thing a fan has ever said to you, or requested of you?
After a show I had in Florida, a female fan told me, "I don't like your shirt because it only says 'Look At It' and that's temptation. Well I'm all about giving in to temptation, and I can turn that bathroom into a bedroom in about 5 minutes."
10. If you had to send a video to World Wrestling Entertainment that consisted of just one match, knowing that you would be hired if it impressed the higher-ups, which one do you send and why?

Any match I've had with Tommy Suede or Shane Strickland.
(David Starr can be reached via his Twitter, and has a busy schedule over the next month. Starr will be performing in a six-way match for CZW's Night of Infamy on November 2 at the Flyers Skate Zone in Voorhees, NJ. In addition, "The Product" will be in action on November 17 for Beyond Wrestling in Providence, RI, Xtreme Wrestling Alliance on November 22 in Johnston, RI, and Pennsylvania Premiere Wrestling on November 23 in Freeland, PA.)
(Justin Henry can be reached via his Twitter and his Football Nation bio page)