Welcome to another edition of The Count of 10. Each week, Justin Henry picks the brain of a different wrestling personality, asking a blend of serious inquiries, along with generally irreverent questions.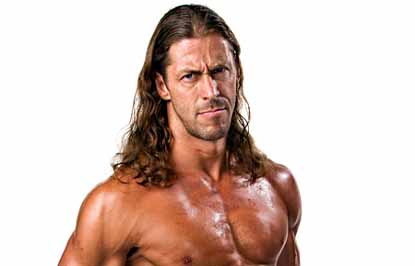 This week, we're joined by the current Extreme Rising World Champion, the King of Swing, Stevie Richards! Richards has been everywhere in his career, and done it all. He's displayed both his comedic prowess and his earnest wrestling abilities during ECW's run as a cult favorite. After a cup of coffee in WCW, Richards' next big run came as one of WWE's most hated villains, the zealous leader of the Right to Censor faction. Since then, Richards helped put over many WWE talents, before engaging in a unique run through TNA as the twisted Dr. Stevie.
Today, as mentioned, Richards reigns as Extreme Rising's champion, and he's preparing to do battle with mentor-turned-nemesis Raven on April 4 in Philadelphia. (Click here for ticket information)
Richards interacts with his fans on Twitter, whether they're talking wrestling or technology, his not-so-secret passion. To that end, Richards talks gadgets and electronics on his T4 Show website.
Richards has also recently produced a shoot interview through RF Video.
1. Is it a weird feeling going from being a relative youngster in the original ECW, to being a trusted veteran in Extreme Rising, given the similar nature of both promotions?
Well, it's not really weird, because I always approached my wrestling career from a viewpoint where I always wanted to keep myself in the best shape I could, and compete at a high level. I kind of equate that with staying youthful, because it's like, you're only as old as you feel, so I don't want to feel like a 41-year-old man who's been wrestling for 22 years. I'd rather be just as hungry as I was. This time, though, at this point, it's with the knowledge that I DIDN'T have, so it's kind of like reliving my first few years in the business. I'm learning this role as the Extreme Rising Champion, actually getting an opportunity to carry the company, and all of the responsibility that goes along with it. So it doesn't feel weird, but it does feel weird when guys say they grew up watching you (laughs) that always feels weird to me.
2. With you having worked with Raven in ECW, WCW, WWE, TNA, and now Extreme Rising, what's something that would surprise us to learn about him?
I think the biggest surprise people would have, especially people who have met Raven, is that he actually CAN be a nice guy at times.
3. A few local indy talents that I'm friends with, who have worked with you, have told me about your dedication to a high-protein diet. What has made you pursue this diet so zealously?
On a larger scale, I try to pursue different elements of my fitness training. It's a lot like the same thing with wrestling and technology, which are my passions. I'm always open to new ideas and new techniques. With fitness, I look into these new workouts and new nutrition diets, because it changes all the time anyway. The high-protein diet is more of a low-carb diet. You need a certain amount of protein when you do your workouts anyway.
What I've really strived for over the past year is eliminating all the gluten and the processed foods out of my diet, which I haven't exactly been successful at times. But it's another aspect of my health and fitness. It's a weird fact that when you get to be a certain age, you build up a lactose intolerance, and an intolerance to gluten, which can lead to celiac disease (INTERVIEWER NOTE: this is a disease that infects the lower intestines). I know a lot of people when they grow up, when they get to be in their late-thirties/early-forties, they develop an intolerance to gluten. When they eliminate that out of their diet, they become much healthier and, believe it or not, leaner.
4. Following you on Twitter, and having visited your T4 website, you're undoubtedly a tech junkie. Which 8 or 16 bit (3rd or 4th generation) video game was your favorite?
I'd have to go with The Legend of Zelda on the original Nintendo as my favorite; it's stood the test of time, too. Hopefully soon, it comes out on the Wii U. It was the original role-playing game for casual/console gamers,
5. I asked Meanie, and now I'll ask you: who do you think has the best chance of winning a championship: the Phillies with Ruben Amaro, or the Eagles with Howie Roseman?
I'd have to go with Eagles with Roseman, just because in my heart, I'm more of a football fan than a baseball fan. I know Meanie's a diehard Phillies fan, so he'd probably say the opposite (INTERVIEWER NOTE: indeed he did). But I don't think either team is anywhere close to going back to the playoffs anytime soon.
6. After leaving ECW in late 1997 for final time, you vanished considerably from the major wrestling scene. Were you surprised to wind up in WWE in the summer of 1999?
Totally. I was so surprised. I was ready to start my life in the tech world as an IT person at the Community College of Philadelphia, and I was ready to start my journey on working there, and getting as many associates degrees at a community college for free as I could. It's funny, in wrestling, when you're ready to move on, it's like that line in The Godfather; just when you feel like you've gotten away, they pull you back in.
7. What had more upside: playing a conservative censor, or playing a shrink for Abyss and Daffney?
I think the Dr. Stevie character had a lot more upside, because it never even got to the pinnacle of what it could have been. And that could have been a character that became so interesting. It had another good two years of Dr. Stevie being a heel and really trying to get other babyfaces over.
But, like they do with everything else, they kinda dropped it out of nowhere and plugged me into EV2 (the ECW crusaders), which, by the way, I resisted because they invested money and time into the Dr. Stevie character. It was a fresh character. I wanted Dr. Stevie to be a true heel; never be better than a babyface, never wanted to outshine anybody. That concept worked; people truly hated the Dr. Stevie character. They did right by it, and then they just dropped it. I don't know why they did that. It was near and dear to my heart, because I'd reinvented myself for the first time in a very long time, and I was happy with the character.
8. Other than the Blue World Order, what is your favorite parody or impersonation that you've done, whether you were alone, paired with Meanie, etc?
Probably the Baron Von Stevie/Bluedust. It was very popular, and it's funny because some of the stuff we just felt a little more, had more fun with than others, and the ones we had the most fun with were those and the Blue World Order. I guess it just translated really well with the fans, because we were having fun, so they were.
A close second would be KISS. It was like that, "Wow, this is cool" kinda thing, but we tried to take it around at a couple of other shows, and it just didn't work. But the Baron Von Stevie thing just seems to stand out, that whole segment. And Meanie doing Bluedust, it carried over to WWE, so it must have been pretty popular.
9. Given your noted spinal injuries in the late 1990s, here you are, in your early forties, still wrestling a fairly strenuous schedule. To what do you attribute this amazing longevity?
I've been very blessed to make the right decisions. I never really succumbed to peer pressure with the drugs or the alcohol, or the unhealthy choices that a lot of guys make. It was actually a blessing in disguise to not "fit in." I talked in a promo about being the kid was picked last for kickball; it's true. I've always been that type of "outcast", but it's helped me with what I do now, and the health that I have right now.
Being 41, I do my workouts a little differently. I'm not lifting heavy weights, I do more athletic-type stuff now. I'm sure every wrestler you talk to talks about DDP Yoga. I really do think it's the basis to keep yourself young, flexible, and mostly injury-free, or at least help you to recover from injuries if you happen to get them. There's just no better workout out there for somebody my age trying to stay healthy.
I've always just been me. I might have gotten a little bit further if I did those things, the steroids or HGH, but I just never chose to do that. My objective in wrestling was not to spend unwisely, so I also thought it was just not a smart thing to spend money on (laughs).
10. What's left to achieve on Stevie Richards' wrestling bucket list?
Wow, the wrestling bucket list, that's a tough one. You're talking about a very subjective business. In all honesty, I wish I could work every single WrestleMania until I retire, but that's not up to me. I just say that with each match I have, I get better, I stay healthy.
I'd say my bucket list objective would be to find the next great passion outside of wrestling, where I can make a very good living. I think that's the goal every wrestler my age, and especially older, should have: what's next for me that I can find, that I love to do, that doesn't feel like work, and that I can actually make money at.
Previous editions
Arda Ocal
Bill Apter
The Blue Meanie
Eric Gargiulo