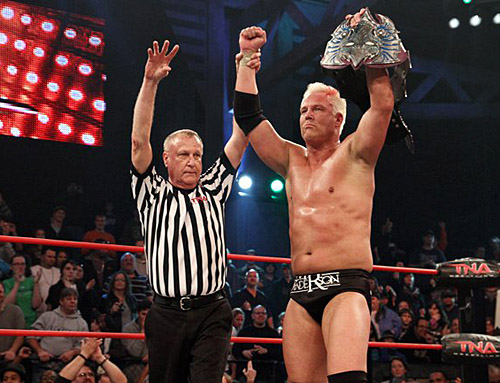 Some good news for TNA in the long, dark hallway that has been their 2013: Mr. Anderson will likely soon be re-signing with the beleaguered company, which lessens the possibility of the company having to find a ham-fisted excuse to blame this on Bruce Prichard, as Brother Love-to-be-Incompetent was turfed months ago.
Anderson's one of the few ex-WWE talents within the company (Bully Ray being the supreme example) that embraces the challenge of actually working toward being a dynamic personality, and not relying on the fumes of yesterday, waiting for WWE to send out feelers ("How do you feel about being managed by Ricardo Rodriguez? You know, the butler guy? I know you're not Hispanic, but work with me: we can have him wear your shirt.")
I wonder if the revelation of Anderson re-signing 'soon' could have to do with TNA needing to free some cash up once a certain balding, balls-deep-retweeting, bi-bi-bi-BIGGEST AY-CAWN IN WRESTLING leaves this week? While Dixie's at it, throw some of that newfound reserve toward bringing Mickie back, and why not bring in John Morrison and MVP? If I'm going to watch ex-WWE guys, make them ones that we'd never heard of until the Attitude Era was dead and buried.
But let's not put the cart before the horse; bringing Anderson back is a fine move. Help yourself to one of Mr. Daniels' appletinis there, Dixie.