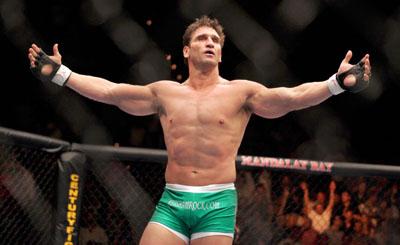 Photo Credit: prommanow.com
If the Ultimate Fighting Championship had been as well-marketed and popular in the mid nineties as it is today, Ken Shamrock would be a star on the level of Rampage Jackson, Jon Jones, and Anderson Silva. Sadly, Shamrock was a star in the days of UFC when future 'Duck-Duck-Palin' winner/loser John McCain called the sport, "human cockfighting," and it's popularity was on par with rugby-sevens on NBC Sports.
Nonetheless, Shamrock carved out a decent career with WWE, after going 23-5-2 as a mixed martial artist. By the time Shamrock returned to fighting in 2000, he was 36, and hampered by injuries from the ring.
Since returning to the cage, Shamrock's gone 5-10, including three losses to future TNA (heatless) icon Tito Ortiz. After one of his final wins in early 2009, Shamrock tested positive for the juice. He hasn't fought since late 2010, when he had to forfeit a fight after injuring his leg….after taking a misstep backward.
Why is any of this important, you may ask? Shamrock, a man once feared for his fighting prowess and no-nonsense image, is making public overtures to WWE and TNA about one more run, months shy of his fiftieth birthday. Shamrock's claim that he's blackballed from WWE seems puzzling, as anyone with any ties to the company's past is seemingly brought in, if only for a nostalgia pop. Hell, Shamrock was an Attitude Era unlockable on the WWE '13 game released last fall.
On the subject of excommunication, the cornerstone of UFC is essentially blackballed from Dana White's company, partially because Shamrock's washed up as a fighter, but mostly due to bad blood between the two, which resulted in a Twitter battle a few weeks ago with many vicious remarks. Among the barbs, White claims Shamrock owes him money, and points out his peddling of a "Shamrock Slam" energy beverage as a sign of how far his one-time client has sunk.
With his fighting career all but finished, claims that he allegedly owes money to a powerful sports promoter (one that's unafraid to rip away any dignity from those he perceives to have wronged him), trying to muscle into the sports drink biz, and announcing an intent to return to wrestling's big leagues if anybody'll have him. As a long-time fight fan, it's hard to reconcile Shamrock's fall from grace.