Welcome to another edition of The Count of 10. Each week, Justin Henry picks the brain of a different wrestling personality, asking a blend of serious inquiries, along with generally irreverent questions.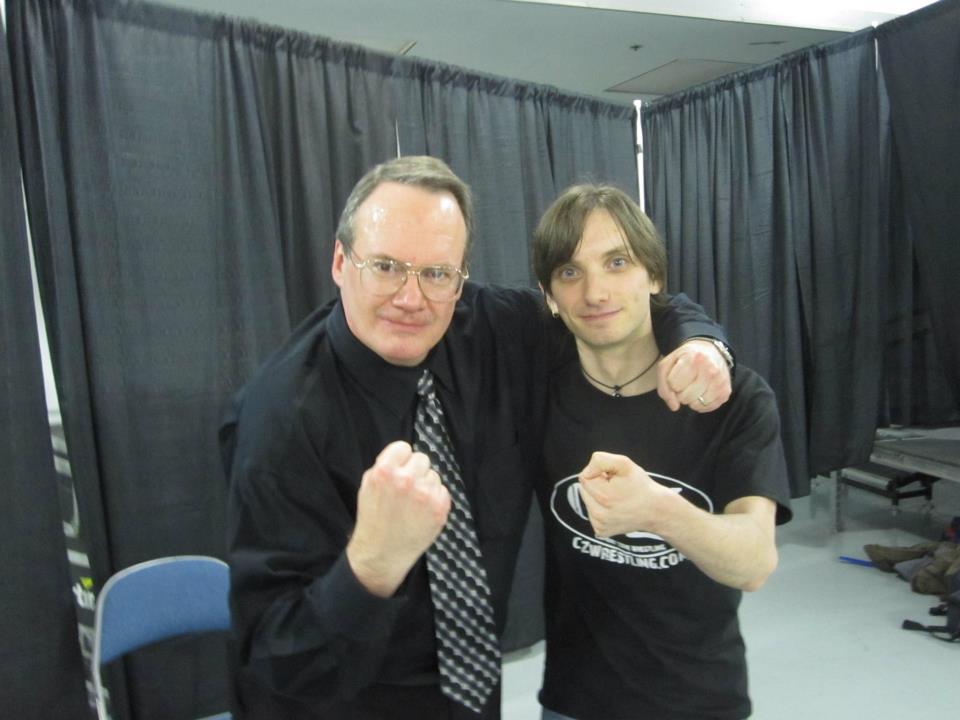 In the greatest contribution I've ever made to this site, I befriended Maffew Gregg of Botchamania this past November, and invited him to be part of the site's expansion this past January. To my everlasting joy, he said he was a fan of my work. When Maffew tells you, as a wrestling writer/parodist, that you make him laugh, that's akin to giving Emma Stone multiple orgasms.
But Maffew is obviously more than just a member of the WrestleCrap family. He is professional wrestling's premier humorist, putting together the video series Botchamania for the past six-plus years, nearing 230 total compilations. Wrestling personalities from Jim Cornette to Mick Foley to Dean Ambrose to Matt Hardy to Shane Helms, among many others, have lauded the young Brit's hilarious blend of wrestling screw-ups and nerdtastic inside jokes.
I consider Maffew one of my biggest inspirations for humor in wrestling, along with RD, Sean Carless, Scott Keith, and whoever the hell wrote the parodies on ScoopThis eons ago. Now, we delve into the mind of a YouTube madman….
(Maffew can, of course, be found on Twitter and Botchamania's site)
1. What got you into wrestling as a fan?
My mum got me 2 WWF Annuals from a car boot sale and I loved the characters and colours. Repo Man, Bam Bam and Macho Man were my favourites without seeing any of their matches. I'm happy Repo and Macho met my expectations during interviews. The only thing I remember Bammers saying was "You like to pick on women? Then pick on me!"
2. Gut instinct: who is more revered in your native England: Davey Boy Smith, Dynamite Kid, or William Regal?
Regal survived a lot of drug abuse, fell asleep in Vince's office and drank pissy tea. He's still far more revered than Davey or Dynamite. I love Davey though, he was the Kane of 1995-1996; the established tomato can for the PPV the company doesn't care about. Dynamite is obviously an enormous influence on certain styles of wrestling, but high-fliers are a dime a dozen (or Buy One Get One Free at Asda) so he's mostly seen as a bitter, insecure sodomiser in a wheelchair.
3. What led to you overtaking the Botchamania series of videos in 2007?
I only ever meant to make one. I never thought, "Well gee, I should make loads of these", it just sort of happened. It was more, "I enjoyed being creative, and people are enjoying my work…hey, let's make another." I made another, then another then -SCENE MISSING- Botchamania 228. Amazing.
4. Do you look back on some of the earlier Botchamanias with a sense of nostalgia and joy, or do you have moments where you're put off by your earlier 'editing' efforts?
Watching old Botchamanias is like that one scene in Alien Resurrection where Ripley destroys all the half-formed clones with a flame-thrower. I learnt how to video-edit making Botchamania, as well as experimenting with a lot of ideas that didn't work. For every Blanchard and Anderson, there's five Paul Romas behind it.
5. What is your personal favorite Botchamania running gag?
That people still watch these in 2013. Anytime a wrestler walks into a promo and Wizpig's music plays.
6. Are you surprised by the amount of popularity and love that Botchamania enjoys?
Absolutely. A lot of it confuses me, but I'm still very grateful and appreciative for it all.
7. What was the first time a wrestler acknowledged, either publicly or just to you, that he was familiar with Botchamania?
The first wrestler to message me was the fun-loving human being Monsta Mack, who told me that him, Homicide and others used to watch them together. This blew my mind. After him, Sonjay Dutt sent me a message thanking me for putting him over. "Thanks for focusing on my botches" took a while to get used to.
8. Ever have a case where a wrestling personality specifically told you that they hate Botchamania, that it's degrading and insulting, etc?
Only Joe Gacy has taken umbrage from his Botchamania appearances. He did what respected professionals do in 2013 and moaned about it on Facebook. I don't see why he was so upset, I was the one who had to watch his matches.
9. Does it ever get tiring when, during a wrestling PPV or TV program, you get messaged and tweeted by dozens, if not hundreds, of fans when a botch occurs?
The worst thing about being a wrestling fan is talking to wrestling fans online. I don't enjoy spending ages on social networking sites because I think it's a horrible way of communicating. It also means people you'd be able to avoid in real life are able to tell you everything they think is wrong with the TV shows they love,. There's always going to be more wrong than right in wrestling, so if you focus on the negatives in wrestling you're always going to be down. I'm 25 and like to maintain a positive mental attitude. I do this by watching wrestling with friends, otherwise an episode of Impact turns into a Johnny Cash song.
10. Now that opportunities have presented themselves to you due to your considerable popularity, what's something you'd like to accomplish in wrestling as a fan living his dream?
Get a podcast going, get my site sorted out, get an archive going, and get Shiima Xion's phone number. And, above all else, continuing to enjoy wrestling, and contributing to the best wrestling site online, Wrestlecrap.com.
Previous editions
Arda Ocal
Bill Apter
The Blue Meanie
Eric Gargiulo
Stevie Richards
Headbanger Thrasher
Danny Doring
Jim Korderas
Fearon Derry
Hardcore Holly