The WrestleCrap Count of 10 poses ten questions to a wrestling personality, be they a performer, behind-the-scenes staffer, or otherwise.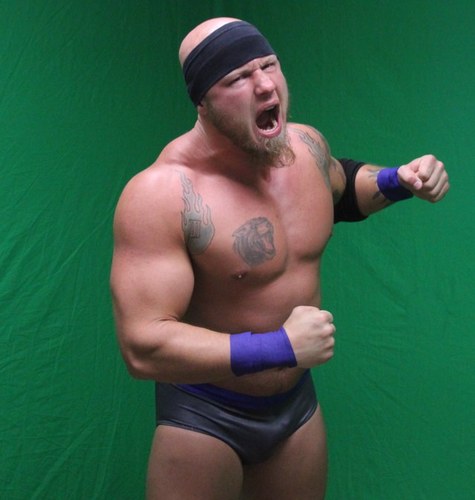 In this edition, I talk with one of the top names of Extreme Rising, and the indy scene at large, Luke Hawx. A 15-year veteran of the business, Hawx's resume includes runs in XPW and Wrestling Society X, as well as brief appearances in TNA, Ring of Honor, and WWE (there as enhancement talent). Hawx's most notable recent work has been with the Extreme Rising promotion, where his year-long rivalry with Matt Hardy, even when the promotion went dark during a lengthy restructuring period, has stood out the most.
In addition to the "Southern Stomper's" busy independent schedule, Hawx also trains talents at the WildKat Sports and Entertainment complex in his native New Orleans. He's also worked as stuntman for a number of films, including Escape Plan, Homefront, GI Joe – Retaliation, among many other recent action flicks, not to mention The Green Lantern.
Hawx can be found on Twitter, where he frequently interacts with followers. He'll also be in action this Saturday night in Pittsburgh for Extreme Rising's "Black, Gold, and Extreme" show, taking on Rich Ortiz.
1. Having competed in a number of 'deathmatches' for XPW earlier in your career, what bump stands out as having been the most painful?
Without a doubt, the 450 out of the Crow's Nest in the ECW Arena onto two tables with thumbtacks, as well as Supreme, XPW's King of the Deathmatches Champion. The tacks broke off into my hands, and I couldn't close them for a couple weeks.
2. What's the nicest thing you can say about Matt Hardy?
Quite simply, you can say what you want about em, but Matt's a businessman who works hard.
3. How much influence would you say your trainer, "Vicious" Vic Grimes, has had over your career?
I met Vic when ECW did some shows in New Orleans a number of years ago. Most importantly, Vic instilled in me to never give up and always believe in myself. He believed in me when no one else did.
4. Having worked a number of dark and squash matches for WWE in the last decade, what can you tell us about your experiences in a WWE locker room?
It's stands out just how respectful most people in the company are. It's strictly business in their locker room; a completely professional production, and I appreciate that.
5. You never got to perform in the original ECW, as it folded when you were just 19 years old. With a time machine, if you could go back to ECW's glory days, who would you want to work with and why?
Rob Van Dam and Sabu, as well as the Eliminators, though I did get to work with Saturn a few years ago when Extreme Rising was in Pittsburgh. Definitely Chris Candido, he was one of the best. Can't leave out Terry Funk, so many great talents back then! Honestly, I would have loved to just be in there with any of them.
6. Has working as a stuntman on a handful of movies in any way aided your ability to take bumps in wrestling?
Actually, it's completely the other way around. Wrestling and taking bumps have made me a better stuntman.
7. Getting to Extreme Rising, what has been the biggest positive you've seen with the promotion thus far?
Getting Shane Douglas out the office. He's a moron who knows NOTHING about wrestling!
8. Your cage match with Matt Hardy closed out Extreme Rising's "Unfinished Business" card at the reopened ECW Arena on December 28. Where would you rank the match among the best work of your career?
It was definitely one of the biggest highlights for me. I wouldn't say it was the greatest match I ever had, but the fact that it was in the ECW Arena, against one of the all time top guys in wrestling, and a main event on top of it, was just magical. You can't leave out the atmosphere of being back in that building, it just all came together for a perfect night.
9. You're slated to wrestle Rich Ortiz (formerly Ricky Ortiz in WWE's ECW brand) at Extreme Rising's "Black, Gold, and Extreme" event in Pittsburgh on Saturday night. What are you looking forward to most about the match?
Ha, that's easy, beating him!
10. Your "WildKat Sports" training facility in New Orleans has run for over two and a half years. What would you say to anyone looking to train for a life in professional wrestling?
If you're looking to train with the best and be the best, then we are the place to be! A few of our students got an opportunity to work at dark match at Extreme Rising's first show, among them Matt Lancie, Blake Wilder, Bolt Brady, and Buku Doa, so we look to create opportunities for our students. Carlos Socorro, formerly of the US Army, is another student that's poised to be something in this business. I feel these guys will be ultimately be successful because of how hard they work, and what they're willing to do in order to chase their dreams.
PREVIOUS COUNT OF 10 EDITIONS
Arda Ocal
Bill Apter
The Blue Meanie
Eric Gargiulo
Stevie Richards
Headbanger Thrasher
Danny Doring
Jim Korderas
Fearon Derry
Hardcore Holly
Maffew Gregg
"The Product" David Starr
Jameson
David "The Masked Man" Shoemaker
(Feedback for the interviewer, as well as Count of 10 suggestions, can be sent to Justin Henry at his Twitter)