Welcome to another edition of The Count of 10. Each week, Justin Henry picks the brain of a different wrestling personality, asking a blend of serious inquiries, along with generally irreverent questions.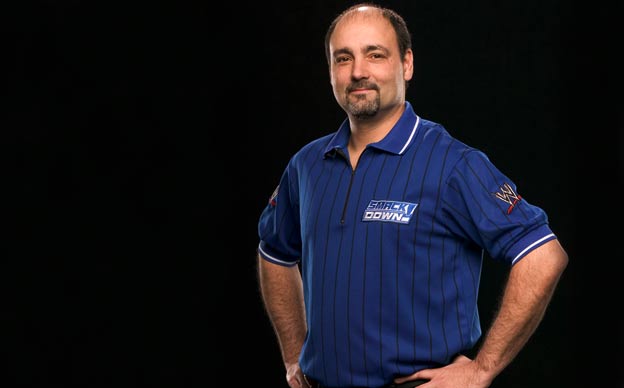 This week, The Count of 10 welcomes longtime WWE referee Jim Korderas. For over two decades in the WrestleMania era, Korderas was as visible as Earl Hebner and Mike Chioda, donning either the bow tie and buttons, or the pinstripes, as a referee at WWE events.
While referees generally go unnoticed, Korderas has been a party to a number of famous, and infamous, moments. Among his notable appearances, Korderas was the only referee in 1999 to not take part in a kayfabed "officials strike", and was jumped by the other zebras for being a scab. He was also the official of record during the Kurt Angle/Daniel Puder incident in 2004, and was blamed by JBL (kayfabe, again) for causing his 2006 retirement, in a loss to Rey Mysterio.
Korderas parted ways with WWE in early 2009, but remains active with the business. Today, he, along with our original interviewee Arda Ocal, co-hosts Aftermath Wrestling on SIRIUS Satellite Radio, and appears Tuesdays and Fridays with Ocal on "Aftermath", airing on theScore in Canada.
But that's not all. Korderas has also penned his wrestling memoirs, entitled "The Three Count: My Life in Stripes as a WWE Referee", to be released Monday, April 1. Amazon, of course, is taking pre-orders for this unique look at the business, filled with many humorous anecdotes, as well as a foreword from Adam "Edge" Copeland".
Korderas can be reached on Twitter, where he frequently interacts with fans.
1. How did your big break come about, getting to work for WWE in the mid-1980s?
A long story I will try to make short. I attended wrestling events regularly at Maple Leaf Gardens here in Toronto, every three weeks in those days. I would take pictures of the wrestlers and sell them at the next event. Apparently, that was illegal. A fellow who worked for Jack Tunney by the name of Elio Zarelnga caught me selling them.
He didn't turn me in, and in time we became good friends. He introduced me to Jack Tunney. I guess he liked me for some reason and put me to work for him. Began as a driver, then ring crew, and eventually began refereeing.
2. Is it true that Jimmy Hart legitimately knocked you out at WrestleMania IV with his megaphone?
This has been an urban myth for many years. To be totally honest, Jimmy Hart did not knock me out with his megaphone. I knocked myself out when my chin hit the canvas after the megaphone shot. I always felt bad that Jimmy took the rap for that. I don't think Jimmy Hart hurt anyone ever. He was and still is a real pro.
3. What was going through your mind during the Daniel Puder/Kurt Angle incident in 2004, when Puder legitimately hooked the kimura hold on him?
Now that was an interesting situation. What many people may not know is that Kurt was not 100% at the time this took place. He was still having some neck issues. After Kurt wrestled around with the first young man (interviewer note: Tough Enough contestant Chris Nawrocki), Puder stepped up and they had a go. Puder was in great shape and really amped up. Kurt was amateur wrestling and as you know, a kimura is not legal in amateur.
Charles Robinson and I saw that things were starting to get very serious. When Puder got Kurt in the kimura, we knew we had to do something. Kurt would never have submitted. Even while in the kimura, Kurt got Puder on his back and I instinctively counted to 3. In hindsight, being an amateur style match, I should have only counted 1. The reason Kurt was so mad at Puder was because he used an MMA hold. I must say that I was nervous and concerned throughout the whole ordeal.
4. Having worked for WWE for nearly a quarter century, seeing the ups and downs the company had experienced, what was your favorite time frame in the company, if you have one?
So many eras I enjoyed, but if I have to pick just one, it would have to be the Monday Night Wars! For me that was one of the greatest times to be a wrestling fan. The genuine rivalry between WWE and WCW made for great television and kept both companies on their toes.
5. If it's not too uncomfortable of a subject, what led to your release from WWE in early 2009?
It was a combination of things. I was dealing with a family illness, was off the road for a while, and basically we came to a mutual parting of the ways. To be honest, at that time, my heart was not wrestling, it was with my family. It was time to move on.
6. Were there any specific wrestlers in WWE that you particularly enjoyed refereeing the matches of?
There weren't many wrestlers I *didn't* enjoy working with. If I have to pick, a few come to mind. Eddie Guerrero was awesome to referee for. It was always an adventure just watching him work his magic in the ring. Always had fun with Eddie.
The Undertaker was awesome as well. Any time you are in the ring with him, you just knew you were in the ring with someone special. The aura that surrounds him is indescribable. Edge was a blast to work with as well. You felt that he loved performing, and it was infectious. Shawn Michaels, Triple H, Stone Cold Steve Austin, The Rock, I could go on and on. I was truly blessed to be able to just be in the ring with all those great superstars.
7. During your long WWE tenure, having reffed probably thousands upon thousands of matches, what was the most hilarious moment that took place during one of your matches, be it a planned rib, or just something completely unexpected and spontaneous?
This one time, I was refereeing a match between Frenchy Martin and Outback Jack. Yes, I'm dating myself. Frenchy had false upper teeth. Jack punched him during the match and Frenchy thought it would be funny to let his uppers fall out. They landed on the canvas and began to laugh. Outback Jack didn't see this and preceded to step on Frenchy's teeth breaking them. The look on Frenchy's face was priceless. I could barely control myself. We all had a good laugh about it afterwards though.
8. How did it feel, at ROH Border Wars in May 2012, to have fans chant "THANK YOU JIMMY", after largely being a peripheral part of the action through your career?
Truly humbling. It caught me totally off guard. I definitely didn't expect that kind of reaction. I honestly got choked up by it. I am so grateful to the fans for their respect and to ROH for allowing me to take part in their event.
9. The release of your wrestling memoirs, "The Three Count", is right around the corner. What do you feel readers of your book will be surprised to learn?
I think the readers will be surprised that this is not a "tell-all expose" on the wrestling industry but rather a look back on was for the majority of my time with the WWE the best time of my life. No axes to grind.
10. You currently host "Aftermath" on The Score two days a week with Arda Ocal, and have performed commentating duties with him as well. Did you ever imagine doing something this high-profile after your WWE days ended?
Not at all. I'm sure it surprised a lot of people I used to work with as well. Talking behind a microphone or in front of a camera is completely different from performing in the ring, especially for a referee. Refs do not speak on TV much if at all.
That being said, it is a continual learning process and my co-host Arda Ocal has been a tremendous help and a great friend. I believe we have a great chemistry and that translates on the air. People notice these things. The biggest thing I've learned is to just be myself and not try to play "analyst". I really enjoy what I'm doing very much!
Previous editions
Arda Ocal
Bill Apter
The Blue Meanie
Eric Gargiulo
Stevie Richards
Headbanger Thrasher
Danny Doring