Welcome to another edition of The Count of 10. Each week, Justin Henry picks the brain of a different wrestling personality, asking a blend of serious inquiries, along with generally irreverent questions.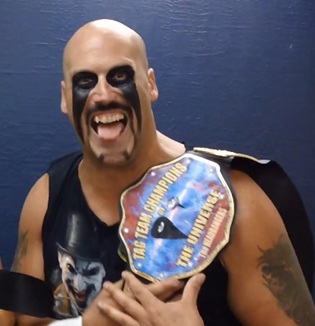 For this week's Count of 10, we're joined by Glenn "Headbanger Thrasher" Ruth. In his time as Thrasher, he and Headbangers partner Chaz "Mosh" Warrington were regular players in WWE during the vaunted Attitude Era.
After working their way through the indy circuit (most notably Smoky Mountain Wrestling), Thrasher and Mosh joined World Wrestling Entertainment in 1996. During their three and a half years as a team in the company, they reigned as WWE World Tag Team Champions, and Thrasher had a very brief stint as Hardcore Champion during the WrestleMania 2000 battle royal. The two reunited for runs on the indies in recent years, and had a run through Ring of Honor this past year as The Guardians of Truth.
Thrasher can be found on Twitter
1. How did you and Chaz settle upon the Headbangers gimmick?
Actually, it was given to us through Jim Cornette in Smoky Mountain Wrestling. We always had the tattoos, we always had the piercings, and we always listened to heavy metal. Jim Cornette went to a rock concert, if you can believe that, and he told us, "I saw these guys with tattoos, the piercings, and everything else," and they were headbanging and they were moshing, doing all kinds of stage diving and everything else. That's where we got it from, Jim Cornette.
2. Going the "Headbanger" route, who is, in your mind, the greatest metal band of all time?
Metallica! All time.
3. What's something interesting or bizarre that you learned about Vince McMahon?
(Laughs) He actually has a very, VERY great sense of humor. He's actually extremely funny. You know, you tell about it, and they look at you like, "No, he doesn't!", but yeah, he's extremely funny. He likes to be "the ribber", loves to pull jokes on everybody else. Vince just has a very good humorous side to him.
4. You worked with the Insane Clown Posse in 1998, and opinions of them are mixed, depending on the source. For you, what were they like?
Back in 1998, when they were coming into WWE, they weren't "wrestling smart" yet, just getting involved and doing a lot of the 'backyard' wrestling stuff. When they came in, they wanted to be with us, and be our managers and go out with us. So when Vince put them with the Oddities, and laid out the storyline for them, they wanted it to happen faster than what it was (INTERVIEWER NOTE: the ICP's turning on the Oddities and joining the Headbangers), so they weren't "wrestling smart" yet.
Still, to this day, we worked with them in August of this past year. They have their own promotion, JCW, and we talk to them quite a bit. They've thanked us for getting them involved in wrestling, and teaching them the business. Everybody wants to say there was heat between the Headbangers and ICP, but that was made up through all the wires and dirtsheets.
5. Did you ever see the day where you'd end up working for Ring of Honor, a company noted for its more traditional approach to wrestling?
We'll work for anybody that'll pay us! (laughs) Ring of Honor was just a way to get us noticed again. We're not under any kind of contracts with them. Jim Cornette saw us this time last year at a WrestleMania show in Florida and said, "You know, I would love to use you guys. You look like it's 1998 all over again, you look to be in great shape."
So push came to shove, and we did a couple things for Ring of Honor. I don't know if we'll continue to do stuff with them; the door's open for us to do it, but it just has to make sense. I do believe that if we're given an opportunity, if we're given a chance by TNA or WWE or anyone else, they'll see that we still have a lot of gas, a lot of tread on our tires still.
We're in our early forties, but even in our early forties, we left WWE and we didn't wrestle every single day or every single weekend. So we didn't have that wear and tear on our bodies that some of these guys do. So we're in our early forties, but we have the body of a thirty-year-old for the wrestling business.
I still feel we can help contribute to either of the companies, whether it's to help raise their tag teams to another level, or just helping the young guys out with experience, wrestling with an experienced tag team.
6. You've worked for Jim Cornette in Smoky Mountain, as well as ROH. Given his propensity for 'emotional outbursts', have you ever incurred his unique wrath for any reason?
Never! Jimmy has never…well, he's yelled at us once, but it was strictly un-wrestling-related. But you always know when it's coming, you can see it building up and building up, and he explodes. You never want to be in what we call "monitor range", because he will pick up a monitor and throw it across the room in a heartbeat!
The only one time that he really yelled at us was in Smoky Mountain, we met up with some female fans, and they gave us a 'calling card.' They were like, 'You know, if you guys need to call home, just be careful, don't run up the bill, blah blah blah."
Mosh and I being who we were, we gave that number out to EVERYONE in the locker room. And they called up Cornette and they had like an $800 phone bill, and told Cornette that we needed to be fired, and that we stole this card from them, and all of this other stuff. And here he calls us up and goes, "You know, I'm not really mad that you guys gave that phone number out, and ran up that phone bill. I'm more mad that you didn't give ME the number!"
With Cornette, you hear stories about him, but he's a great guy. My thing with Jim Cornette is, if you don't wanna hear the answer, don't ask the question, because he will shoot straight forward with you. He won't sugar coat anything. If he doesn't like what you're doing, he'll come out and say, "That was the s–ts, that was horrible," and he'll tell you the truth.
And that's kinda why we came back together, we wanted to get his opinion, because we knew we were going to get a legit opinion. And we knew we were going to get the truth.
Having him say, "I want you guys to come with me to Ring of Honor, and we'll do stuff with you there," that meant something. And as soon as Jimmy left Ring of Honor, you don't see us anymore! I don't know if one has something to do with the other; beats me! (laughs)
7. Was winning the WWE Tag Team Championship in 1997 your favorite memory in the business, or do you have one greater?
Between that and winning at WrestleMania 13. We were with the company maybe only six months, under a part-time contract. We weren't even full-time at WrestleMania 13, and just to be in that match alone with the other three tag teams was just a great, great experience for us. And then to win at WrestleMania 13 was just unbelievable. That and winning the tag belts are both right there. Trying to describe the feeling of something like that to people is hard. It's unexplainable is what it is.
8. Given that you and Chaz displayed a fun-loving side often in your matches, do you have a favorite memory of something comical that happened in one of your matches, whether it was intentional or not?
There's so many of them. The thing is, we always liked to go out there and have fun, because if we're having fun and having a good time, it's going to be seen through the fans' eyes also. They're going to have a good time, and they're going to remember, "Oh, I saw the Headbangers wrestle and it was so much fun." That's part of entertaining somebody. It doesn't matter if you get your ass kicked or you beat somebody up; you want to make sure that when the fans leave, they were entertained.
That's just how it was with us; we'd do something stupid to entertain, whether it was Chaz doing the Karate Kid "crane", or we're lifting up our skirts and showing our boxers, or spitting in the air and catching it, or something stupid like that. If it entertains somebody, we're willing to do that. That's what it's about; we came there to entertain.
9. Was it hard to initially walk away from the ring at a relatively young age (33), or did you feel secure in doing so?
I initially stepped out of the ring because I had knee problems, and I could never get my mind right. With an injury like that, I felt like I couldn't run right or do things I'm used to doing, and it played very heavy on my mind. I had to wear this big, bulky brace and I didn't have my heart into getting back into ring shape.
Bruce Prichard and I sat down, and he'd said, "Listen, you're different than you used to be." So it was kind of a mutual thing with me and WWE to step out of the contract. It was more disappointing than anything else, because being at that young age, I still felt like I had things to do.
Did I like the way the Headbangers name was being portrayed on TV? Absolutely not. I'll tell you, still to this day, that I didn't like the fuzzy cones and the bras. To me, we were just the guys wearing the skirts and the rock shirts. That was the Headbangers, doing anything and everything that they wanted to do. But you had DX, and we had to be a little different than them. But the fuzzy cones and bras, that wasn't our idea! (laughs) That was a straight Vince McMahon idea.
So to answer that, it was disappointing a little bit. It's hard once you're at that level of competing in WWE, and you have to step back into reality and find another niche. Because all your life, that's all you've been doing is entertain people, wrestling, so it was hard in that aspect.
10. Working for WWE throughout the "Attitude Era", was there a sense among the roster of "let's put on the best show possible to try and overtake WCW in the war", or was it simply 'business as usual'?
Absolutely, competition is good in all aspects. You want to be better than the next guy. We would do Monday Night Raw and WCW used to play Nitro back to back (repeated on TNT), so we would hurry up and get back to the hotel room and find out who wrestled at the same time as you did. We wanted to come in the next day and say, "I kicked that segment's ass!"
We did have that sense. Why did you like WWE back then? Because you didn't like WCW. Why do you like Coke? Because you don't like Pepsi. Why do you like WWE now? Because TNA isn't there yet. But mark my words: they will be. If you see where they're going with their storylines and everything else, you gotta love what they're doing. It's realistic.
A lot of people wanna bag on Hogan for always being in a segment, but Jesus, it's HULK HOGAN. I'd want him in every one of my segments; it's Hulk Hogan! He's the biggest icon in the business ever. Why wouldn't you want him involved? Sometimes, is he involved too much? I don't know, but I'm a mark for Hogan. I'm a huge Hogan fan. Do I see him being TNA Champion before the year's over? Absolutely (laughs). I'd lay down for the big boot. I'd lay down for the old Kevin Nash fingerpoke!
I love back then when you were always in competition with "the other side", WCW. I think that's what made the Monday Night Wars so good was the ratings war. Are the ratings down now? Yeah, because there's nothing to compete with it.
Previous editions
Arda Ocal
Bill Apter
The Blue Meanie
Eric Gargiulo
Stevie Richards