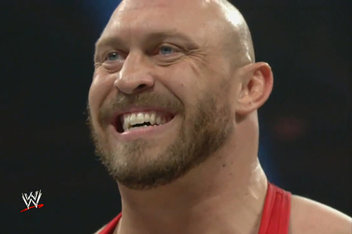 Take this with a grain of salt the size of the frames on Brodus Clay's Mars Blackmon glasses, but internet scuttlebutt points at WWE maybe, possibly, kinda/sorta considering having Ryback be the man to break Undertaker's WrestleMania streak.
Apparently, the way he bullies catering personnel with his unmistakably bad-ass knit hat (that you can order off of WWE Shop for you or your children) has impressed the Stamford braintrust enough that they would consider throwing what's left of their common sense into the company shredder.
While this is probably just a red herring for the company to eventually make Undertaker job to Cena at WrestleMania ("Well, I hate Cena, but he's got more credibility than FARGING RYBACK!!!!!"), there would be benefits to Ryback going over.
I mean, say Ryback does thump Undertaker something good inside the Superdome. What better way to rebuild a character's credibility after he needed a referee to save him, and his knee, from the violent onslaught of The Miz? That should be a program mandated by the company: The Lost Dignity Reclamation and Reparation Initiative, for anybody that has had to make Miz look like a worldbeater.
If you ever see Wade Barrett and Kofi Kingston going over John Cena clean, you know WWE's siphoning my ideas, even the bad ones (which is all of them).
Of course, if Ryback DOES beat Taker cleanly in New Orleans, you know he's losing to COO Paul at Extreme Rules. If you did something Hunter couldn't do, he will break you. It's written into the company contracts, under the part where you can be legally executed if you sneeze and it sounds like you said, "Zahorian."
(Justin was here)