Welcome to another edition of The Count of 10. Each week, Justin Henry picks the brain of a different wrestling personality, asking a blend of serious inquiries, along with generally irreverent questions.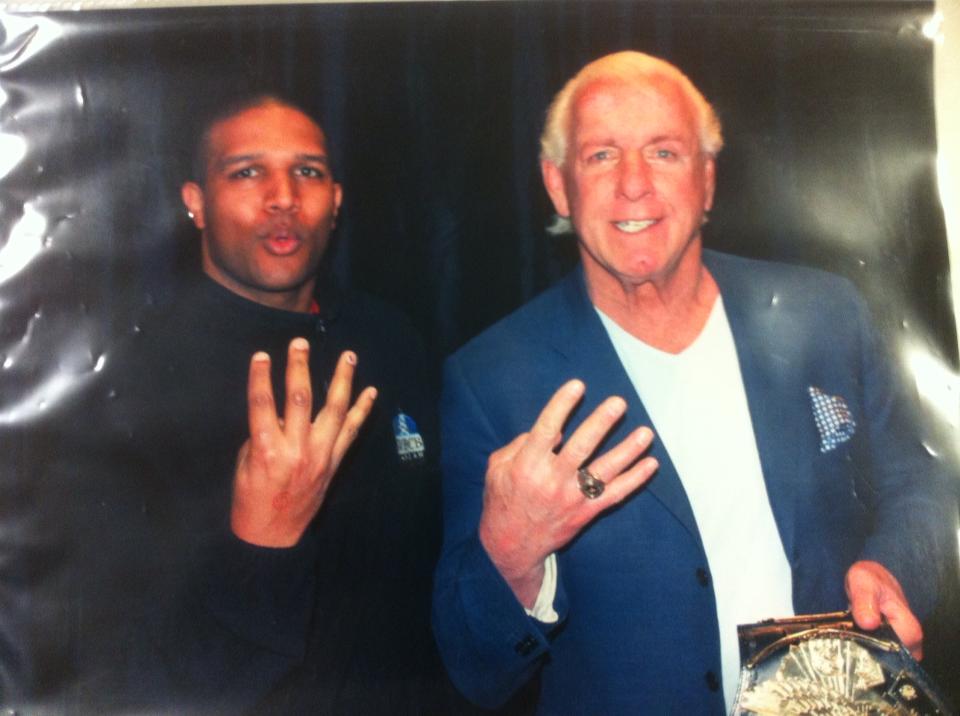 This week's guest is Fearon Derry. Who or what is a "Fearon", you might be asking. Mr. Derry is the host of the longest running wrestling radio show on terrestrial radio in the United States, Pro Wrestling Weekly, which runs Saturdays at 12 noon EST on WBCB in Levittown, PA. In his four years of hosting after taking over for previous host, shoot-interview maestro Eric Gargiulo, Mr. Derry has spoken with the likes of Ric Flair, Lex Luger, Jim Cornette, AJ Lee, Heath Slater, and numerous others. On March 2, his show proudly welcomed a WrestleCrap invasion, with myself in studio, and ol' Uncle RD Reynolds pulling a Dwayne Johnson and phoning in his portion.
Fearon saved my hide this week by filling in for a wrestler who was unable to do the Count of 10 on time, and he proved to be a nifty interview in his own right.
Check out Pro Wrestling Weekly Saturdays at noon EST and follow Fearon on Twitter. He's the friendliest man you know who used his own money to buy a replica Slammy Award. So yeah, he's one of us.
1. What got you into wrestling as a fan?
I'm almost ashamed to admit it, but I guess especially for a site like WrestleCrap, I should own it. I remember my dad taking me to a friend's house when I was maybe 8. I think it was a SummerSlam, but I was the prototype for ADHD, so I sure as hell can't remember. My dad wouldn't give up. At 11 years old, I was at my aunt's house for Wrestlemania IX. As awful of an event as it was, I was hooked. April 4, 2013 will be 20 years to the day that I've been a wrestling fan.
I'm proud to say that I've taken that fandom and turned it into much more by hosting a radio talk show, occasionally writing blogs, and getting to know tons of people in the business and many more fans of it.
2. What made you pursue broadcasting?
That kind of came out of nowhere in high school. My senior year, our school was looking for a student to do play-by-play for the football games. I figured, "Why not? I get into the games for free, and I've got nothing better to do on a Friday night," so I called the games. The business teacher, who was also my wrestling coach when I was in middle school (slight aside from question 1: from watching Wrestlemania IX, I really liked the Steiner Brothers, so the following fall, when there was a wrestling team in middle school, I jumped at the opportunity), heard my broadcasts and said I had a great voice, and that should be something to look into.
By that point, I had no clue what my college major would be, and thought because I was good at math that I'd be looking into accounting. Instead I jokingly follow in the footsteps of Bobby "The Brain" Heenan and become a broadcast journalist. It's a hell of a lot less boring than being an accountant, at least I'd imagine.
3. How did it feel to become the host of Pro Wrestling Radio on WBCB after Eric Gargiulo abdicated his spot?
Wow…I knew I had a huge void to fill. By that point, I had only worked in radio for about 9 months, and that was all as a DJ for WBCB. It was a matter of being in the right place at the right time. Eric had hosted the show for over 10 years by that point, and I was just an overnight DJ with a decade and a half of wrestling fandom.
We talked for a while, he saw that I knew my stuff, and when he wanted to go on to other ventures, including expanding his Camel Clutch Blog and eventually settling down with a wife, and more recently a child, he willingly passed the torch over to me, and I've carried it ever since.
Little known fact–the station decided it would be a good idea to change the title of the show so there wouldn't be any litigious B.S. later. I talked with Eric about it, and he would have been fine with keeping the show as Pro Wrestling Radio, but the Program Director at the time felt it would be better to change it. So, Pro Wrestling Radio eventually became Pro Wrestling Weekly, what it is today. Same great show, same time slot for 14 years plus; the longest running pro wrestling radio talk show in terrestrial radio history!
4. You've admitted to me your nerves when it comes to interviewing well-known wrestlers. What was the first "Oh s–t" moment you had when it came to interviewing a big name?
Every damn interview I've had. (laughs) Going chronologically, the first would have been the very first interview I had done with any big name wrestler, it was at Signamania IV, sponsored by George's Cards & Collectibles. That day, I was fortunate enough to interview (in order) Ron Simmons, Gangrel, Scotty 2 Hotty, Jim Cornette, and Jim "The Anvil" Neidhart. All of those were certainly nerve wracking, as I had only had the show for about 5 weeks to that point, and as I've joked privately in the past, I was greener than Doink the Clown's hair.
My biggest "Oh, s–t" moment regarding an interview had to be talking with Lex Luger. Around the time I started following wrestling was in 1993, and the huge story was the Lex Express and the change in Luger's character from narcissism to patriotism. I was on board, and wore red, white, and blue everything as a 12-year-old kid…even going out and getting those flag sweatpants like the ones he wore flexing in front of Mount Rushmore. Slightly embarrassing, but acceptable for WrestleCrap.
5. You seemed pretty at ease the day I was in studio with you, and it was a botch-free show, but what was your worst on-air flub that you remember?
I know that there were many, as most of the shows I've done have been on a range of zero to two hours sleep. There were two that stood out for me. One was a simple memory lapse in who Dustin Rhodes wrestled in the infamous King of the Road match in WCW. In my sleep deprivation, I said Bunkhouse Buck. I was razzed on Facebook about it after the show, and then acknowledged that it was in fact the Blacktop Bully, noting that back in 1994 in WCW, there were so many cowboy characters, it was hard to keep track.
Even worse than that (though unconfirmed) was a remote broadcast I did at a local check cashing place's grand opening. I thought it was a great two hour broadcast, including getting to talk to some great future wrestlers who were on site for the opening, including Sara Del Ray and Claudio Castagnoli (better known today as WWE's Antonio Cesaro).
The owner of the check cashing place and our sales rep had apparently agreed on not a wrestling remote (where I do my show on location and mention the place a few times heading in and out of commercial breaks), but an infomercial (where I cast my show aside and spend the entire time talking about the place). So 100 minutes into this 120 minute broadcast, I'm finally informed of this as both the owner and sales rep are livid. So I go into robot mode for the last segment of the show, repeating the same 7 features of the check cashing place over and over again (because not even Don West could sell all of the features of a check cashing place in 2 hours without repeating…a lot).
Anyway, here's where the possible flub comes in. The building was near a former restaurant called Fuddruckers. Let's just say I might have accidentally switched the "ck" and the "dd" in that restaurant's name…but again, that's unconfirmed, because I don't want to go back and listen to arguably the worst 20 minutes in radio history.
6. What was your favorite interview?
My favorite interview has to be the one I did with A.J. Lee from about 6 months ago. This was just before she was fired as the General Manager of Monday Night Raw. It was the longest interview I had done, going about 20 minutes. We talked wrestling, video games, comic books. It was a nerd's paradise. Plus she's really down to earth and a product of New Jersey. Plus she's the first "current" WWE star I had the chance to interview, so that's a plus.
7. What's the most surprising answer or anecdote that any of your subjects have given?
I'd have to say the whole interview with Jim Cornette. Probably because I was trying to keep pace with him mentally and verbally, but he then, and likely now, is way too fast for me. I'd love to talk to him again now that I'm bit more seasoned and less nervous and I'm sure the interview will be fantastic, and not just for entertainment purposes.
8. If you could have two hours to interview any wrestling personality, living or dead, who would you pick?
I'll give you one of each. Living, I'd without question go with Bobby "The Brain" Heenan. Two hours would only scratch the surface of the stories he could tell over his wrestling career. Deceased, I'll go with Curt Hennig. He was always one of my favorites growing up, and it was a shame that he passed away when he did, the way he did.
9. On average, how many people do you show your replica Slammy Award to?
(laughs) Well, I haven't shown it to too many, because I only got it a couple of months ago. I haven't decided if I'll bring it with me to WrestleMania, but it'll definitely be out (shameless plug) for PA Senator Tommy Tomlinson's Children's Expo on Saturday, April 13, where WBCB Pro Wrestling Weekly will be live from noon-1:00! (concludes shameless plug)
10. With a radio show under your belt, is there anything more you'd want to accomplish in the wrestling business?
Well, shooting for the stars, I'd love to work for WWE in some sort of vocal capacity, whether it's commentary, interviewing, or managing. Locally, just to check it off of my bucket list, I'd love to go through the training to work just one match, even if it's for charity or something, just to say I did it.
I'm 99.9% sure that at 31 years old with no in-ring experience, 5'9″ tall, and 190 pounds, that the WWE wrestling aspirations are out. But I figure with my knowledge of history and respect for the business, hopefully down the line I'll be contributing in some capacity for the folks up in Stamford, Connecticut. Even if none of that comes to fruition, it's been an amazing four years getting paid to talk about something I've loved since I was 11 years old. Hopefully there's many more to come.
Previous editions
Arda Ocal
Bill Apter
The Blue Meanie
Eric Gargiulo
Stevie Richards
Headbanger Thrasher
Danny Doring
Jim Korderas