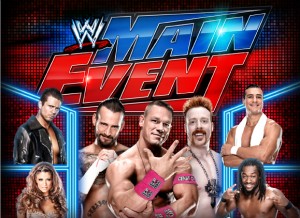 Bad things about WWE Main Event: that awful theme song ("BOOLAYBOOLAYBOOOO"), Miz on commentary
Good things about WWE Main Event: everything else
I'm surprised more people aren't raving about this show. Except for the occasional video break in the middle, done to recap Raw, it's just pure wrestling. 2 matches, one lengthy one with 2 pushed talents, and one shorter one that's either a midcard battle or extended squash. Generally, there's no BS. It's a show for fans who love WRESTLING.
And given the cries from fans for more wrestling, like I said, I'm surprised there's less of a commotion about Main Event.
Short and sweet, tell me: do you like Main Event? Do you dislike it? Do you even WATCH it? Tell WrestleCrap your thoughts about this unique show.
(Follow Justin on Twitter!)