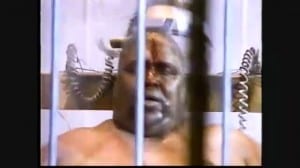 Hey hey hey (/Dwayne voice) people. Welcome to the new WrestleCrap.com. By now, you've noticed the new-and-improved (not even going out on a limb here) design for the site, as well as the flurry of new features that this long-running site will offer.
One such new feature is the morning "Curtain Jerker", wherein I'll do one of two things: rant about something from the world of wrestling, or survey the readership about something loosely related to the goings-on. In either case, it'll be something to create debate amongst you fine folks, and keep bringing you back.
After all, like the tobacco industry says, you need to hook 'em while they're young. And if you're not young, just pretend you are. C'mon, you lie to the mirror every day anyway.
And speaking of youth, that brings me to the first Curtain Jerker.
Being that this day is about the renewal of WrestleCrap, and it no doubt conjures up a lot of 'crappy' memories for you folks, I ask you this:
What was the first angle, gimmick, or moment in wrestling that truly made you say, "Boy, this sucks."?
I'm not talking about a heel one-upping your hero; rather, an instance of WrestleCrap that you, even in your impressionable years, made you say, "Wow, this is terrible!"
Speaking for myself, it's definitely WCW's Chamber of Horrors from Halloween Havoc 1991. I was just shy of 8 years old, but I knew it was ridiculous to have a man (in this case, Abdullah the Butcher) be electrocuted the way a death row prisoner may be. By that point, my "is this real?" cherry had been popped, so knowing that it was fake made it FAR easier to understand the hokeyness of fried Sudanese flesh.
So what say you? What was the moment when you had your own first personal brush with "WrestleCrap"?