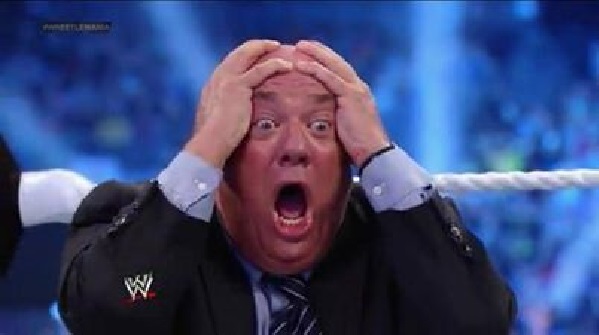 When Brock Lesnar's third F5 begat the pinfall that ended The Undertaker's iconic WrestleMania streak, the impact was immediate. Hundreds of visible fans on camera, out of the 75,000 at the Superdome, leapt from their chairs, eyes saucer-sized, jaws slack, and emitting grunts and screams of incomprehension.
That WWE would take modern-day folklore, carefully (in the early days unknowingly) crafted for over two decades, and put a hatchet through its neck with the benign coldness of a poultry farmer doesn't sit well with a lot of fans. In fact, there's still a vocal majority of them nine months later that will decry the decision to have Lesnar be the streak's executioner.
For one thing, Lesnar's a part-timer, they'll tell you. As someone who once left WWE high and dry at age 26 after a fruitful two year run, in which he won a King of the Ring, a Royal Rumble, and three WWE Championships over marquee talent, Lesnar shouldn't be rewarded for his lack of appreciation, they'd argue. Why not Bray Wyatt or Roman Reigns or Cesaro or, a year earlier when the chance was presented, CM Punk? Why not build tomorrow's legend, someone presumably with many tomorrows left, than let someone with a reduced schedule be the one?
That line of thinking holds more water when you see that Lesnar has maybe two physical dates left to fulfill before he's rumored to the fly the coop back to UFC, joining Punk. Lesnar's not advertised for WWE's February event, Fast Lane, taking place in Memphis, so it's likely just the Rumble and WrestleMania, and then adios, Beast Incarnate.
When Lesnar broke the streak, I was one of its defenders. The reactions of my brother, our lifelong friend, and I while sitting in my brother's living room on April 6 are something I'll never forget. We were as stunned as anyone, partially because we thought the streak would never die, and in part because we didn't think Lesnar was going to be the one to end it anyway. I commented aloud to neither my brother or my friend, following that third F5, "Is Taker really kicking out of *three* of them?", thinking Lesnar couldn't win.
When he did, I turned to my friend, four years older than me, and effectively the man that made my brother and I wrestling fans 25 years ago. He's as jaded as I am, without that glimmer of 'it's-still-real-to-me' that sometimes creeps into my soul. His eyes were bugged out like a Tex Avery cartoon character, before he let out an exaggerated "WHAT?!" And he's a Lesnar fan; someone who gleefully chipped in when we ordered the Shane Carwin fight, and leapt off the couch when Lesnar choked Carwin out following a miraculous comeback, exchanging cheers and high fives with me and others. My brother, the least emotionally-charged of the three of us, did a double take after a beat and let out an extended "Wow!"
Me, I raised my voice and said, almost like making a definitive proclamation, "THE STREAK IS DEAD!" I was just fresh off gathering quotes for my first Fighting Spirit article, speaking to a few entrants in CZW's Best of the Best tournament taking place the following weekend, noting to the boys that I needed non-kayfabe answers, and here I am, believing in the story like I'm ten again.
The montage afterward is easily recalled: the stunned faces at ringside, Heyman's disbelieving screams, the faint 'bullshit' chant, the '21-1′ graphic appearing on the overhead jumbotron, Lesnar's pounding hard rock music finally disrupting the silence, and he and Heyman walking up the ramp together as the commentators muttered disbelief (this is a case where I feel the fiery screams of Jim Ross would have been out of place; it needed mostly stark silence).
In that moment, for the first time since the Monday Night Wars, I called a friend to tell him what had just happened on a wrestling show. This usual fourth member of our party was absent, caring for his mother who was getting through a recent medical issue. Though not too much of a fan anymore, he grew up cheering Undertaker, and still joined us for the big three WWE PPVs annually. He answered, asked how the show was, and I dropped the bomb.
"WHAT?! WHAT THE FUCK?!" was his cry. I explained it in brief detail, with him trying to wrap his head around it all. He wasn't upset, just blown away. I dare say there was even a giddiness to his voice. Looking at my brother and older friend, they weren't upset either, just trying to comprehend what was until then the incomprehensible.
Don't even get me started on my Twitter feed; it was ALL about Lesnar/Taker, and so was yours. I think even the sponsored ads for Tide were saying, "Lesnar broke the streak?! Get the fuck out of here!"
Nine months later, these are all feelings I recall vividly, and I couldn't tell you my last three dinners. For this primary reason, it's hard to add the streak's demise to the Gooker voting. It wasn't my decision; RD made the selections (I only suggested adding the 2014 Rumble when he omitted it when putting the list together, which he obviously added). But it's an omission on RD's part that I strongly agree with.
It's actually more memorable than Daniel Bryan winning the belt at the end of the night. Once Bryan held his "Occupy Raw" YES-in in March, and set the course for a title match, you knew WWE was going to make up for six weeks of thick-headed booking and cave in to the demands. Anything less than Bryan coming out of WrestleMania XXX with the belt would have seen the Superdome go up in flames like the Branch Davidian compound. Once Bryan slapped the YES Lock on Batista, we all knew it was over, and we cheered requisitely, but still. When you were nine and asked for a bike for Christmas, you knew you were getting that bike for Christmas. You still smiled when you saw it Christmas morning, but it confirmed something you already knew.
Something as thuddingly memorable as Lesnar's win cannot, and will not, ever be 'Crap', no matter how much they mangled the booking after the fact (or, simply, how much they were mindlessly boxed in by Lesnar's inflexible contract). What was the last profound WrestleMania moment that you'll never forget, prior to the streak dying? Michaels or Flair's retirements? Everybody saw those coming, even if they didn't want to admit it. Benoit's World Title win was a bit more stunning than Bryan's, given how much Benoit was strategically set up as an underdog afterthought, and making 2004-era Triple H submit was true icing on the cake.
There you go, ten years since something so profound took place at WrestleMania. It's a subjective opinion, but I feel strong about that notion. If not Benoit's win, then Hogan's reaction in Toronto at WrestleMania X8 is next on my list. In the pantheon of unforgettable moments, Hogan's unexpected face turn and Lesnar's conquering sit on the same couch, absolutely.
Would Reigns or Cesaro or Wyatt or Punk have gotten the reaction? Of course not, because they have large segments of support from different walks of fandom. Lesnar's the ultimate villain, one who doesn't care if you hate him. Whoever broke the streak was going to be vilified, so why not the man that only gets cheered when he's brutalizing John Cena?
Lo and behold, Lesnar is a HEEL that you HATE. Imagine that. With Cena, Sheamus, and Reigns as faces that you hate, and Wyatt, Cesaro, and Punk as heels that you love, WWE finally came up with something it hasn't had in years: a credible villain that even the ironic, anti-establishment fans will outright hate (well, many of them). I'd have loved to have seen WWE tell fans the year before, "Alright, we'll let Punk break the streak, but only if you promise to never cheer for him again."
That's the real reason Lesnar's win was effective: because you hate him.
The business is exposed. We look back at heels with fondness for their ultimate treacherous acts (Hogan joining the nWo, Savage striking Hogan out of jealousy, Andre confronting Hogan on Piper's Pit, Shawn launching Marty through the window), a fondness that undercuts the rage and anger and even fear that those moments were meant to invoke. As a kid, luring Warrior into the den of snakes made me hate Jake Roberts, as intended. Now I see it as a semi-corny skit, and appreciate it for the absurdity, as well as Jake's iciness in spite of the far-fetched set-up.
Seth Rollins' heel turn worked because it broke up a group that mark-love and smark-love alike had turned face in 2014. Rollins dissipating the group without prolonged build-up was astonishing, and Rollins STILL draws "You Sold Out" chants.
I like Lesnar's run of dominance because there was no attempt at being cool, the ultimate no-no for a heel (something the first nWo incarnation beat into the ground). Lesnar stood there smirking the next night on Raw while Heyman extolled his resume, not playing to any fan's rebelious streak, aside from relegating Michael Cole and Jerry Lawler to common nouns. Heyman cut a helluva promo, which admittedly, yes, would have been more effective had Lesnar not vanished for three months afterward. But hey, memorable is memorable.
Being memorable, being profound, stunning 'know-it-all' fans, necessitating a phone call to someone that swore off weekly wrestling a decade earlier, these are qualities that do not equal 'Crap', and never will. It's not 'Crap' if the 'wrong guy wins'. Hell, if Cesaro had ended the streak, you'd probably cheer him for doing it, the opposite of WWE's intent.
This is what it boils down to: if you're reading this, you've probably immersed yourself into wrestling's going-ons to the point where nothing surprises you. You know every swerve that's coming, you know every turn. You know every push and de-push, or have some idea of why they are what they are. You're no longer spectators in the academic sense, but rather amateur analysts that critique and search for the meaning in every little thing. I do it too, obviously. As we learned how the 'sausage is made', we've abandoned much of our fanhood to become social commentators.
Lesnar conquering the streak planted us all back into the seats of fanhood, whether you realize it or not. We all commentated socially on it, but without the passive, 'hip to the room' voice that we all put on. The comments on that moment cracked with emotion, which is an indication of wrestling at its organic best.
An emotional reaction that reduces us to the most base-ishness of our fanhood? That will never be WrestleCrap.
(Follow Justin Henry on Twitter, as well as the home of his many columns, Fighting Spirit Magazine)