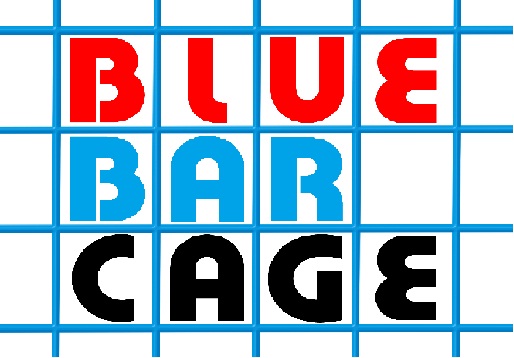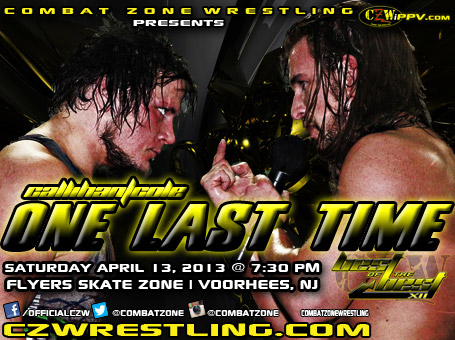 Photo credit: CZWrestling.com
The Looking Glass to Tomorrow
by Justin Henry
If you saw WrestleMania XXIX, you would probably be able to tell me what was wrong with the show. Doesn't matter if you're prone to ripping the company apart on the checklist of social media sites, or if you're a diehard fan that disliked what your $65 went toward.
So when I sigh and ask, "What was wrong with WrestleMania?", I await the expected answers: Rock/Cena sucked, or HHH/Brock sucked, or there were too many commercials, or a match got cut, or whatever else comes to mind.
What if I asked, "What was right with WrestleMania?". I can expect a couple answers, namely CM Punk vs. The Undertaker, and of course, the opening match.
I can't find the source of the quote that met my eyes, but granted other fans of independent wrestling thought the same thing without prompting: "No matter what else happens, a CZW guy pinned Randy Orton at the biggest show of the year."
Indeed, the same CZW that gets disrespected in the smarky RSPW Awards, and tends to be a running joke on our friendly-neighborhood Maffew's Botchamania (albeit as more of a noogie than an uppercut) once housed the spastic Dean Ambrose, then named Jon Moxley. As Moxley, he reigned as CZW World Champion in two reigns equalling one year, but is likely more famously known for having his forehead carved with an electrical saw, which has been portraited in meme form forever.
Hard to believe that a local indy that once ran in firehouses and indoor soccer arenas near my home would help mold the twisted dossier of The Shield's resident cotton-mouthed jackal.
It becomes less surprising, honestly, when you see what other wrestlers have passed through the Halls of Zandig and Hyde. Though they're not on Ambrose's level of popularity, wrestlers like Sonjay Dutt, Ruckus, Antonio Cesaro, and Kassius Ohno made their bones there, while stars like AJ Styles, Christopher Daniels, and even CM Punk have passed through at various times in their careers.
If Ambrose was the next can't-miss-prospect out of Combat Zone Wrestling's stock room, then April 13, 2013 commemorated the last time the next two can't-misses faced off against each other.
Maybe not every single wrestling fan has heard of Adam Cole and Sami Callihan, but soon enough, both men will take over bigger stages and greater challenges, piquing the interests of the non-privied.
To see Cole is to see CM Punk with Punk's 2008 hair, and beadier too-many-blinding-sunsets eyes. The 23-year-old Floridian is only a five year pro, yet his resume boasts matches with the likes of Matt Hardy, Antonio Cesaro, and Kevin Steen. On March 2, his 246 day reign as Ring of Honor TV Champion came to an end, the second longest reign in the title's history.
As for Callihan, he's the aesthetic opposite of Cole's Calvin Klein-good looks. The 25-year-old "Callihan Death Machine" wears his hair like a satanic Sonic the Hedgehog, centerpiecing his mane with Billy Idol's trademark sneer. Matching his eccentric look is his frenzied, hard-hitting style, loaded with high kicks and maim-tastic head drops.
Attention is already being paid to both; Calihan received a WWE tryout last October (and is rumored to be on his way to signing), whereas Cole had one in February. The classic mark magazines are well aware of each man's rise; in 2012, the PWI 500 ranked Callihan #52 in the world. Cole ranked 75th.
In what was billed as their "final encounter" (Callihan defeated Cole for CZW's Jr Heavyweight Title on November 12, 2011, ending Cole's staggering 553 day reign), Callihan and Cole stole the show on the night of CZW's annual "Best of the Best" tournament, which each man had previously won. Streamers flew to herald CZW's true "best of the best", but any further pageantry would have to wait, for a brawl was about to ensue.
Callihan began with an intense assault, bulldozing his younger foe with charging kicks and looking all of the bull in the china shop. The shock and awe continued when the Death Machine powerbombed Cole first onto the apron, and then onto the metal guardrail for an encore.
Cole managed to withstand that punishment, and soon engaged in a slugfest with his nemesis, ending with both men flooring each other with a double big boot. Callihan regained the edge by catching a charging Cole with a Death Valley Driver, but the referee was soon wiped out in the maelstrom of action. Callihan landed a brainbuster on his knee, and a second referee counted, but only to 2.
Cole took advantage of the frustrated "New Horror", and took out the second referee that tried to prevent him from using, as a weapon, the now-retired CZW Jr Heavyweight Title (that same title, you'll note, Callihan took from Cole to end his record-setting reign). That gave Callihan the opening needed to pump kick Cole, and powerbomb him, which Cole reversed into a complex submission hold.
In a night where I saw at least 20 moves I've never seen before (at least 17 that could be fatal if left to untrained hacks like me), Cole flourished over all by landing his Panama's Sunrise, which is a top rope Canadian Destroyer. And THAT only got 2.
With both men exhausted and reaching down deep, Callihan found himself unable to finish with either his 64 Lariat, or his stretch muffler submission. Cole kicked Callihan into oblivion, and Sunrise'd him yet again, this time for the pin.
Both men were battered, sore, and spent, having spent nearly twenty minutes engaging in the most physical storytelling you'll see without blood being drawn. Softening the mood, Cole took the mic and put over his fallen rival, calling him the best in the world, as the 400-500 fans at the Flyers Skate Zone in Voorhees, NJ erupted with "THANK YOU SAMI" chants.
The two embraced, and the scene was reminiscent of many telling instances, from Eddie Guerrero and Dean Malenko's ECW farewell, to Cactus Jack's 'strut' out of the ECW Arena, to the toast CM Punk received upon leaving ROH, to Daniel Bryan felling Nigel McGuinness in their respective final ROH matches. All of them graduated to bigger and better things on an international stage after wowing fans of discriminating tastes.
Cole and Callihan have done just that. Whether their days in CZW, and elsewhere, are officially over will be determined in the not too distant future.
And speaking of futures, both of theirs look rather bright, if they follow the trail of the man once known as Moxley.
Special thanks to Chris Behringer and the rest of the CZW crew for their hospitality and dedication to a great show.