Welcome to another edition of The Count of 10. Each week, Justin Henry picks the brain of a different wrestling personality, asking a blend of serious inquiries, along with generally irreverent questions.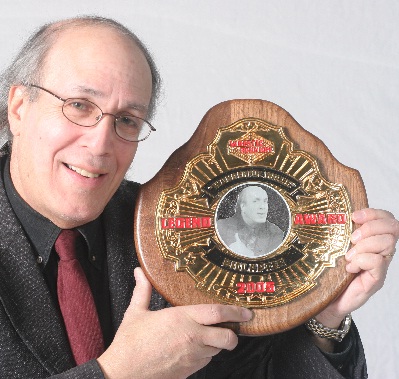 This week, Count of 10 is graced by the presence of one of wrestling journalism's great trailblazers, Mr. Bill Apter. For nearly four decades, Bill has photographed and written about the biggest personalities and most compelling stories in the wrestling industry. He helped popularize wrestling magazines (namely Pro Wrestling Illustrated and its sister publications), and remains a diligent force in the online wrestling community, contributing today at 1wrestling.com.
Bill can be found on Twitter, where he engages with many wrestling personalities on a regular basis.
1. Is it true that you don't much care for the term "Apter Mags"?
It is true ONLY because I was part of a great series of teams that put out the magazines. I was the "front man" who was at the arenas and on TV. Dave Meltzer coined the "Apter Mags" when he called the periodicals by that name way back when in his Wrestling Observer newsletter.
2. During your magazine days, were you guys ever tipped off about upcoming angles from promoters or talent, as a means of creating interest?
I was at times by both promoters and "'rasslers."
3. How was the PWI 500 conceived?
I did not conceive it. It was the brainchild of (there is an unclear certainty here) Stu Saks or Peter King.
4. The first PWI 500 (1991) was notorious for excluding The Undertaker. Were you worried that he was going to bury you alive for this grievous omission?
No. We were worried he would tell his friends not to buy the issue!
5. Having spent much time with scores of wrestling personalities, what stands out as your most interesting encounter with one?
Being the person who introduced Jerry Lawler to Andy Kaufman. After that Lawler, Jerry Jarrett, Jimmy Hart, and all the others at Mid-South wrestling took the ball and ran with it and wow did it become a classic–indeed!
6. You've collaborated with RD Reynolds on a few projects, including a weekly video series that aired last year on WrestleCrap ("The Crap Shoot"). How would you describe in Reynolds in one sentence?
A sincere man who wants to help us all laugh at the business we love!
7. What was the most outlandish story ever published in one of your magazines that even you can't believe you let go to press?
The Kamala story where he was ordered to "Bring Me The Head Of Hulk Hogan." There was a photo on the cover of Kamala holding a spear with Hulk's head on it.
8. PWI's legendary heel columnist, Eddie Ellner, is now a yoga instructor in California. Do you think he still has it in him to write a bitter column against Diamond Dallas Page for his comparatively larger standing in the yoga business?
What an EXCELLENT idea! I have not talked to Eddie in ages but someone needs to tip him off about this as I would love to read it!
9. As someone whose work has mostly been done "off camera" and behind the scenes, is it weird to have fans recognize you?
Not at all. My face was in the magazines for ages — also on Ted Turner's Network for NWA/WCW many, many times. I was a guest in all the territorial TV shows, and co-hosted the very first VHS Pro Wrestling tape "Lords Of The Ring" with Gordon Solie. In recent years as editor of 1wrestling.com there are numerous videos of me interviewing wrestling people all over the Internet and I host Wrestling Conventions a few times a year. Other than that, I have nothing to do (lol)!
10. What's the most rewarding part of doing wrestling conventions, and other functions where you mingle with both performers and fans alike?
The unmistakable bond between all of us in the wrestling community!