Welcome to another edition of The Count of 10. Each week, Justin Henry picks the brain of a different wrestling personality, asking a blend of serious inquiries, along with generally irreverent questions.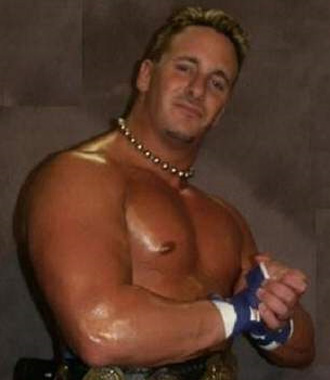 This week, we're graced by the presence of one half of ECW's final Tag Team Champions, "Dastardly" Danny Doring. While some consider the likes of Tommy Dreamer, Taz, and Rob Van Dam to be "ECW originals", they were all wrestling elsewhere prior to joining the company. Doring, on the other hand, was one of few true organic ECW talents, having graduated from the promotion's "House of Hardcore" school, under the eye of Taz and Perry Saturn in 1997.
Doring spent four years rising through the ranks of ECW alongside an unlikely partner, a 300 pound Amish mute named Roadkill. The two went from being an opening match comedy act to a well-oiled team, winning the promotion's championships on December 3, 2000 from the Full Blooded Italians.
Since then, Doring's been a part of many promotions, including short runs with TNA, WWE's revival of ECW, and former ECW rival XPW. Just as notably, "The Danaconda" has proven to be a chatty interview subject, baring his heart and soul on RF Video releases, and other talking outlets, never hiding his feelings about many subjects, namely former boss Paul Heyman.
Doring can be found on Twitter, as well as his Facebook fanpage.
1. Joey Styles used to emphasize on ECW television just how tough the House of Hardcore training camp was, given how you, Roadkill, Chris Chetti, and Tom Marquez were the only graduates. What stands out the most as the hardest part of the training
Obviously, most guys who attended it, they would point out how physically taxing it was. And that's 100% true. There were drills upon drills, and various tortuous cardio activities, mixed with repetition of bumps and chain wrestling. For me, however, the psychological aspect was harder. Taz and Perry Saturn never told anyone they weren't good enough, or that they couldn't do it. But what they did tell you was much more scary, they told the truth: "You want to became wrestler? You want to lose your family/friends/etc?", "You will live on the road, miss weddings and births, and isolate yourself from all you know. You want it? Go and get it."
A two hour trip to the House of Hardcore, three or four hours there, and two hours home. Those drives were sore rides with a lot to think about. A lesser man could create a lot of doubt in their minds on those trips. I wanted it more and more each week, which I suppose makes me nuts (laughs).
2. You've had some suggestive names for your moves, including the Bareback, Pearl Necklace, and others. Who came up with the idea for these move names?
The original concept was [that] I'd be Dirk Doring. Boogie Nights was out, and I was going to do a porn gimmick. I spent hours at the school watching tapes and working on an arsenal. The names I came up with would play on the character. Joey Styles also came up with a few on his own, which helped.
Anyway, Val Venis soon debuted, and we obviously tweaked the character and made it a womanizer, so it was close enough that I could keep a lot of the ideas and make it relevant. On a side note I always felt the gigolo playboy gimmick was overdone, and Danny Doring the womanizer only worked because of the odd pairing with an "Amish Chicken Plucker" to play off of. By himself, Doring would be lame.
3. When Roadkill was given the gimmick of a muted Amish wrestler, did you feel weird about teaming with a "fringe" character, or were you happy to have any role on the show?
Originally, Roadkill was a backwoods creep from Baton Rouge, LA. He was to be a hired gun for Doring. The movie Kingpin was out, and with Roadkill looking Amish-esque, the idea and opportunity was presented to us to have a bigger role in ECW. We both were beyond excited and took the ball.
4. Stories about the camaraderie in the ECW locker room were plentiful. One example claims that, after the passing of your mother, several wrestlers stepped forward and donated money toward her service. Was their generosity surprising to you?
That was easily my darkest moment. I will always remember that time for a lot of reasons. The guys were ALL there for me. It was overwhelming, to say the least. Most of the local guys were at my house the whole weekend. It was the only time Paul called my cell outside of work. I vividly remember Dreamer, Nova and his brother Donnie, Chetti, and Roadkill at my house playing WCW for N64, and calling the guys by their shoot names during the battle royal, i.e "Here comes Larry Pfohl (Lex Luger) coming to get his heat."
5. What's the funniest memory you have from one of your matches, whether it was a planned rib, or just something that went wrong?
Most house shows had a relaxed feel. We always worked just as hard on them as we did PPV, but we had no time constraints and more freedom, so a lot of ribbing went on. More of my memories came from other matches. Angel was once stabbed in his ass as a "rib" from New Jack, which was weird but funny. The most infamous and hysterical, and my favorite, was the Sandman incident in Pensacola, FL. If you've never seen it I'm pretty sure RF video has it. Its worth every penny, trust me.
6. You and Roadkill became ECW Tag Team Champions in December 2000, shortly before the company shut down. Was it a thrilling moment, or did the company's woes diminish the achievement any?
At that point, checks were bouncing, but it wasn't the first time. We'd been through that before. We figured it would pass, or hoped it would anyway. Winning the titles was still a great accomplishment for us from the aspect of how hard we worked, and how much we've been through. It wasn't for another month that we would become really worried about the company's future.
7. You worked for XPW in 2002-03 when Shane Douglas brought the company to Philadelphia in an attempt to paint ECW's colors and style over it. After the way XPW and ECW feuded in 2000, was it a weird feeling to work there?
Being part of the Heat Wave 2000 melee, of course I was skeptical. I was brought in by Shane to work one of their top guys, Kaos. I, along with Chetti, had our guards up when we arrived. In the back of our minds, we thought we may be being set up. This was far from the case, as everyone was very accepting and happy we were there. From Rob Black down, everyone was cool, and it was a good place to be until the wheels rolled off.
8. You've stated on numerous occasions your animosity with Paul Heyman, and have been a frequent critic of his. Were there any hard feelings when you came to do the One Night Stands, and be a part of the ECW brand in 2006?
There's this misconception of being being "bitter", and blaming this man, for what happened to me. That's pretty far from the truth. I do know for a fact he buried me every chance he got. I know he didn't believe in me. I hear these from very reliable sources. My issues are many.
First, how can a man legally get away with bouncing as many checks as he did? Who knows. Second, he never called us to tell us it was over; he just took a job to save his ass, and didn't care enough about anyone to man up and at least tell the truth. For him to preach ECW loyalty, and buried EVERYONE else for leaving for "greener pastures", is hypocrisy incarnate.
I will never be able to prove it, and he'd never admit it, but we have reason to believe he hurt Chris Chetti's chances to get hired in 2000. I also know for a fact that while Roadkill was in OVW, he had this huge speech where he praised Kill and (from what I heard from several people), said I had no idea how to sacrifice, and I had no heart, and that's why I wasn't under contract and Roadkill was. That's was puzzling considering the night my mother died, I was supposed to be home. It was my first week off ring duty, but I filled in because the guys weren't there. Subsequently, instead of being home, I traveled to Philly to get a early start, setting the building up for TV.
The night my mother died, I should've been home. I wasn't. I was doing what needed to be done for ECW. I live with that everyday. Every f–king day. I never even took time off. I went right to work. So this man who lived with his parents while running a company, and being an "Evil Genius," can now tell a group of hopefuls that I'm this and that and paint a false picture of me. After all the miles I drove for free, the bounced checks, the ring and TV and PPV set-ups? I don't know sacrifice? Wow. That's disrespect to me, and my family. I'll leave it at that, because everything else I can say isn't even THAT nice.
9. Shane Douglas is trying to get his Extreme Rising promotion off the ground, while Tommy Dreamer has his own House of Hardcore promotion. Do you feel the attempts at ECW resurrections have been overdone, or will there always be a place for them?
I was contacted by both. In the end, I didn't like the vibe I was getting from Extreme Rising. I had talked long about the angle for me for the show. I pitched a solid idea, and when they refused to talk money, I declined. They then told me they would use MY idea and concept on another wrestler. I was aggravated at the lack of professionalism and creativity. Besides, most of the guys involved are the same [guys] that were involved in XPW and that Urban Wrestling deal. And as they say "those who ignore history…"
It's a shame, because there is talent there, as is one of my best friends, Stevie Richards. I hope it works out, but it's not for me.
As for House of Hardcore, I think it was anything but a "reunion." Tommy put a lot of heart and soul into the effort for this show, and it truly had something for everyone. It was amazing. Plus everyone booked loves Tommy and has infinite respect for him. Everyone worked their asses off. Some of the stuff I saw was mind blowing. Notice Tommy is taking a slow pace with it. A second (I hope inevitable) show hasn't been announced. Extreme Rising is doing what XPW did, running in old ECW markets and building steam quickly. Me? I only like cumming quick if I'm jerking off. Otherwise, I like the ride I you catch my drift.
(INTERVIEWER NOTE: Although this website tries to adhere to some level of family-friendly content, that last analogy from Mr. Doring was far too good to omit, and I'd be doing him a disservice if I did.)
10. Do you look back on your time in ECW as more of a great experience or an ultimately negative one?
ECW was the best times of my young life. I worked very hard to be there, and the rewards were great times, and seeing places I'd never go on my own. A lot of us were like family, and I met so many people that to this day, I will always care about and respect, even if I don't see them much.
The unfortunate thing is a lot of us were labeled as "ECW Hardcore wrestlers", "Kool-Aid drinkers" or, God forbid, a "Heyman Guy" (which by the way is a worse term than the "N" word. OK, maybe not, but close). Also, what a lot of guys weren't prepared for is WWE is NOT ECW on any level. You really have to take that job with a business approach, and not the 'we're all here for one another' mindset. It's not to say it's a wrong approach. It is, after all, a business, but I think if you were there, you'd agree ECW spoiled the business for a lot of guys. They couldn't adapt for the most part.
It was a great chapter, but a chapter nonetheless. It's over and should be allowed to die and rest in peace. I'll always miss it, but I've moved on. Some guys haven't, and it's tragic. I'm fortunate because I don't have to hang on for that next reunion or convention. I'll do them if the money and time are right, and that's a freedom you can't buy. I keep in touch with the guys I liked and that's enough for me.
Previous editions
Arda Ocal
Bill Apter
The Blue Meanie
Eric Gargiulo
Stevie Richards
Headbanger Thrasher