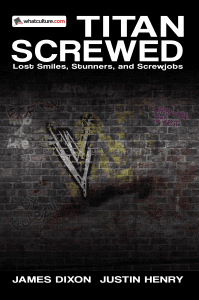 Hey there fellow Crappers!
It's been quite some time since I've contributed anything to WrestleCrap aside from the year-ending, and often contention-causing, Look Back In Horror countdowns. Indeed, a couple of years back, I began focusing more time on regular work with Fighting Spirit Magazine, as well as venturing into the book market. Through much of 2015 and early into 2016, I collaborated with James Dixon, the author of Titan Sinking and Titan Shattered, to produce the book you see above.
For those of you not familiar with the series, Dixon's first two books are 'annuals' that examine the backstage drama, stories, maneuverings, and evolution of the World Wrestling Federation. 'Sinking' looks back at 1995, studying the tumult and turmoil of a company struggling to rebuild. It was through Scott Keith that 'Sinking' came to my attention, and I ended up being enthralled by it. I messaged James to commend him on the book, and we ended up conversing at length. Not only did he inform me that he was putting the finishing touches on 'Shattered', a thorough look-back at the WWF in 1996, but he was also mulling doing a book for 1997, though he admitted that it was an arduous process. Wanting to give a book a try, I volunteered to help him. He agreed, figuring that Fighting Spirit Magazine wouldn't employ me if I were completely useless (emphasis on 'completely')
And so, as of today, Monday, June 6, Titan Screwed is available for purchase. Continuing through the timeline, 'Screwed' hearkens back to the WWF in 1997, examining the entire year, plus the first three months of 1998, as the World Wrestling Federation rebuilt their fortunes through a programming shift, while dealing with many backstage headaches, one of which would come to an abrupt and controversial end at Survivor Series in Montreal. You may have heard this story. We delve deeper into it.
For the book, James and I interviewed the likes of Ken Shamrock, Rob Van Dam, Jim Cornette, "The Patriot" Del Wilkes, Dr. Tom Prichard, and many others. If that's not enough to interest you, our very own WrestleCrap founding father RD Reynolds happily provided the foreword for Titan Screwed. We cannot thank him enough.
Enclosed is a small preview of the book right here. Titan Screwed can be purchased for Kindle and in paperback form.
Thank you to everyone that has ever taken the time to read my musings, however far-fetched they may have been. If you do purchase Titan Screwed, I hope you enjoy it, and I'd appreciate any and all feedback. I'm sure a few of you wouldn't hesitate.
Justin
---
WHILE BARELY Legal begat a celebration for the ECW militia, a victory of sorts against some type of mainline conformity, there was one name among the group that was not feeling so harmonious. For twenty-six-year old Robert Szatkowski, known professionally for the limitless elasticity he routinely displayed under the name Rob Van Dam, his résumé upon arriving in ECW in early 1996 spoke for itself. Risky dives and flips, combined with action-hero roundhouse kicks, quickly placed him into the tier with Chris Jericho and Rey Misterio, Jr, as the wave of talent that adequately replaced the departures of Chris Benoit, Eddy Guerrero, and Dean Malenko. Where ECW needed finesse as buffer between comedy and carnage, Van Dam was part of the unit that could provide it. Misterio would bolt for WCW by spring 1996, and Jericho would follow right behind him later that summer. Later that year, Too Cold Scorpio headed north to Titan, joined by recent ECW imports from All-Japan Pro Wrestling Doug Furnas and Philip 'Dan Kroffat' LaFon. Through all the constant changes to the roster, Van Dam remained a dependable bright spot throughout 1996, first warring over respect with real-life comrade Terry 'Sabu' Brunk, and then teaming with him in feverish battles with Furnas and Kroffat, as well as the Eliminators (Perry Saturn and John Kronus). In spite of his portrayal of a petulant, disrespectful snot, Van Dam was turned babyface on the merit of his enthralling work, which had become an indelible part of the ECW allure long before the end of the year.
It was curious, then, that Van Dam was not originally scheduled for Barely Legal, in spite of his value to the company. There were seven billed matches, including three championship bouts, the long-awaited Taz-Sabu showdown, and a six-man tag featuring dynamic talents from Japan's Michinoku Pro organisation, but no room for the man that would soon bill himself as, "The Whole Fucking Show." One of the matches for the card pitted two gifted technicians that had been with ECW for lesser time than Van Dam had put in. Among the duo were recent Titan exile Chris Candido, who'd fled his WWF role of Bodydonna Skip in the early fall of 1996, and Jericho's training partner and stoic counterpart Lance Storm, who had only recently debuted on February 1, 1997 with ECW. Van Dam ended up working the pay-per-view anyway, after Candido sustained a bicep injury in the final week of March, and thus 'RVD' would step in with Storm. In spite of the sudden opportunity, Van Dam's ego was still ailing.
"I was a little irritated that I wasn't originally going to be on Barely Legal," Van Dam muses. "I ended up going on as a substitute for Chris Candido, and I was upset about that. I usually 'listen to the universe', and I thought it was telling me that this might be something that's good for my career, to get the hell out of here where I'm not appreciated, and go where someone's trying to take care of you better."
One month before the pay-per-view, a jilted Van Dam strategically appeared backstage at the March 17 edition of Monday Nitro in Savannah, GA, seeking the graces of appreciation. While watching such one-time ECW talents like Misterio and his professional nemesis Dionicio 'Psicosis' Castellanos take to the skies with unmatched virtuosity, Van Dam wondered if it was time to join the next graduating class of ECW performers.
"I was there to say 'hi' to some friends, as I lived in Savannah at the time," Van Dam recounts of the night. "I also did want to be seen there, to stir up the gossip for business purposes. I was legitimately considering leaving ECW for WCW."
That evening, the estranged Van Dam spoke with Eric Bischoff. Bischoff quietly took Van Dam aside and quickly put together an offer to bring the Michigan-born grappler's talents on board. By Van Dam's accounts of the meeting, the offer presented to him was worth 'substantial money.' It was enough to strongly weigh the possibility of plying his trade with a company that a number of ECW forebears now worked for.
By the end of March, Van Dam had informed Heyman that he was considering leaving ECW to head south. Heyman held a lengthy meeting with the roster after the Easter Sunday show in Monaca, PA, a sleepy borough northeast of Pittsburgh in which Shane Douglas used his local pull to help promote events. There, Heyman urged unity, because the biggest night of ECW's existence sat merely two weeks away. Reportedly, Heyman told his talent that if any of them attended the April 14 Nitro in Philadelphia, he would consider their professional and personal relationships with him severed. He also stressed that if anybody wanted to leave ECW, then they could come to him and he could either arrange a meeting with McMahon, or give them a release to legally contact anyone at WCW. Van Dam's situation was not brought up during Heyman's extended monologue, but word would soon leak out.
On April 5, Van Dam worked a match with Anthony 'Pitbull #2' Durante at the Lost Battalion Hall in Rego Park, NY, in what would be the last show prior to Barely Legal. News of Van Dam's apparent break for Atlanta, and the gist of Heyman's talent meeting, appeared in the dirt sheets three nights earlier, and savvy readers got the word out in time for 800 New York fans to serenade Van Dam with chants of, "You Sold Out!"
It was more of same come the second televised match of Barely Legal, when Van Dam received those same chants, in addition to some appreciative cheers from the home crowd in Philadelphia. None of the near-1,200 fans on hand were damning him when he executed a picturesque somersault dive to the outside onto a waiting Storm. The spotty exhibition trucked along, mostly sound tracked by amazed cheers, though there was still audible derision. After Van Dam hit a low chair-assisted dropkick into a
cornered Storm's face, a segment of the crowd attracted Van Dam's attention with a chant, "Sell out!" Late in the contest, Van Dam slipped off the ropes while attempting a springboard kick, barely salvaging the move with an improvised back-elbow. Both men lay in a heap while Philadelphia unleashed a heavy, "You fucked up" chant, less mercy for the apparent defector. The annoyance turned to Storm, who struck Van Dam in the head with a chair so lightly that the Canadian was almost booed out of the venue. Van Dam spun the finish toward satisfaction by roundhouse-kicking the chair into Storm's face (an act known in wrestling vernacular as "The Van Daminator"), and immediately executing a standing moonsault for the pin.
The chants of, "You Sold Out!" picked up once more in the postmortem. Van Dam picked up the house microphone and began with a simple heel promo, proclaiming that he did not need the respect of Storm or the fans, before weaving in real sentiment by declaring, "I don't give a shit about respect from any of the boys back there in the ECW dressing room, including Paul E.!" Van Dam then directly addressed his consternation at being an alternate for the show. "I sold out to myself by putting my boots on and getting in the ring tonight," Van Dam raged, before justifying the reversal of his real-life principle by noting that the match with Storm put him on the map to not only demand more money from ECW, but, in Van Dam's precise verbiage, "elsewhere". This was not a crafty bit of storytelling designed to cast Van Dam as a mercenary that would ultimately wind up staying with ECW; for all intents and purposes, Van Dam would be out the door by mid-June, working the story as an unsympathetic turncoat to make his eventual exit an easier pill to swallow. Later in the show, Van Dam appeared again, assisting Sabu in a post-match beat down of Taz, and again milking his own predicament by goadingly informing the crowd that he loved to, "work Mondays."
By late-April, Van Dam had blown off his WCW offer. The heat had been so incredible at the pay-per-view that Heyman had found value in Van Dam as an anti-ECW property, similar to what Jerry Lawler had been portraying on WWF programming. At this time, Heyman presented Van Dam with a plan that seemingly more than make up for his initial omission from Barely Legal: he was going to portray Van Dam as wrestling's most talked-about freelancer.
"Through some talks at this time with Paul, I discovered that Paul had some connections with WWF," Van Dam remembers. "It was actually his idea to have me appear somehow on WCW, then pull a switcharoo and appear on WWF. I knew this was a chance to really have the spotlight of the entire industry on me jumping fences from promotion to promotion. It sounded like a great idea if we could pull it off."